The Philippines is a tropical country and anyone who has lived long enough in this part of Asia will agree that the hottest times of the year can be unbearable – especially if you're not a big fan of summer outdoor adventures like going to the beach and enjoying the sun.
If you're one of these poor souls, don't worry. You can still find your own refuge this summer and experience the best that nature and culture have to offer: by going up north.
The City of Pines
Baguio City, the "City of Pines", is a "comfortable" holiday destination located in the Province of Benguet. It's also known as the "Summer Capital of the Philippines" because of its ideal weather especially for city folks who just want to take a break from the oftentimes excruciating summer heat. The temperature can plunge to as low as 7-8 degrees Celsius.
The city is approximately 250 kilometers north of the Philippine capital, Metro Manila. More specifically, it is located on a plateau (1,500 meters high) and is one of few developed cities around this mountainous region.
It's basically a university town and a mountain-resort in one, but it aside from that, it has a long and rich history that goes back to the pre-colonial period. In fact, its century-old houses and native establishments are witnesses to its colorful story.
Traveling to Baguio for first-timers
Traveling to Baguio city and its nearby towns can be intimidating especially if you're not used to the long drives or if you easily get car sick. However, don't let this prevent you from having the best time because the trip will be surely worth it.
Face your fears and get started on mapping out your trip to this cold and cozy northern paradise. Are you ready? Here are the basics that you should know before traveling to Baguio City.
How to get there
If you'll be coming from Manila, there are several options that you can take in order to get to Baguio. Depending on how much you're willing to spend and how much free time you have on your schedule.
First-Class Bus (PHP 780 as of March 2018)
Terminals Located in Cubao, Pasay, and other parts of Manila.
Buses going to Baguio can be divided into two categories: regular aircon and first-class. If it's your first time to travel to this part of the Philippines, choosing the latter should be your top option. Why?
First-class Baguio trips only take 4 hours (instead of the usual 8-hour trip) because they have access to a shorter and naturally faster route. Another plus is, bus companies offer extra services such as a special waiting area (airconditioned room, free coffee/water, and comfortable seats). On the road, they offer snacks and refreshments. They also play HD-movies as part of their on-trip entertainment.  Lastly, their seats are equipped with charging outlets so you don't have to worry about empty batteries for your phone and other gadgets.
Pro Tip: REMEMBER to buy/book your tickets in advance (1-2 months earlier than your planned trip)  especially during holiday seasons and long weekends.
Regular Aircon (Php 445 as of March 2018)
Trips start as early as 1:00 AM but you can still catch one leaving as late as 11:55 PM. This is a smart choice for spontaneous road trips with your friends and family since seat availabilities can be secured even without advanced reservations.
The bus will make several stops to pick up a few passengers along a busy major highway, so the travel time takes longer and, depending on the time of the day, heavy vehicle traffic may cause further delays. Most seasoned travelers usually take the night bus so they won't even notice the long hours on the road.
Pro Tip: For trip schedules (Regular Aircon and First-Class), you can check out this bus company here. 
Going to and getting around the city
Baguio City is a small yet vibrant town. Hotels and other accommodations (inns, Airbnb, hostels, dormitories) are available at the city center or nearby towns. Most tourists within the downtown area usually explore the sites by walking and enjoying the comfortable weather. However, for some destinations that are kilometers away, there are taxi services available (usually will cost you less than a hundred pesos for if traveling within the city).
What to eat
Because of its cool and comfortable weather, Baguio and its nearby towns are the country's top producers of agricultural products such as fruits and vegetables.  That's why it's so easy to find food spots that offer the freshest salads for veggie-lovers out there, and a whole selection of fresh-fruit flavored desserts in almost every restaurant.
Whether you crave classical dishes or mouth-watering comfort food, there are a lot of amazing finds in Baguio that will surely satisfy your hungry tummy. For a romantic and cozy coffee date, there's a good list of interesting coffee shops around the city that will surely make your afternoons unforgettable.
You can find a complete list here.
Where to go
Baguio City was one of the tiny colonial settlements established by the Spaniards in 1846. However, aside from its rich history, its natural environment has caught the attention of travelers, artists, and nature-lovers from around the world.
Aside from its fun and interesting Night Market (opens around 9 pm near Burnham Park), here are some of the most famous tourists' spots in Baguio City that you should check out on your first day:
It's one of the most iconic destinations in Baguio. The Lion's Head, as its name suggests, is a 40-ft statue of the head of a lion. It's the first tourist attraction to welcome travelers since it's located along the major highway that leads to the city proper.
The park is actually an observation deck that offers a breath-taking view of the nearby former Gold and Copper mining town of Itogon as well as the Amburayan Valley. It's a must-visit if you're on your first day in Baguio not only because of its picturesque scenery, but also because of the small stores surrounding the area that sell souvenirs, native crafts, and even potted plants such as beautiful flowers and succulents.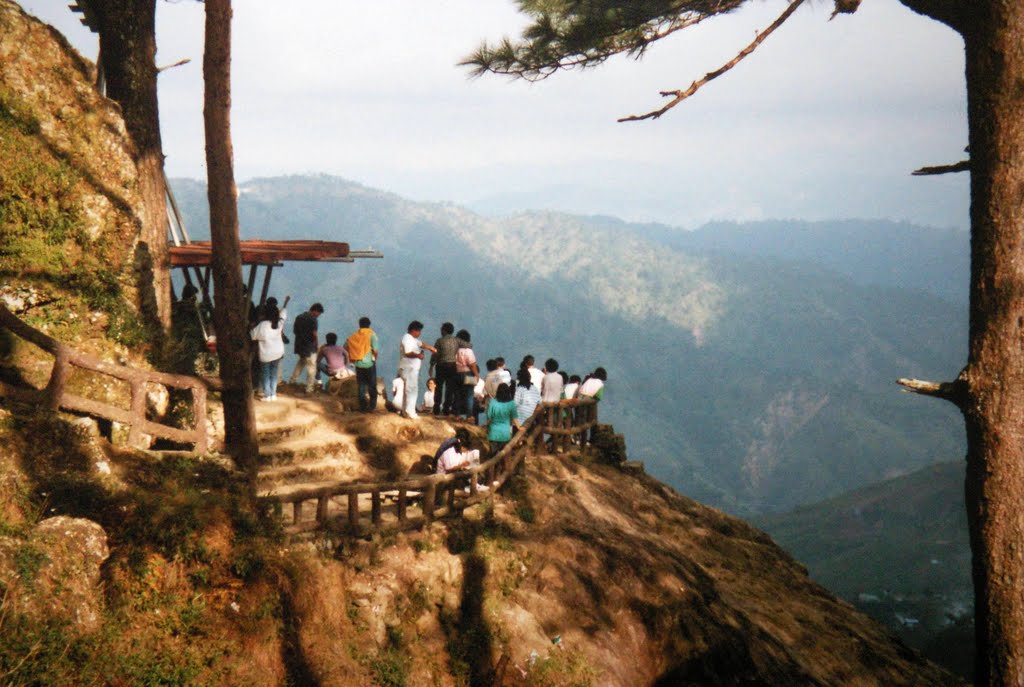 Baguio is a favorite destination for history and culture enthusiasts who want to experience the living and breathing richness of the province's indigenous traditions.
Museo Kordilyera, on the other hand, celebrates the cultural identity of the region by providing a place where they can collect, preserve and exhibit the objects and other artifacts that emphasize the uniqueness of the story and history of their people before the colonial era.
Indeed, Baguio City is a magical place where history, culture and natural beauty come together to create a northern paradise that will give you the experience of a lifetime.