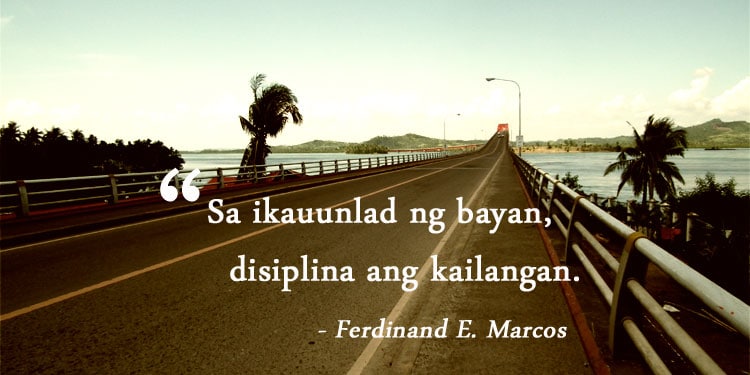 Filipinos are known to be disciplined abroad. Most OFWs tend to finish everything at work before the day ends; they are seen as courteous, refined, and well-mannered; and they carefully follow the rules of the company or community where they are in. This observation is based on the answers of the respondents to The Philippine Star's How Disciplined Are Filipinos?
How disciplined Filipinos are
How about here in the Philippines? How disciplined are we Filipinos? You will know just by looking around. People ignoring the pedestrian lanes; jeepney drivers loading and unloading in the middle of the road; children tossing their candy wrappers everywhere; and so many more scenes around describing how disciplined we are. The question is, "why do so many Filipinos lack discipline?"
Reasons behind Filipinos' lack of discipline
Based on what I and others have observed, here are some reasons which can explain why there are a lot of Filipinos in the country who lack discipline.
Over-democratized lifestyle
After the Martial Law, the Philippines could not be happier to embrace democracy. Filipinos learned to value liberty more—and this is actually good. However, everything too much is negative. As people learn to fight for freedom, some have forgotten that their rights end when the rights of others begin. For instance, some men think it does not harm to pee on someone else's wall. Some so-called 'activists' express their sentiments by vandalizing on public properties (not understanding that these are not the government's but the people's) and even on private ones. Without this kind of people realizing that democracy has limits, discipline would not be an easy thing to spot in the community.
Lack of discipline at home
Parents are expected to be the first teachers. Home is the first institution where good morals and discipline should be taught to children. However, many parents these days lack control on their kids. As the country's culture becomes more westernized, children become more liberated and many could now give their parents that 'back off' signal whenever they feel their independence is threatened. On the other hand, some parents just lack the time and effort to sit down with their kids and correct them whenever they do something wrong. For these reasons, a lot of Filipino children grow up into adults with less regard to rules and regulations. As an example, I have personally observed that children from families where proper waste disposal is strictly applied usually grow up having respect for the environment. Whereas, those who are not taught at home to throw waste directly into the trash bin do not mind littering everywhere.
No role models
Another reason why Filipinos do not take discipline seriously is because they do not see how serious it is. How would they when even government officials themselves do not follow the rules they have implemented? Under the table transactions; vote buying; VIP treatments in public activities and processes are just among of the rampant forms of corruption in the government that remove the power of discipline in the society. Some law enforcers are not being good role models too: Traffic enforcers getting paid to let go of violators; and police officers involved in crimes like kidnapping and drug trafficking. People do not see the need of following rules or even taking the initiative to make some progressive moves, because they know nothing would happen when the movement does not come from the top.
No strict implementation
The lack of strict law implementation is also one of the reasons why there are undisciplined Pinoys. No matter how good the regulations made are if the implementing body does not have the teeth to make the society follow them, then nothing will happen. As long as the citizens do not see any danger of not following the law, they will not heed it For instance, the No Jaywalking regulation is usually taken for granted by pedestrians in areas where no strict law enforcers and penalty posts can be seen. However, in cities or places where violators face serious penalties, people are observed to be compliant to the rules.
Impatience to self-gratification
When a person does not have enough patience to delay gratification, it leads to lack of self-control. I do not know why, but many Filipinos fail in this. They want to see results immediately. This is why shortcuts are popular in procedures. Some people, who do not like getting into long lines when paying bills, try to insert into the line or even use their connections to avoid the hassle. There are also sick people who are told to stay away from fatty food or alcohol for a period of time, but since they cannot resist the temptation, they simply indulge—reasoning out that they take medications anyway.
"Sa ikauunlad ng bayan, disiplina ang kailangan." (For the nation to progress, discipline is the key." This is the famous slogan of Pres. Ferdinand Marcos from the Martial Law regime. One thing that the Philippines cannot deny is the fact that during the dictatorship rule of Pres. Ferdinand Marcos, the people in the country were highly disciplined. Despite the terror brought by the dictatorship, the Philippines was among the tiger economy nations in Asia that time. I am not saying that Martial Law is what we need to create a disciplined society. Instead, it is the firm and responsible leadership of the government combined with the citizens' respect to the law and rights of their fellows.
About Joan Cyril Abello
Joan Cyril Abello graduated with a bachelor's degree in Communication Arts. She is a content writer and a blogger. She's the content specialist of FAQ.PH. Follow her on Twitter at @Joan_Cyril.