Spending the precious moments with your significant other can be the happiest days that you'll ever remember in your lifetime. While many couples have found ways to celebrate their love and affection for each other by exchanging gifts during special occasions or just hanging out together at their favorite restaurants, others have found joy and excitement in traveling together.
In fact, traveling together as a couple should always be a part of your yearly plan. Aside from helping you get to know each other better, experiencing new things and exploring places together can help you create a stronger and more meaningful bond.
Whether you're planning to travel with your significant other or just wanting to spend a night or two for a sweet "staycation", staying at the most romantic hotels in the Philippines will add more thrill, excitement, and romance in an already special trip together.
Here's the list of the most romantic accommodations that you should check out.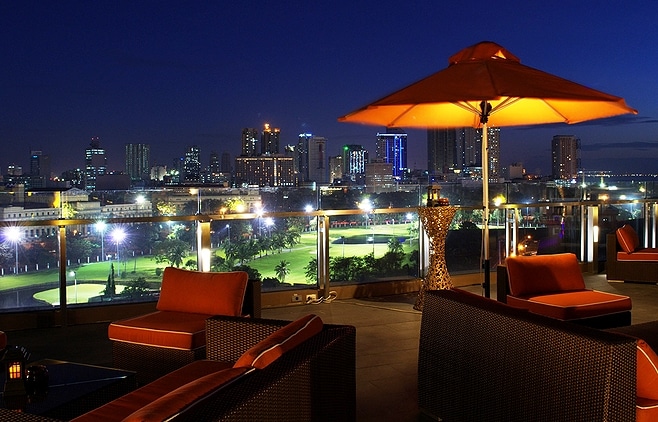 Located in the city of Manila, The Bayleaf Intramuros is a romantic hotel for lovers who want to experience the beauty and uniqueness of Filipino heritage and hospitality. Even in the modern age, the accommodation is a reminder of the long and aristocratic history of the Spanish occupation in the country.
The hotel is actually housed within the strong forts of the Intramuros walls, a gem at the heart of Old Manila. While the accommodation boasts its rich and old heritage, their contemporary rooms provide an interesting balance to an already lovely and royal ambiance.
From 2013 to 2016, The Bayleaf in Intramuros has earned the coveted TripAdvisor's Travelers' Choice Award.
If your idea of romance is a day of endless adventure, then this hotel should be on top of your list. Located in Cebu, one of the best travel destinations in the Philippines, Plantation Bay Resort and Spa offers both charming and invigorating accommodation for couples who love culture, outdoor fun, and underwater exploration.
Aside from the elegant rooms, they offer more than just rest and relaxation. Within the resort are gaming rooms, and facilities that cater to outdoor fun: aqua rides, kayaking adventures, bird watching, and other sports activities. Moreover, there are nearby scuba diving spots outside of the hotel grounds. If you want a more relaxing outdoor activity, you can easily find picnic spots atop a hill and just spend the whole afternoon together.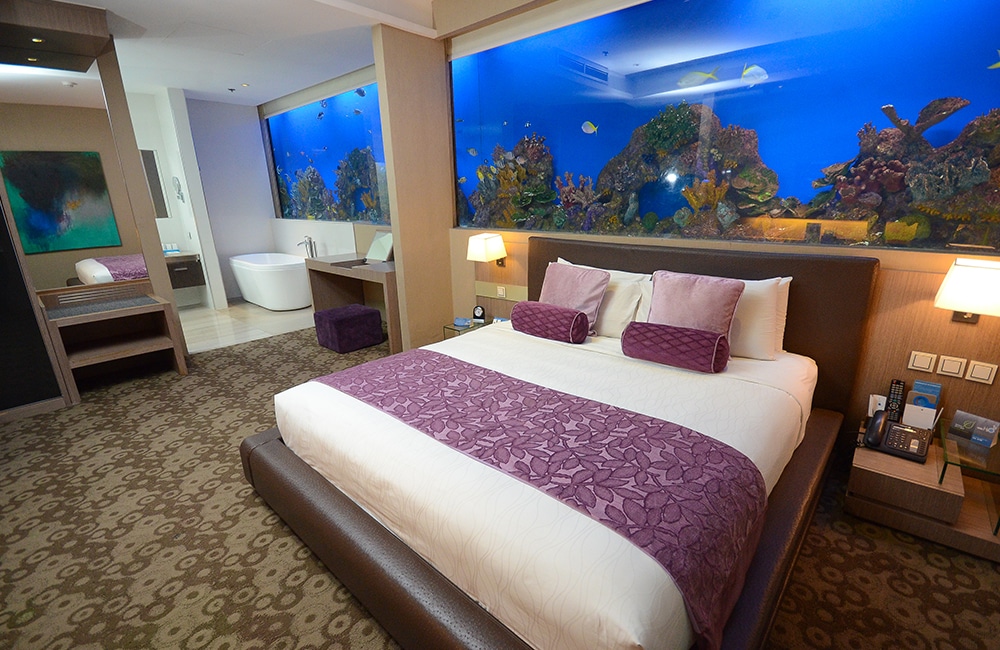 If you want to take the love of your life to a one-of-a-kind romantic "staycation", then Hotel H20 is the place to go. So what makes it different from other hotels in the Philippines? Spending a night in this unique accommodation is just like sleeping underwater – and we mean this almost literally.
The hotel is near Manila Bay, and most of their rooms serve guests a majestic view of the Manila sunset. However, the more exciting part of choosing Hotel H20 for your romantic getaway is their marine-themed rooms: the AQUA ROOMS and BAY ROOMS.
These Aqua Rooms, just like what their name suggests, has access to wall-to-wall aquariums where live and vibrant sea creatures like fish and jellyfish gracefully welcome guests. It's like sleeping inside an enormous aquarium! On the other hand, the Bay Rooms offer floor-to-ceiling aquarium glass windows, allowing you to experience a panoramic view of this underwater wonder.
Cebu does not run out of amazing places to offer, and Marco Polo Plaza is a hotel that adds more romance and beauty to this already wonderful travel destination.
Marco Polo is located in Nivel Hills – on an actual mountain slope, thus offering guests a full view of the vibrant beauty of the heart of the city. It is a 5-star hotel that will always be worth your money because of its mesmerizing and surreal mountain and beach view.
Within the hotel is a buffet-style restaurant the serve mouth-watering dishes from local to foreign cuisines.
Spend a night or two in this creative masterpiece of a hotel and you'll surely win your partner's heart the second time. Set in Makati, the business capital of the country, Picasso Boutique is an art lover's paradise. Any couple who equates art to romance will always look at this unique accommodation as a rare find.
Picasso Boutique has a lot to offer, including their cutting-edge décor and their memorably vibrant color schemes that will surely make an art enthusiast fall in love over and over again. Just like what its name suggests, the overall design is inspired by the art style of Pablo Picasso.
As a garden villa resort, this hotel is a favorite for couples who want to have a nice and relaxing time near the beach. The accommodation is located in Cebu Province in the historic city of Lapu-Lapu.
Spend a night or two at this accommodation to experience the calming breeze of the sea and the relaxing sound of the ocean. For lovers who want some privacy, they have a garden villa that offers a romantic and cozy ambiance that will surely make the trip unforgettable.
Since it's a resort-restaurant, expect a variety of delectable food selections that offer both local and foreign menu.
Bohol has a lot to offer when it comes to travel and adventure, but the region is also a popular destination for lovers who want to enjoy a relaxing weekend at the beach. In fact, several small islands surrounding the province host local and foreign travelers all year round.
Eskaya Beach Resort and Spa, for instance, is a popularly known romantic accommodation in one of the islands of Bohol known as Panglao. The destination is a lovely and relaxing paradise for couples who put relaxation on top of their itinerary.
Set in a remote island, Eskaya offers 15 villas, private pools, a picture-perfect infinity pool, and a long white-sand beach. Within the property is an on-site spa that offers Asian healing methods as well as European massage techniques.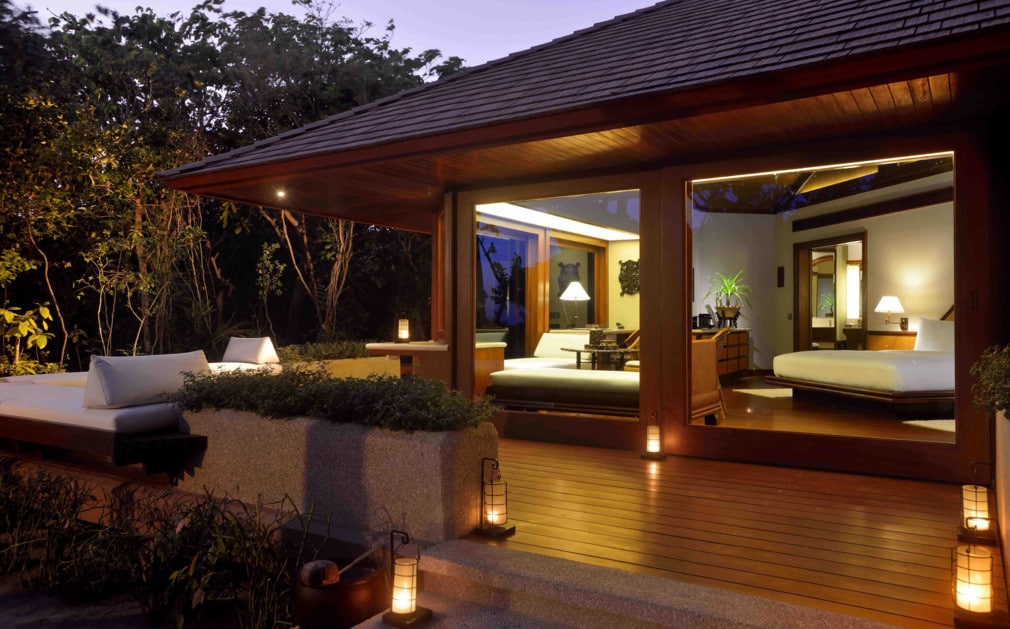 The Pamilican Island is located around the Sulu Sea. All of the visitors who will go on this island should ride a private plane. The hotel is located 2 kilometers to the Amanpulo Dive Center. The cottages here are made out of wood and has a space for a sitting area. If you are going to get a deluxe room, you can have an access to private pools and even have a beachfront setting.
CONCLUSION
You don't have to go out of the country just to have the most unforgettable time with your significant other. If you know where to find them, the Philippines has a lot to offer when it comes to the most romantic hotels and accommodations out there.
Hopefully, this article will help you explore and experience the beauty of love and travel with the person you love most.