The Philippines is one of best destinations to travel to during the hottest months of the year, thanks to its long list of white sand beaches and beautiful islands that will make this bucket list-worthy country a real paradise. However, did you know that aside from being a perfect summer getaway, the archipelago has also a lot to offer during the long months of the rainy season?
You don't have to feel gloomy about the rainy days – a season that starts in June and ends in October, especially if you're used to being on the road and traveling during the long weekends. There are still places that can be ideal destinations during the rainy season in the Philippines. All you have to do, first, is to keep on reading.
Here are some of the best rainy season travel destinations in the Philippines that you can visit right now.
Pagsanjan Fall, Laguna
This exciting rainy day destination is just hours away from Manila. Located in the province of Laguna, Pagsanjan Falls (also known as Cavinti Falls) is one of the most popular falls in the country and is a major overnight tourist site for those who want to take on quick weekend adventures.
Rainy days can give the mountains a generous amount of water, providing a solid abundance of water to deliver a thrilling performance to its audience. If you're into hiking, trekking and river cruising, this place is perfect for your rainy day travel cravings.
Baguio, Cordillera
It takes guts and an adventurous soul to travel to Baguio during the rainy season. Why? The long and winding road leading to this foggy city can be relatively intimidating for an untrained driver, but trust us, it's all going to be worth it.
Yes, Baguio is dubbed as the "Summer Capital of the Philippines", but much fortunate wanderlusts who gave this place a chance have discovered the beauty of this mountainous city – a rare experience that can only be witnessed during the rainy days.
Imagine waking up on a cold and foggy morning, with a hot cup of coffee to warm you hands and heart, as you relax and just enjoy the peaceful whispers of nature.
Baler, Aurora
If you're into surfing and extreme fun, Baler, Aurora should be on top of your list for the best travel destinations even on rainy days. Just like how the mountains are blessed with an abundance of rain to create the most fascinating dancing waterfalls, this surfing destination has a grand welcome to offer: higher waves and more exciting swells for the most daring surfers out there.
Siargao, La Union, and even Guiuan in Eastern Samar can also be alternatives for you. However, keep in mind that you have to be careful and always stay safe. Surf with a group and make sure that you have what it takes to take on the wild waves of the rainy and windy days.
Siquijor
This enchanted place is known for its mystic and folkloric stories because of its notoriety as an island where magic and sorcery thrive. While many superstitious Filipinos believe in the legends associated with Siquijor, some travelers have discovered the true beauty of this paradise.
Beyond its mysticism and scary stories of witches and shamans, Siquijor is an underrated Philippine destination. Even during the rainy season, the island is a great find for enjoying a comfortable stroll at the beach under the cloudy skies.  Its mesmerizing waterfalls scattered around the islands can also give you the glimpse of the calmness and peace that nature can offer to those who are willing to try.
Anawangin Cove, Zambales
Another summer destination that is also a perfect place for a rainy season getaway is Anawangin Cove in Zambales. In fact, the true beauty of this tourist magnet can be experienced during the rainy days not only because crowds are fewer, but also because the foliage is richer and more vibrant.
If you want a calm and quiet weekend, this place is perfect even during the cloudy days. You have to keep in mind, however, that you can only choose this destination on the cloudy days with light drizzles – and needless to say, not during violent torrential rains.
In other words, if you're going to stay for a day or two in this paradise, make sure to check the weather forecast. Why? The place is relatively far from the town center in case of emergencies.
Cebu Province, Visayas
It rarely rains in Cebu, especially during the rainy days. While the rest of the country is under the dark and heavy clouds of the season, this province can be really bright and sunny. That's why it's a perfect destination during the country's rainy season especially if you can't last months without the heat of the sun.
Aside from cheaper airplane tickets in contrary to the peak summer season, rainy season in Cebu Province can still be a fun beach travel adventure. Island hopping, free diving, and even just enjoying the historical sites and destinations can be on your list of activities.
Cebu City, the capital of the province has also a lot to offer. Culture, nightlife, partying and even just food tripping can make all the boredom of the gloomy rainy days go away.
Cagayan de Oro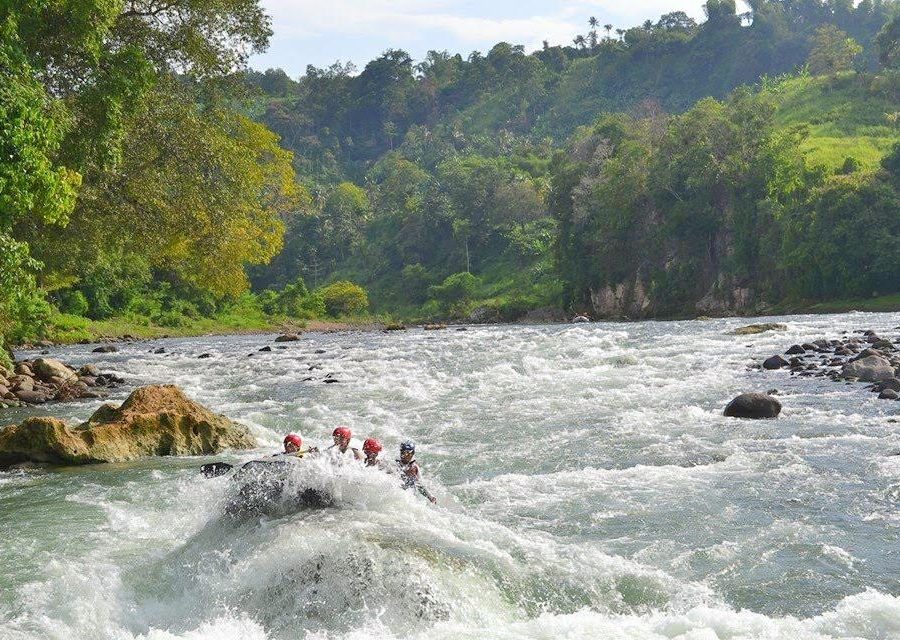 If you're an adrenaline junkie and want to experience extreme fun and adventure, then Cagayan de Oro is the best place for you – even during the long months of rainy season. Whitewater rafting, spelunking, and even just enjoying what the island has to offer are here to make your stay exciting.
Make safety a priority
Now that you have your list of the best travel destinations in the country especially during the most boring days of the rainy season, you only have to remember one very important thing: safety. Make sure that you're traveling safe and well-prepared in all your adventures.
Keep your lines open, tell a friend or a family where you're going and always plan the trip ahead. Do your research and consult the latest weather forecasts before saying YES to anything extreme and off the road.
Take care and have a blast!