(The tents at San Jose, Tacloban City where some survivors are still getting temporary shelters as of August 9, 2014)
Not only Haiyan (Yolanda) survivors but all the concerned Filipinos and foreign nationals are asking… where did all the international donations for Yolanda victims go? Did the funds reach the Haiyan survivors or not?
As a Haiyan Survivor myself, I'm also curious to the answer of those questions above. But with our government where Freedom of Information (FOI) is not a law yet, getting clear answers is like getting information that can only be found on another planet.
Nevertheless, let's try to get some ideas that can somehow satisfy our curios minds.
If you're also wondering where did those funds go, here are 10 things you should know:
1. The government has set up a Foreign Aid Transparency Hub or FAITH. This hub is composed of web pages in the government's official website. It shows the total foreign aid and assistance pledged and received by the Philippine government from other countries (governments). It also shows the list of countries, government and private individuals or organizations that made a donation or pledge to our government.
The hub is our government's attempt to be transparent to the public on how they are handling the international aid and assistance for Haiyan and other calamity affected areas in the Philippines. The problem is it lacks data. It doesn't show the details on how they are spending or distributing the money and goods they received from the International communities.
The following infographic from the Hub tries to show us the flow of information, cash and goods from various donors to the different agencies of the government.

Is the infographic above or the whole Transparency Hub enough to give you a clearer picture of how the government handles the distribution of foreign aid and assistance for Haiyan affected areas?
In my own opinion, it doesn't provide the transparency it should bring to its users. The Hub is not even updated, as it was still dated May 2014. And as of this date, the links to CSV files in the full report lead to "pages not found" (please correct me if you can access them in your end).
2. Not all foreign aid and assistance are already received by our government. Most of these amounts are pledged. In other words, most of them are promised contributions yet to be made in the future by their pledgors. According to the data I retrieved from the Hub as of August 16, 2014, The total foreign aid pledged amounted to $763,519,307 (PHP34,067,467,968) while the total foreign aid received amounted to $336,115,394 (PHP14,997,132,777).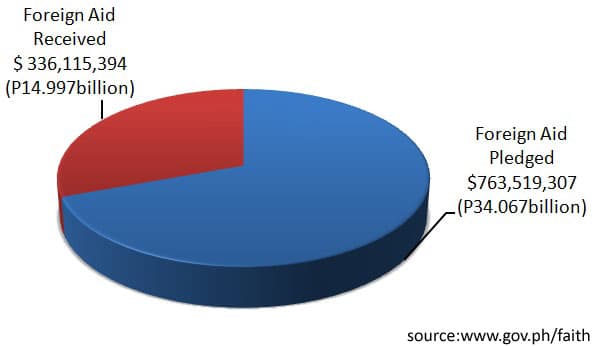 By seeing the chart above, we can ask our government, where did the P14.997 billion go? The Hub did not also show us the breakdown (cash or noncash) of the total foreign aid received.
3. Not all Foreign Aid pledged to the Philippines are cash. Of the total foreign aid pledged of $763,519,307 (PHP34,067,467,968), only $248,254,904 (P11.076billion) are cash while the rest of $515,264,403 (P22,990billion) are noncash. These noncash aid and assistance include relief goods, medical services, equipment, manpower and infrastructure.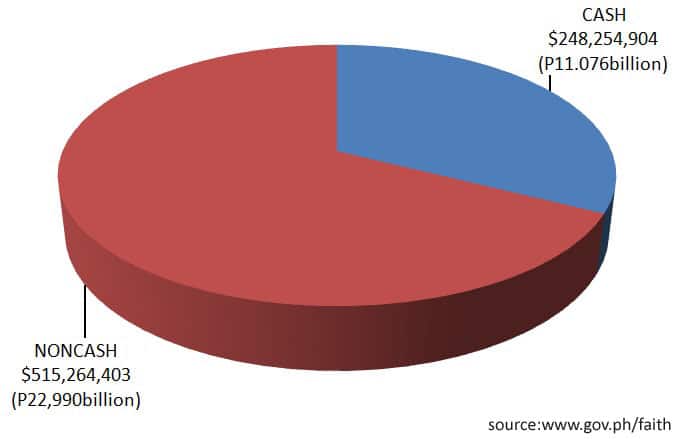 4. Not all international donations and pledges are granted to our government. Other donations and pledges for Haiyan victims were granted through international and local NGOs. These international nongovernment organizations include UNICEF, International Committee of the Red Cross, Tzu Chi Foundation, World Vision and other international humanitarian organizations. Local NGOs or foundations include ABS-CBN Foundation, Inc, GMA Kapuso Foundation, Gawad Kalinga Foundation and other non-for-profit organizations based in the Philippines. Hence, when it comes to asking "where did the donations go?", we should not only ask the Philippine government but also all the NGOs.
The good thing about these International NGOs like Red Cross, UNICEF and Tzu Chi Foundation is that we can see the efficiency and effectiveness of their work – just ask the Haiyan Survivors.
5. Local NGOs also received big amounts of donations. ABS-CBN Foundation was generous enough to publish the total cash donations they received as of December 10, 2013 which amounted to Php 452,963,535 (that's almost half a billion). According to their donor report as of April 30, 2014, they have already spent Php 171,781,616 (Php 82,350,748 for relief activities and Php 89,430,868 for rehabilitation activities). You can also watch this latest video from ABS-CBN showing where Yolanda donations to their foundations went.
For other local NGOs, I'm struggling to find information about the total cash donations they have received for Haiyan victims. Perhaps I'm missing something. For sure GMA Kapuso foundation has also collected amounts closer to the sum received by ABS-CBS Foundation. In fairness with GMA Kapuso, we can also see their efforts to help Yolanda survivors, like the construction of the Kapuso Village in Tacloban City ().
There are still many local NGOs in the Philippines who received donations for Yolanda survivors. There are also those unregistered groups and organizations who made an effort to collect money for the Haiyan victims. I believe that the Securities and Exchange Commission or SEC (the Philippine commission responsible to regulate and oversee foundations) must increase its effort to examine the financial statements of our local NGOs.
6. DSWD has a summary of foreign and local donations. The DSWD has its own statement of cash donations from foreign and local donors published in their website. As of August 01, 2014, DSWD has received a total of P97,879,377 local donations and USD24,563,379 foreign Donations. As of August 01, 2014, DSWD has received a total of P97,879,377 local donations and USD24,563,379 foreign Donations. The statement of cash donations from local donors also shows the total disbursements and transfer to field offices if you like to scrutinize how they are spending the donations. Moreover, you can check this article about DSWD's response and early recovery updates 6 months after Yolanda.
So how is DSWD doing in your area? Have you already received assistance from our government through them?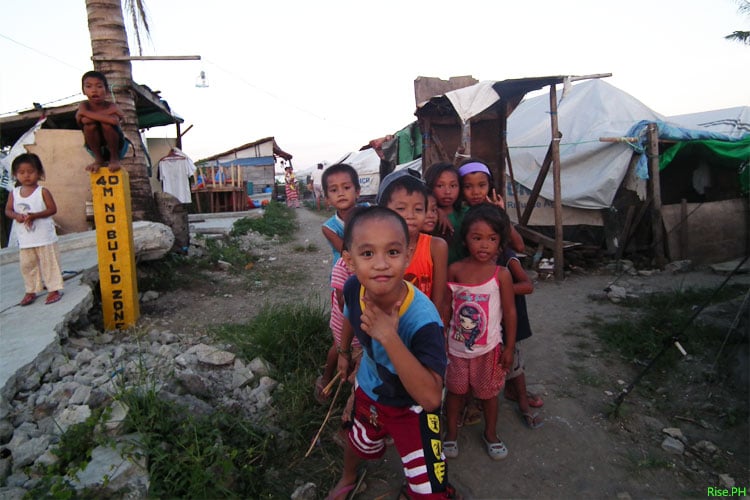 Children still living with their families in tents at Old Road Sagkahan Tacloban City nine months after Haiyan.
7. Alleged expired and wasted relief goods were reported. There were reports of truckloads of expired relief good ending up in the dumpsite. DSWD defended itself by saying that only one sack of assorted biscuits, 10 cups of instant noodles, 1/2 sack of wet rice, and one sack of used clothing were buried. So who's telling the truth?
8. Many Haiyan survivors have wondered where the imported relief goods went. Several International organizations and communities have sent relief goods to the Yolanda survivors in the Philippines. A lot of these goods are bought and packed outside our country, thus, we expected that somehow we can receive some imported goods. Actually, we don't really care if we receive imported or local goods, as any kind of safe food will already suffice to save our starving stomach during the early days of Haiyan. However, we can't help but wonder if the foreign relief donations really reach their supposed recipients.
If you will ask most of the Haiyan Survivors here in Tacloban City if they received imported relief goods from the government, don't be shocked if the majority of their answers is "NO". Perhaps, those imported goods were distributed outside Tacloban City, like in Eastern Samar or the other parts of Leyte. Perhaps I just missed those imported stuff since I did not queue for them. Maybe they were stranded at the Bureau of Customs for lack of clearance and required documents. Well, I don't know for sure.
There were also reports of alleged imported relief goods for Haiyan victims that were sold in Manila. Philippines-aid-furore-foreign-aid-stalled-witnesses.html) The DSWD vowed to probe the reported sale of those relief goods.
9. Here comes the rehabilitation plan. On August 1, 2014, nearly 9 months after after Yolanda struck us, Rehabilitation Secretary Panfilo Lacson submitted the 8,000-page/8-volume thick final Yolanda Rehabilitation Plan to President Aquino for approval rehabilitation-master-plan-for-yolanda-hit-provinces-8000-pages-8-volumes. The master rehabilitation plan is estimated to cost P170.7 billion ($3.93 billion) and will be divided into the following basic sectors: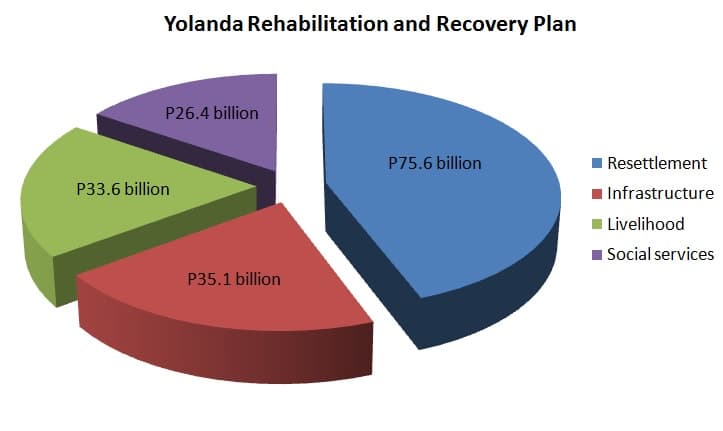 As of July 28, 2014, P37.42 billion of the total P170.7 billion Yolanda Rehabilitation Plan is already funded. This means there's still remaining P 133.496 billion to be funded. A big chunk of this fund will be coming from the loans granted by the Asian Development Bank (P48.25billion), World Bank (P44.221billion), JICA or Japan International Cooperation Agency (P21.5billion) and AFD or Agence Française de Développement (P12.212B).
You can check the government's Yolanda Rehabilitation and Recovery Efforts consolidated by OPARR (Office of the Presidential Assistant for Rehabilitation and Recovery) as of July 28, 2014 to see more information related above. It also shows the government's expected deliverables and status reports on its rehabilitation and recovery efforts.
For instance, on Infrastructure Cluster Plan (Budget: P35,148,634,408), the government's expected deliverables are the repair, rehabilitation and reconstruction of the following:
• 116.32 km of national roads
• 22 national bridges
• 6 airports
• 35 Seaports
• 13,406.17 km of conductors/powerlines
• 19,648 classrooms
• 28 school buildings
• 153 provincial/city/municipal halls
• 137 civic centers
• 859 barangay halls
• 1,867.48 hectares covered by communal irrigation systems
• 132 public markets
• 304.51km of farm-to-market road
• 58 water facilities
• 38 halls of justice
With regard to the deliverables above, our government has the following status report:
• As of 30 June 2014, ongoing rehabilitation of 7.524km of national roads and repair of 22 bridges
• As of 03 July 2014, completed rehabilitation of the ports of Naval and Cuyo; and Kalibo International airport; ongoing rehabilitation of airports of Tacloban City, Roxas, Busuanga, Ormoc, Guiuan
• Completed rehabilitation of 13 health facilities and ongoing repair of 27 health facilities
• Ongoing rehabilitation of 5 halls of justice
• 51.82 km of Farm-to-Market Road completed and ongoing rehabilitation of 173.97 km
• Ongoing repair of 6 Communal Irrigation Systems covering 1,208 hectares
On the Resettlement Cluster Plan (Budget: P75,678,680,000), which I believe is very important to Yolanda survivors whose houses were destroyed during the typhoon, our government has the following deliverables and status report:
Deliverables:
• Construction of 205,128 housing units;
• Safe and suitable resettlement sites identified and acquired;
• Construction of community facilities such as 537 school buildings, 202 multi-purpose covered courts in new settlement sites; and
• Provision for sustainable livelihood opportunities in new settlement sites.
Status Report:
• As of 15 July 2014, ongoing construction of 2,721 permanent houses in Roxas City, Dumangas, Tacloban City, Tanauan, Palo and San Jose and completion of 285 permanent houses in Tacloban City and Tanauan, Leyte; and
• 153 hectares of government-owned land identified
If you've noticed, after nine months since Haiyan, the government has just completed 285 of the 205, 128 permanent houses it should deliver – that's 0.14% completion rate. Perhaps the problem lies on the difficulty of identifying the land that should be made as a relocation site.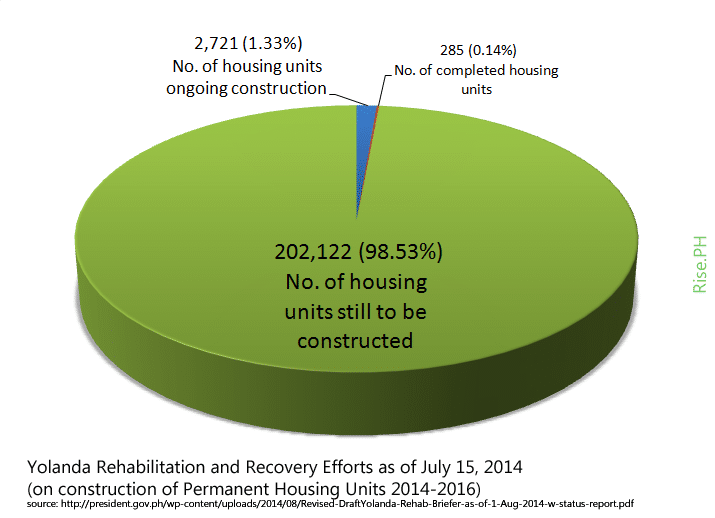 10. Life nine months after Yolanda. After nine months since Yolanda devastated the central part of the Philippines, we can already see changes. People are already moving on with their lives as usual. Some businesses are back. Workers are already doing their jobs and students are already back to school. Even Mother Nature has already done a smooth job in rehabilitating and recovering the green trees and plants in the Haiyan affected areas. However, there are thousands who are still living in tents. Moreover, not all business owners have already recovered from the losses they suffered due to the looting incident. In other words, there are still many people and places that need help from the government and the private sector.
See our post that will show you 75 pictures from Samar (Basey) and Leyte (Tacloban City and Palo) nine months after Yolanda. These towns and cities are among the places that were directly hit by Yolanda's strong wind and devastating storm surge.
I hope, we hope, both the foreign and local aids that were given to help Haiyan survivors and make the typhoon affected areas become safer from future calamities be maximized for its intended use.
This article has only attempted to gather some available information to give us ideas on where the billion-dollar foreign aids for Haiyan survivors are going. If you have any idea, additional facts or personal opinion on that matter, please share it on the comments below.
I also encourage my fellow CPAs, accountants and auditors who are good on examining financial reports to be observant and vigilant on our government's financial activities. With the current Internet technology and social media, access and distribution of government/public information are definitely more efficient now than before.
Disclaimer: This post is intended for general informational use only. It may not be free from factual and other types of errors. This article, in part or in whole, may also become obsolete in the future when new data come out. If you notice some errors or if you have any valid and verifiable corrections, please share it on the comment below so we can correct our data.
About Victorino Q. Abrugar
Vic promotes tourism-related businesses, brands and places. He's the marketing strategist of FAQ.PH. He believes that the key to success is to always do what to do next. Want to promote your business? Contact him at mail@optixor.com.