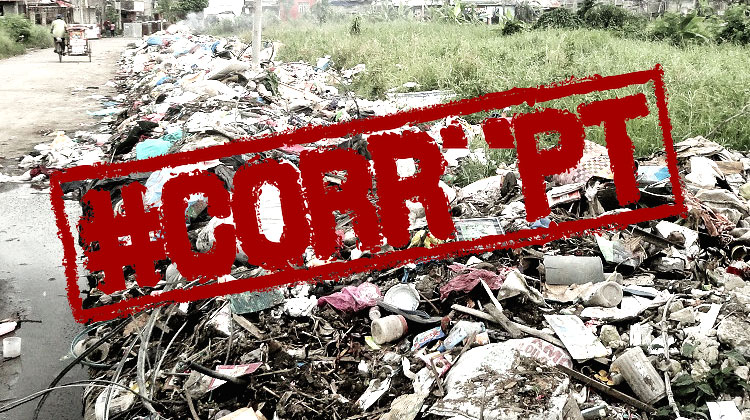 "Don't let a person who has dirty hands handle your country, your life,
and the future of your children."
Perhaps it's impossible to stop corruption in the Philippines. But we need to use a strong word like STOP to protect the public funds from our dishonest and selfish government officials. Of course there's still a number of leaders in our nation who are honest and conscientious. But with the reality that our country is facing right now, I doubt if that number is big.
Corruption is a persistent cancer that's killing our country and destroying the lives of many Filipinos. It's like a contagious disease that infects and transforms the young generation of leaders from righteous ones into wrongdoers. If this disease persists any longer, our present and future will be in big trouble. So without further ado, I'm sharing the following 10 solutions to fight corruption in our native soil.
1. Punish the vote sellers and vote brokers
Corrupt voters give birth to corrupt politicians. In order to stop corruption, we have to start eliminating it at its birth, that is, during elections.
Most of us are aware that vote buying is illegal. But actually, vote selling is also prohibited by the law. According to Section 261 (a), Article 22 of the Omnibus Election Code, both vote buying and vote selling are prohibited and punishable. In other words, it's not only the candidates, their supporters, or the vote buyers who can be found guilty of an election offense, but the voters or vote sellers can also be punished according to the code.
I know it seems impossible to arrest all vote sellers and put them in jail for committing an election offense. There's no prison that can accommodate all the Filipinos who sell their votes during elections. Just imagine how many are they? It could be a large percentage of the Philippine population!
But I believe many of those who sell their votes are not aware of the law. So to decrease the number of vote sellers in the Philippines, the COMELEC and other concerned agencies should do their best to educate and warn all voters across the country. Informing people through the Internet and social media isn't enough since 2/3 of our population don't have a good access to the Internet yet. Our government have to increase efforts to reach, educate and warn voters in the rural areas.
Vote selling may be difficult to prove and vote sellers may not be punished in jail, but if they'll become aware that their acts are against the law, they might just be punished by their own conscience.
Moreover, vote selling and vote buying in the Philippines become a great problem because they are usually organized from the national to the barangay level. Hence, it would be a better solution if the government can obliterate these organizations or vote brokers (whether they are inside or outside the government), who manage the wide corruption of votes in the Philippines.
2. Annual assessment of all public officials by the BIR
Majority of politicians in the Philippines are rich and generating income from businesses. Even the poorest mayor in Metro Manila has a net worth of P3.31 million. Therefore, the BIR should not only focus on examining small business owners and professionals, but should also concentrate on investigating the politicians and the companies that are fully or partially owned by them.
The government should not only require public officials to submit their financial statements or statements of assets and liabilities, but they should also assess or audit these public officials annually and make their statements available to the public. This way, the public will know how they are earning income and increasing their net worth, whether it's coming from their salary or from their business.
Public officials should be a role model of public trust. They desire to be in a public office. Hence, they should not complain if they will be required to undergo annual tax examination.
3. A more effective and efficient tax system. Solution #2 won't be effective if our tax system will not be improved. To effectively and efficiently collect taxes from taxpayers, especially from politicians, we have to upgrade our tax system, make registrations/tax declarations/payments online, and eliminate unnecessary regulations that only make our system more complicated. The BIR should not only invest in human resources, but also on technology like what Singapore and other countries that have a more efficient tax system are doing.
Creating a better tax system is a job that must be initiated by our congressmen and senators – the lawmakers. Thus, they have to consult not only with the BIR, Department of Finance and DTI, but also with various independent tax experts, the business sector, and other taxpayers who are affected by our tax system.
4. Regular surprise examination of all government offices
The Civil Service Commission is the agency mandated to promote and administer efficient and effective personnel in the government. They should see to it that the Anti-Red Tape Law or RA 9485 is well enforced in all government offices.
Government employees can also commit corruption. If they don't do their job to serve the public well or if they don't work for the hours the government is paying them, that's already a form of corruption. Thus, the CSC should ensure that all government personnel are doing their job well and complying with the Anti-red tape law and other applicable laws in our country. They should obey the no noon breaks policy, should work beyond 5pm when necessary, and should not commit fixing or connive with fixers.
But when is the last time that the CSC conducted surprise examination to check if the Anti-Red tape law is obeyed by government agencies? They should do it more frequently. Installing CCTVs on all government and public offices can also be a better solution.
5. Timely governmental audit by COA or by an Independent auditing firm
The Commission on Audit is the government agency responsible for examining, preventing and reporting frauds happening in the government. But are they doing their job efficiently? Scams are already uncovered and reported to the public after 3 years or more. Just consider the current Pork Barrel scam.
As an accountant, I know that timeliness is key to relevance. If frauds are reported late, it's already difficult to recover the funds misappropriated by the culprits. Corruption in the government should be detected earlier, not after 3 years or 5 years. If COA cannot be efficient, then why not we consider hiring independent auditing firms to examine the financial statements and transactions of our government bodies?
6. Strict regulation of all corporations in the Philippines
The Securities and Exchange Commission or SEC is the commission that is responsible for regulating all corporations and partnerships, including foundations in the Philippines. But look at what happened to the foundations involved in the Pork Barrel scam? Think of how Janet Napoles use those foundations to hide all her illegal transactions. To avoid this kind of scam from happening again, the SEC should set stricter rules for regulating all corporations, especially foundations in the country. They should ensure that all the members and board of trustees of any foundation are real and in good faith.
7. Strict implementation of the FOI bill
The Senate, under Senate Bill No. 1733, has already passed the Freedom of Information Bill. Once enacted, the FOI bill will require government officials to act or comply with the request for information within 15 working days. It will grant citizens the right to access records or information under the control of the government, with some exceptions.
The FOI Bill is a good solution to fight corruption in the Philippines. So let's hope that it will be enacted as a law soonest. But though it will be a good solution, its success will still depend on its implementation. Thus, the government should do its best to make sure that the law will have a clear implementing rules and regulations, and that it will be enforced effectively as intended.
8. Improved integrity in our justice system
We have existing good laws in the Philippines. The problem is the low integrity of our justice system. Our laws, themselves, suffer from injustice because they aren't respected and protected by the authorities that should be protecting them in the first place. Corrupt politicians and government officials are not usually sent to jail.
To improve the integrity of our justice system, there should be a collaboration among the DOJ, Office of the Ombudsman, PNP, NBI, courts, and the civil society to uphold justice in our country. There should also be a more effective witness protection program to make sure that all witnesses or whistle blowers, including their families will be safe and protected. Moreover, they should be rewarded and well-compensated to support their family while they are under a witness protection.
9. Continuing professional education requirements for politicians
Being a politician or a public official is one of the greatest profession in the world. It requires a lot of leadership skills and knowledge in law, economy, ethics, humanity and others. To make sure our government officials, senators, congressmen, mayors, governors, et cetera are currently capable in doing their respective job, they should be required to have a minimum credit units of continuing professional education every year. If they can't comply, then they should be fired out from their positions.
Another solution is to implement a quota requirement for all legislators in our country. Senators and congressmen, as their main job is to create laws, should maintain a certain number of laws proposed or passed every year as a quota. Pork barrel should definitely be abolished so that they can only concentrate in enacting useful laws that can make our country progress and make the lives of the Filipinos better.
10. Reduce the number of government officials
If all else fails then the last solution to reduce corruption in the Philippines is simply to reduce the number of government officials in our country. We have so many lawmakers. We have around 292 congressmen, including party-list representatives. If our house of congress cannot produce a good number of useful laws, then why not consider decreasing the congressional seats to limit only to capable representatives?
We also have a lot of barangay officials across the nation, whom can only be used as brokers of vote selling and buying during national elections. Although barangay officials can be helpful, as there are actually honest officials in this level, we have to consider whether barangay elections can be beneficial in the national level.
Which of the above do you think is the best solution to fight corruption in our country? Do you have any other solution to share with us to stop or at least weaken corruption in the Philippines? Don't hesitate to share your comments below.

About Victorino Q. Abrugar
Vic promotes tourism-related businesses, brands and places. He's the marketing strategist of FAQ.PH. He believes that the key to success is to always do what to do next. Want to promote your business? Contact him at mail@optixor.com.