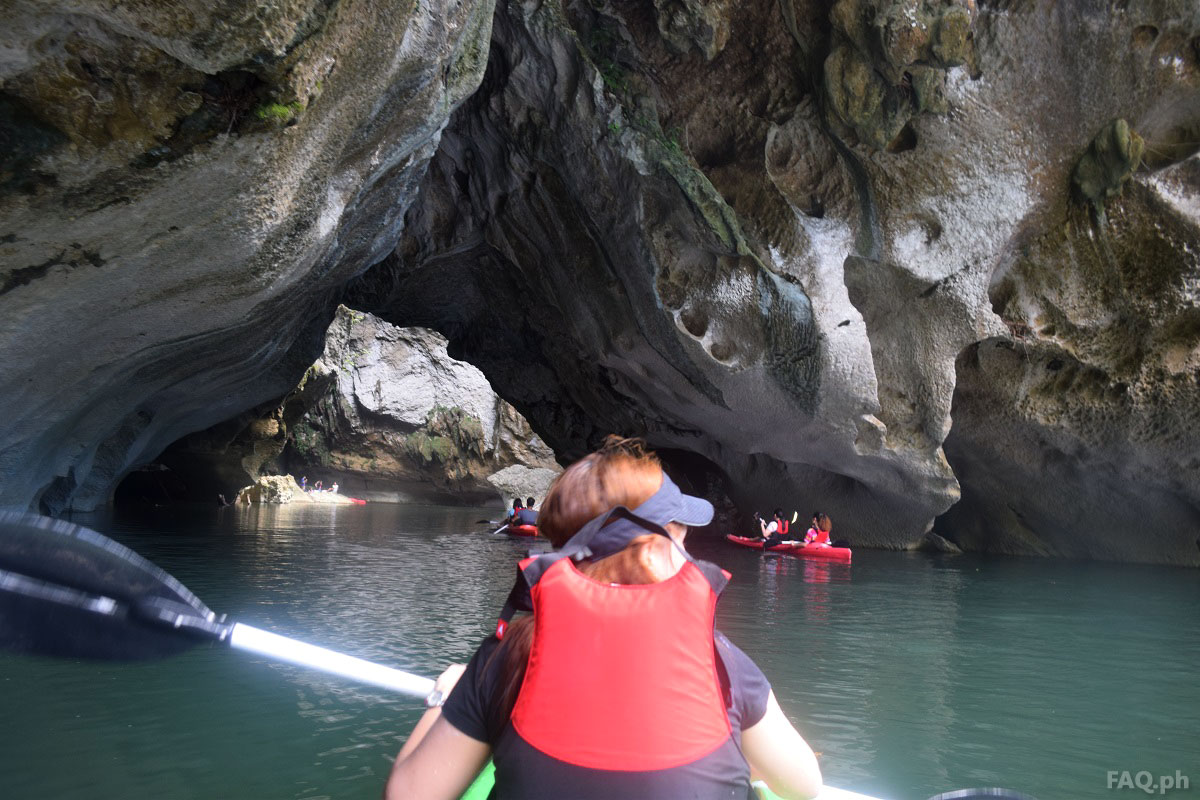 I was born in Samar and currently a resident of Tacloban City but I was never been to Sohoton Caves in Basey, Samar before. All I knew was it's an enchanting place where the 2000 Filipino fantasy-horror film "Spirit Warriors" starred by Street Boys was shot on location. It's a shame that I was already been to Boracay in Aklan and El Nido in Palawan but never been to this place located in Basey, which is just an hour ride from my city. So when I had the chance, I did not hesitate to go there with my friends on 17 January 2016.
The popular caves, river, forest, cliffs, limestone formations and natural bridge in Basey are collectively known as Sohoton Natural Bridge Natural Park, an 841 hectare protected area located in Brgy. Guirang and Brgy Inuntan. It was declared as a national park on July 19, 1935 by virtue of Proclamation No. 831 to preserve its natural and geological features.
Many people think that Sohoton is only about caves but in reality, the area is an ideal place for all types of nature lovers and adventurers. Sohoton Natural Bridge Natural Park (SNBNP) is complete with cathedral-shaped caves, lush green forests, amazing rock and limestone formations, and a cold-water river that passes through a natural rock bridge.
If you have not been to Sohoton Natural Bridge Natural Park, here are 16 reasons and a lot of my travel photos that will make you want to visit and explore SNBNP now.
1. Cross San Juanico Bridge from Leyte to Samar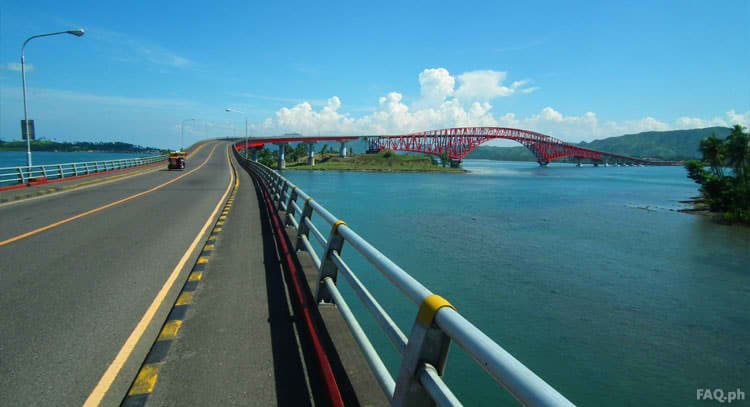 The nearest airport to Sohoton Natural Park is Daniel Z. Romualdez Airport in Tacloban City, Leyte. If you're a tourist traveling from Tacloban City to Basey, you will have the chance to cross San Juanico Bridge, the longest bridge in the Philippines that connects the islands of Samar and Leyte.
2. Experience riding a habal-habal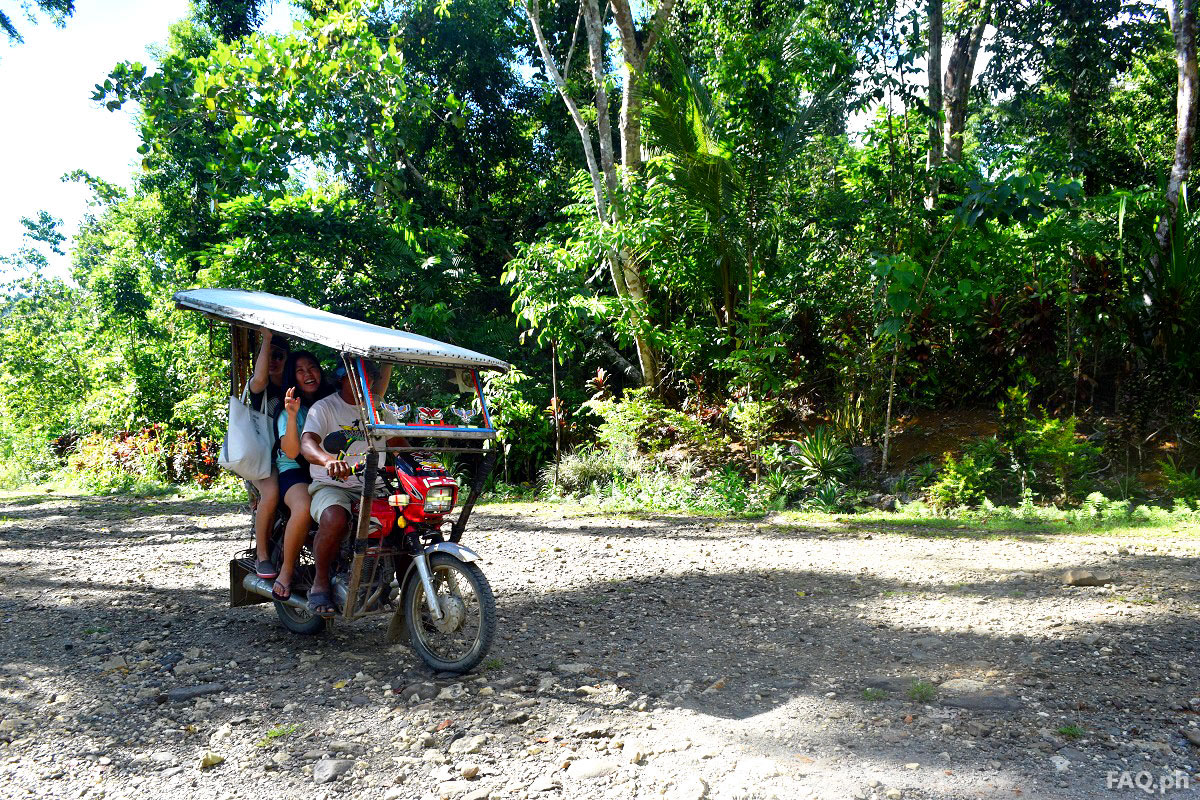 Aside from the colorful jeepneys, Habal-habal is also one of the most popular means of transportation in the Philippines, especially in the countryside where concrete roads have not yet been built. There are two ways to get to Sohoton National Park. You can either ride a pump boat directly from Basey town to Sohoton or ride a habal-habal from Basey Town to Wespal, Brgy. Girang to ride a pump boat from that point to Sohoton. We chose the latter since it's cheaper and we like to experience riding a habal-habal.
3. Cruise the enchanting Sohoton River on a motorized banca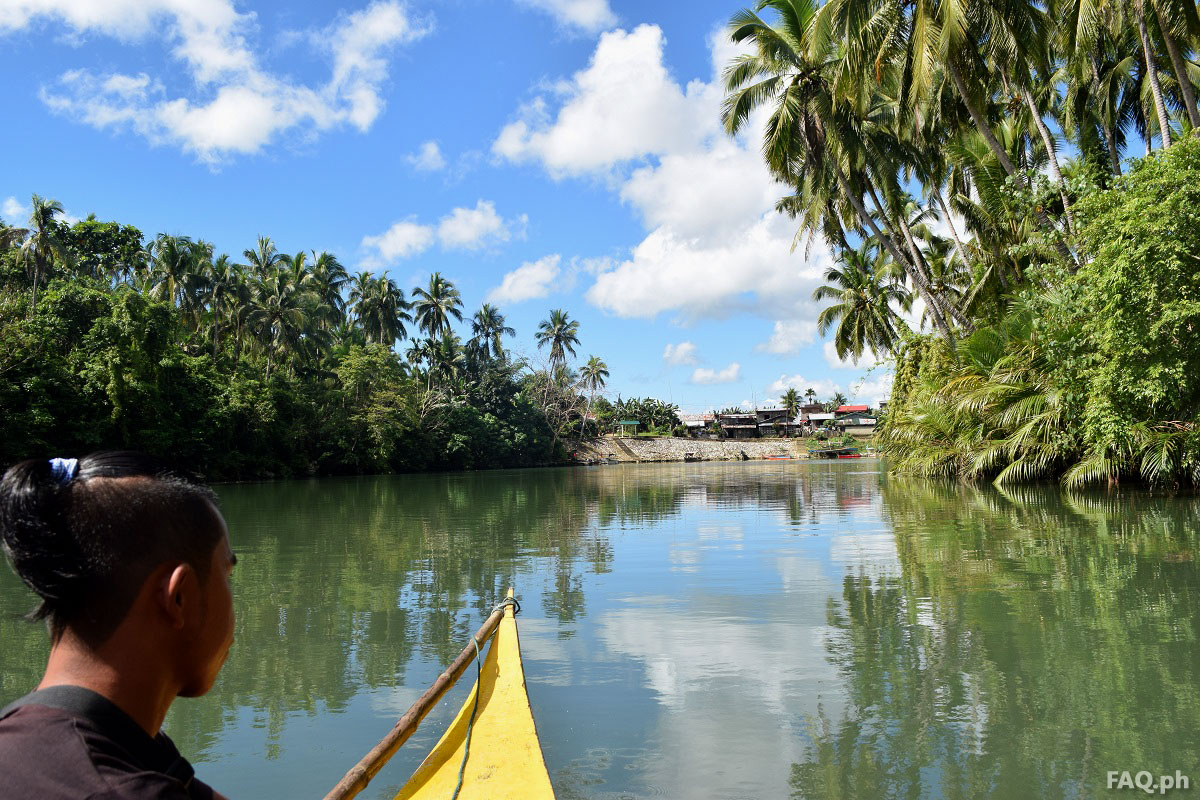 From Wespal, we started cruising Sohoton River on a pumpboat. The boat can carry a maximum of 5 tourists plus our tour guide and the boat's driver. The boat's rate from Wespal to Sohoton is Php500 while the rate from Basey Town is Php1,500.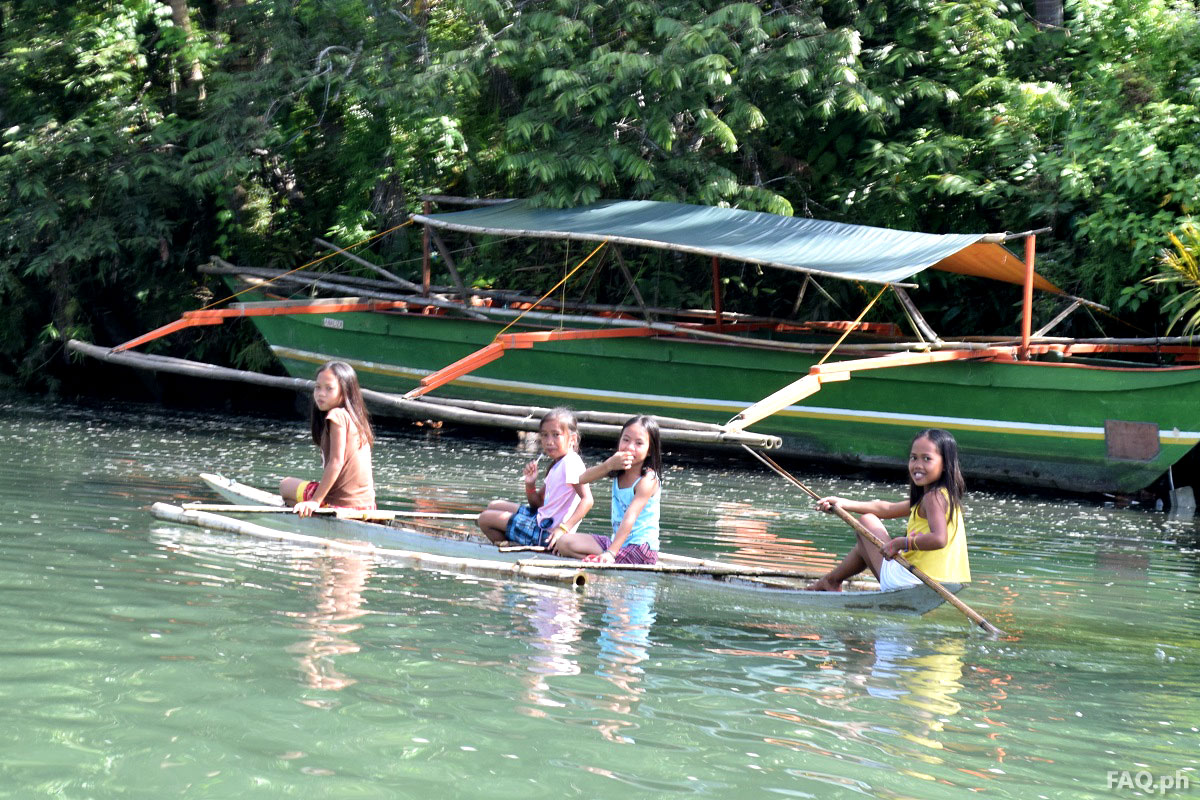 While cruising the river, we passed through these cheerful little girls paddling their way along the river. They probably don't have tablets and smart phones to play just like the kids in the metro cities but they do have a simple and energetic life which many of the modern kids miss to experience.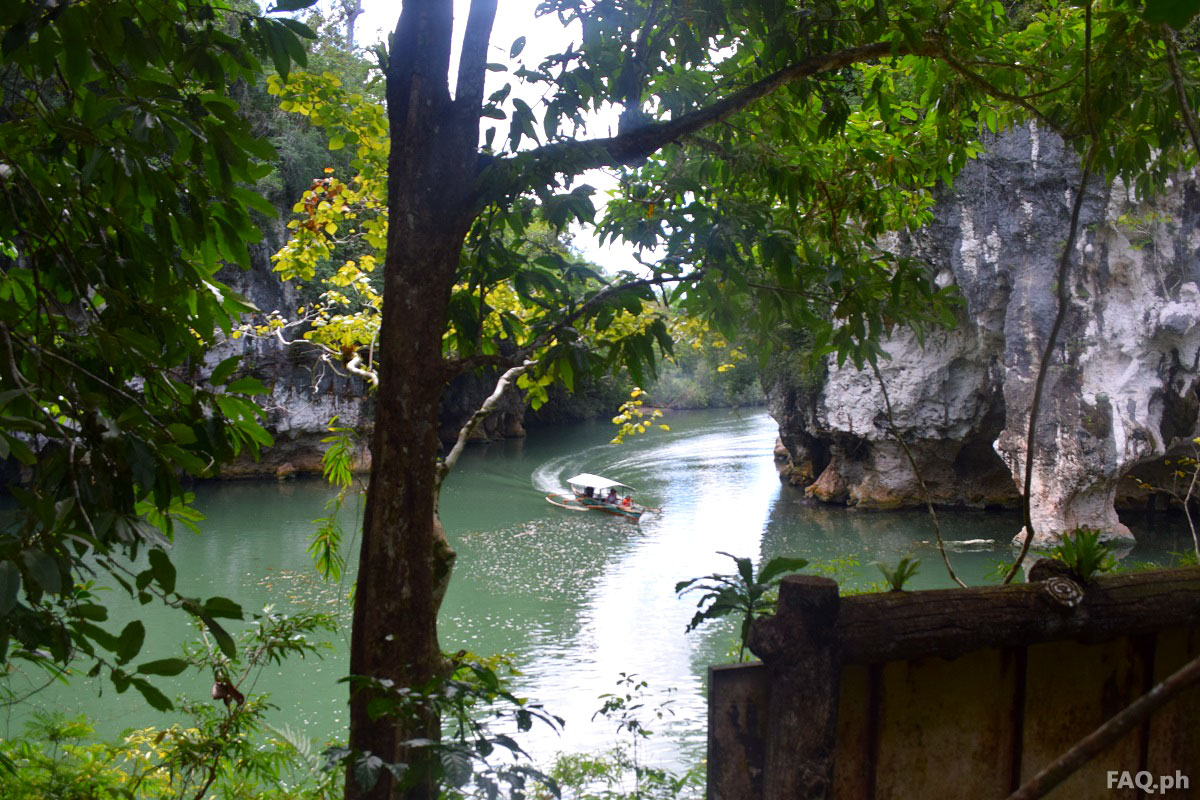 A cruise along Sohoton River will give you a picturesque scenery of a green river, rocky mountains, cliffs, and lush forests. No wonder Sohoton Natural Bridge National Park is considered as one of the most popular ecotourism attractions in Eastern Visayas. This view was taken when I was at the docking area of Sohoton Cave.
4. Listen to the music of Waray-Waray from local musicians

Tourists are welcomed with a Waray-waray song by local musicians upon arrival at the docking area of Sohoton Cave. This is actually part of the fees that you will be paying. However, it's worth it if you love listening to folksongs and want to learn more about the music and culture of Waraynons.
5. Start exploring the underworld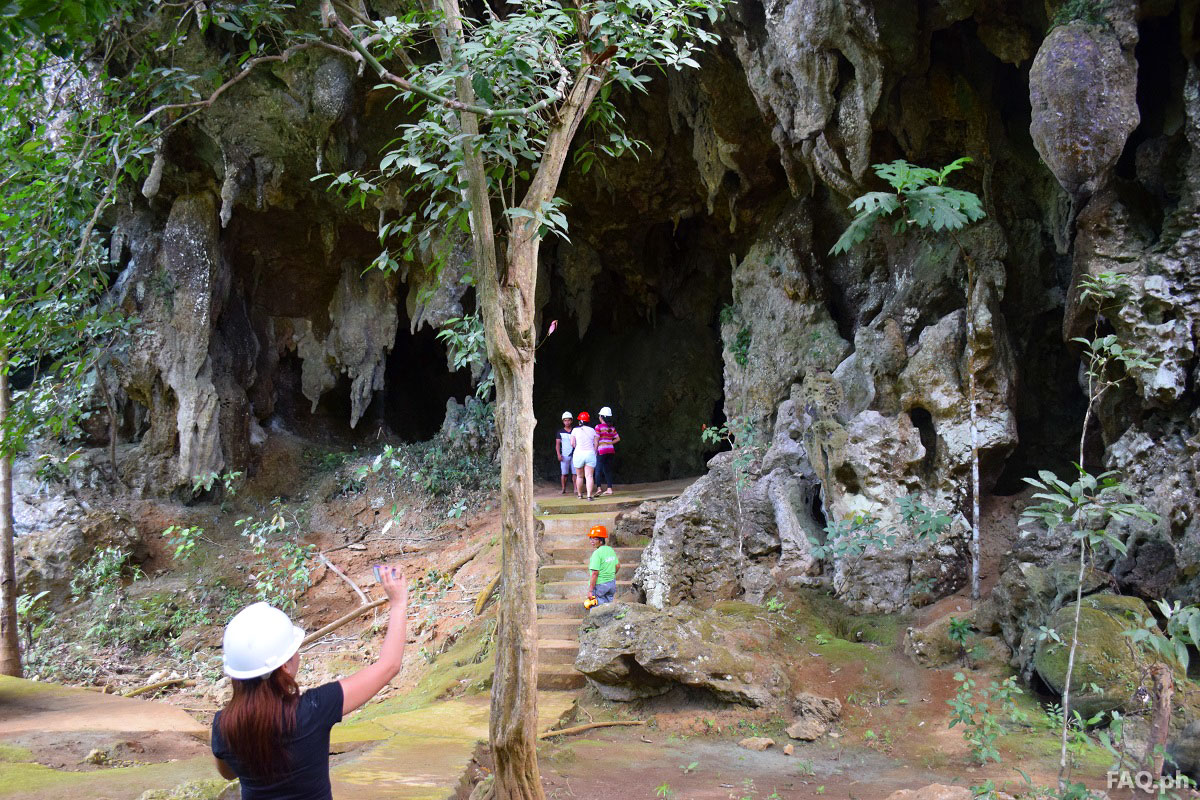 This is the entrance to Sohoton Cave. The cave is perfect for first-time cave explorers since the level of difficulty of exploring it with a tour guide is low. Tourists don't need to bring and wear sophisticated caving gears except lighting and hard hats to protect their heads from stalactites and other rock formations in the cave ceiling.
6. Experience the other side of the world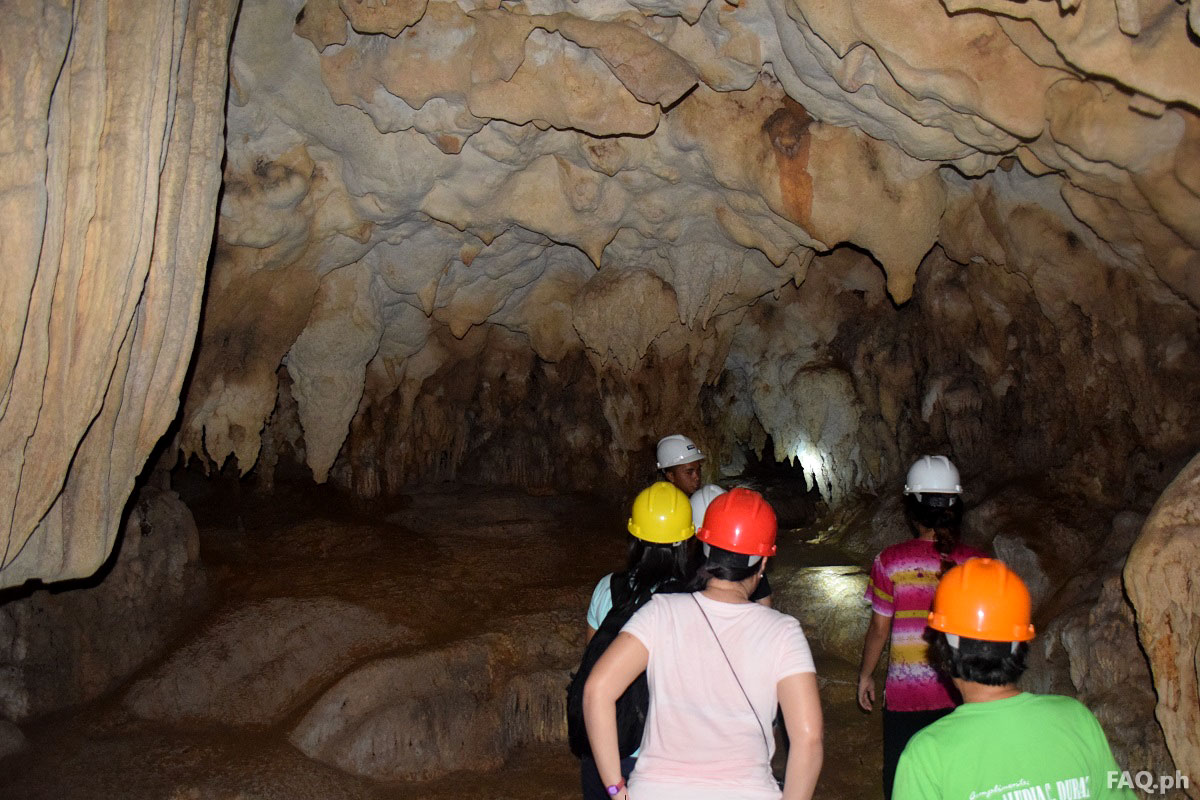 Being inside the cave was an amazing experience. It was like being in another part of the world.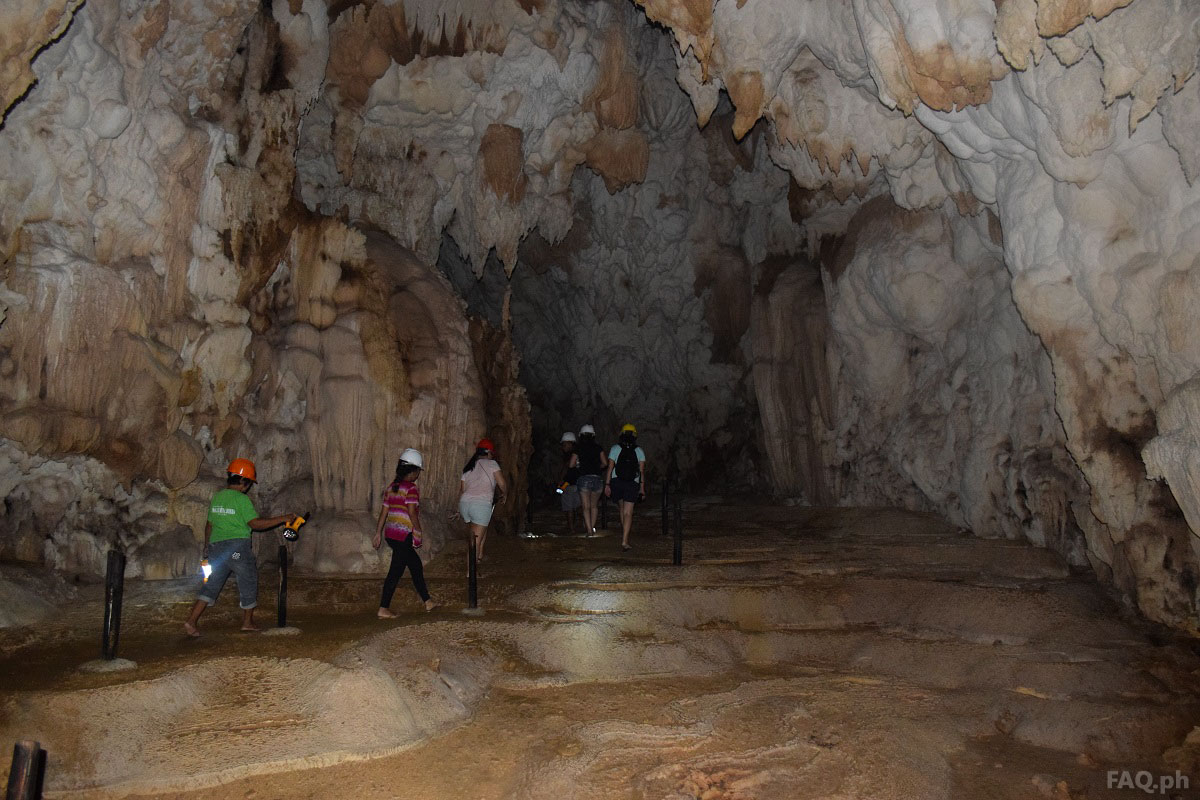 You won't see this place on ordinary days. Local stories have it that Sohoton and Panhulugan caves were inhabited thousands of years ago, as archeological findings such as bones of early cave dwellers and their possessions where discovered inside the caves.
7. See amazing rock and mineral formations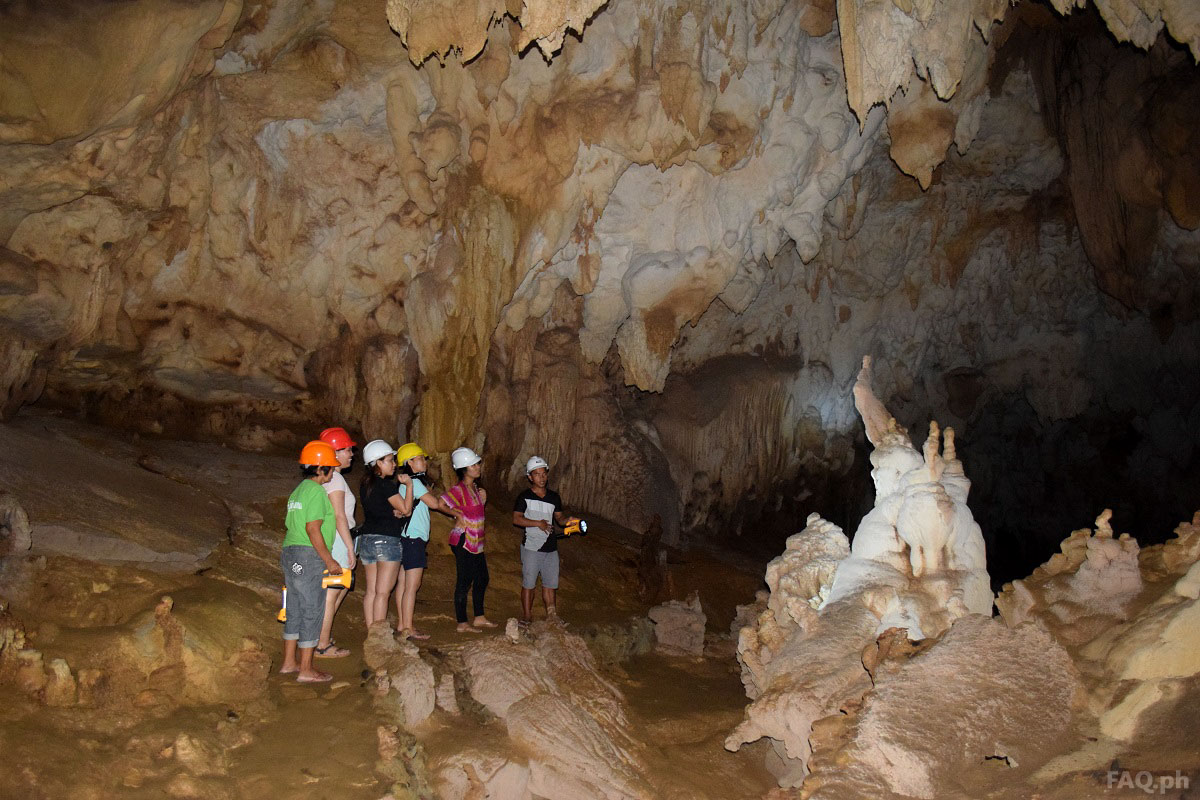 If you have only seen stalactites and stalagmites in textbooks and pictures but not yet in their actual forms, then getting here will give you not only real but also beautiful stalactite and stalagmite formations. Stalactites are mineral formations that hang like icicles from the ceiling or sides of a cave while stalagmites are the ones that rise from the floors.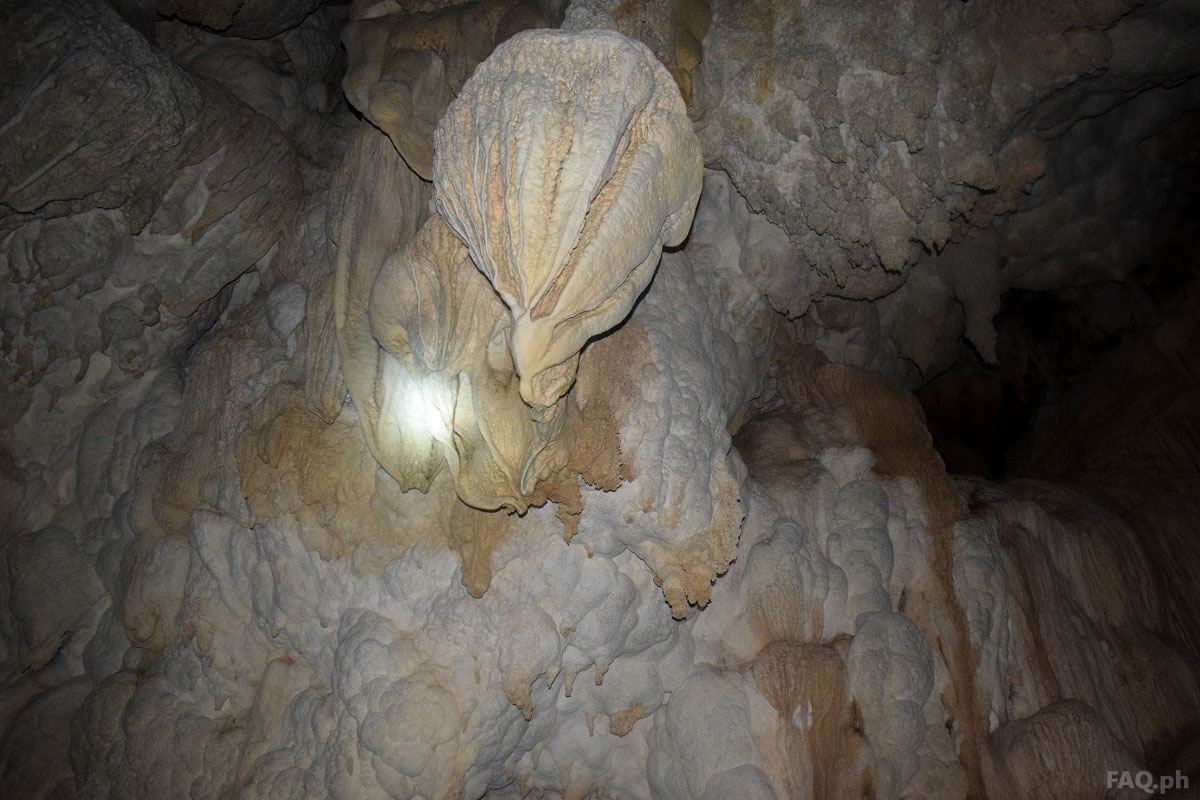 Here's one of the many stalactites that are shaped like chandeliers in the ceiling of Sohoton Cave.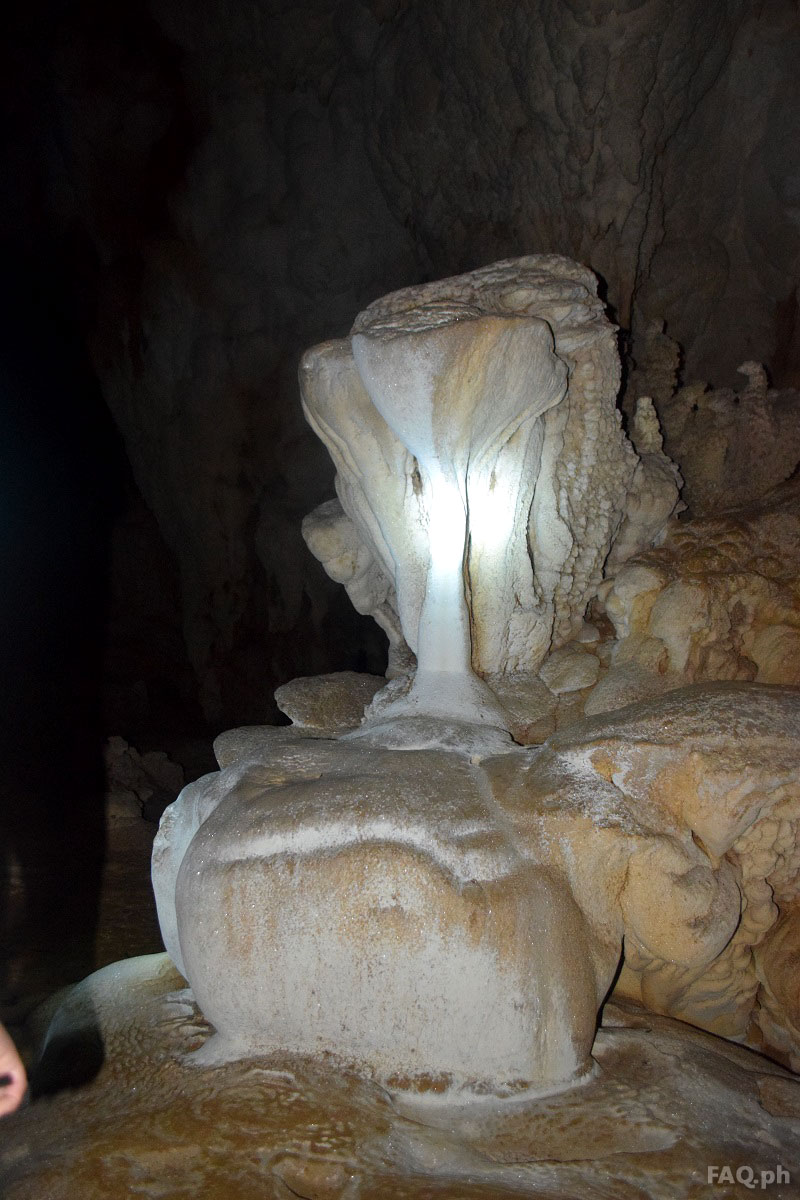 I don't know what this mineral formation is called. Is it a stalactite or a stalagmite? Maybe it's called stalagnate or column, a mineral formation when stalactite and stalagmite meets.
8. Play with your imagination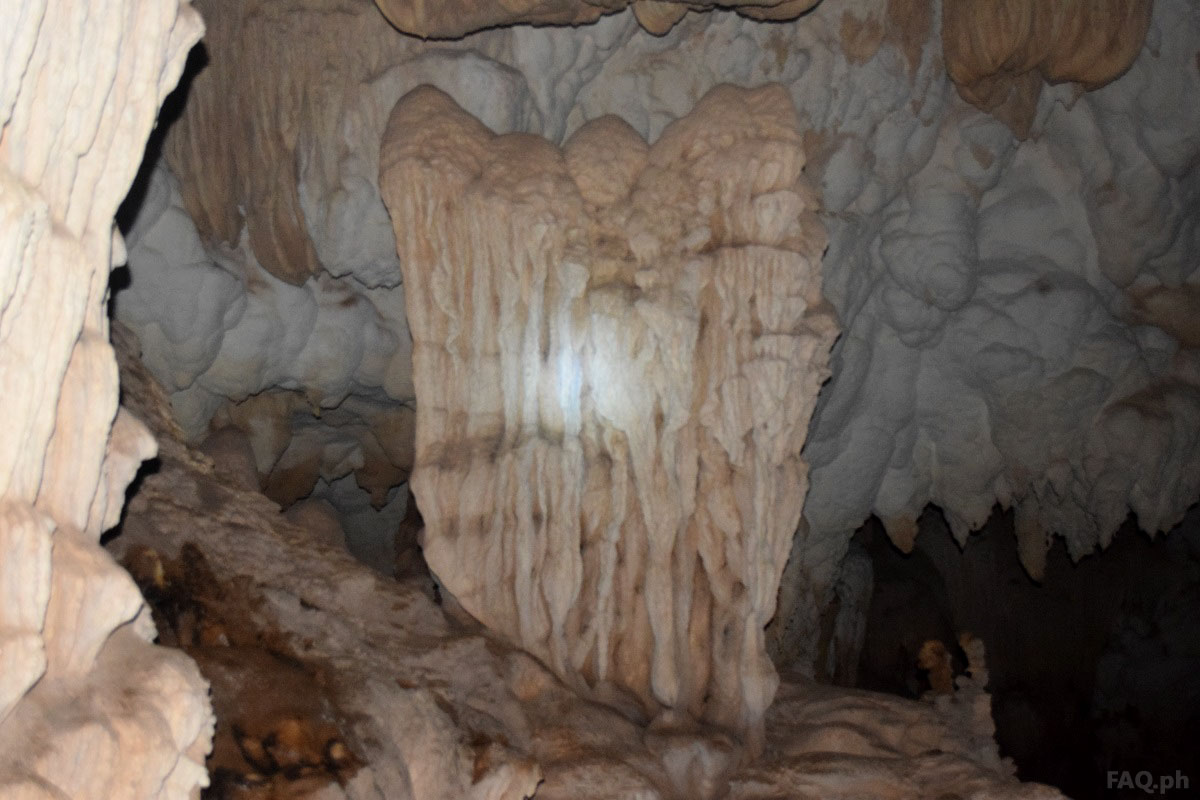 There are many stunning rock and mineral formations in Sohoton Cave that will keep your imagination alive. Can you see angel wings?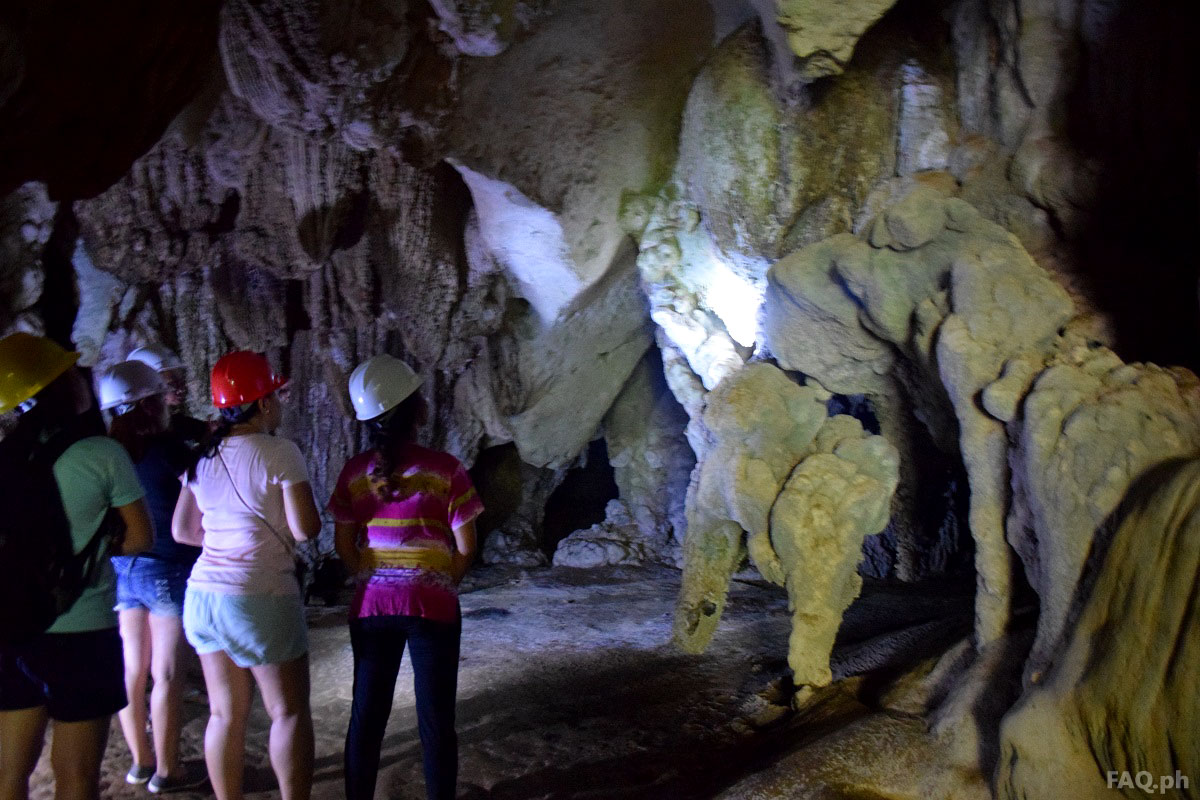 The different shapes of rocks will cause you a Pareidolia. What can you see in the picture above? I see a dog, how about you?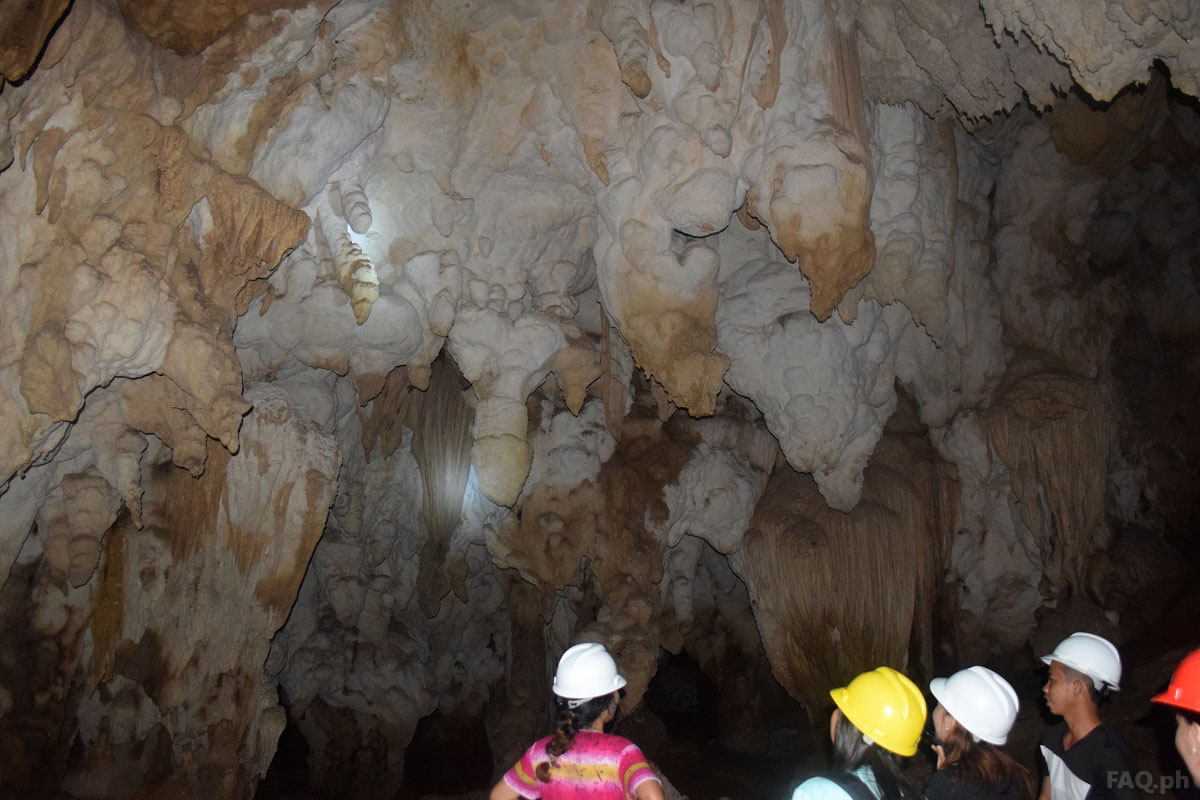 How about the stalactites on the ceiling? Never mind. 🙂
9. Learn both geology and folk stories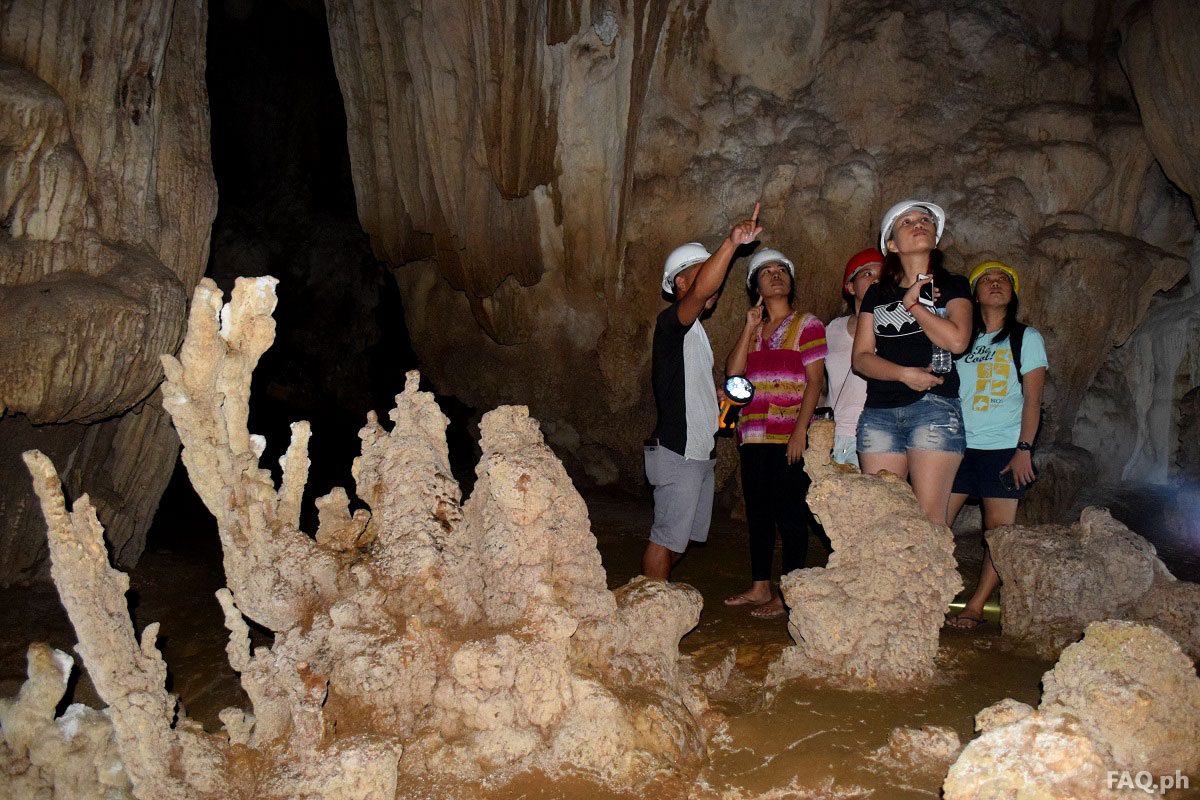 Our tour guide was filled with humor and knowledge about the caves. It was a good, entertaining and enjoyable learning experience to explore Sohoton Cave.
10. See these tiny bats inside the cave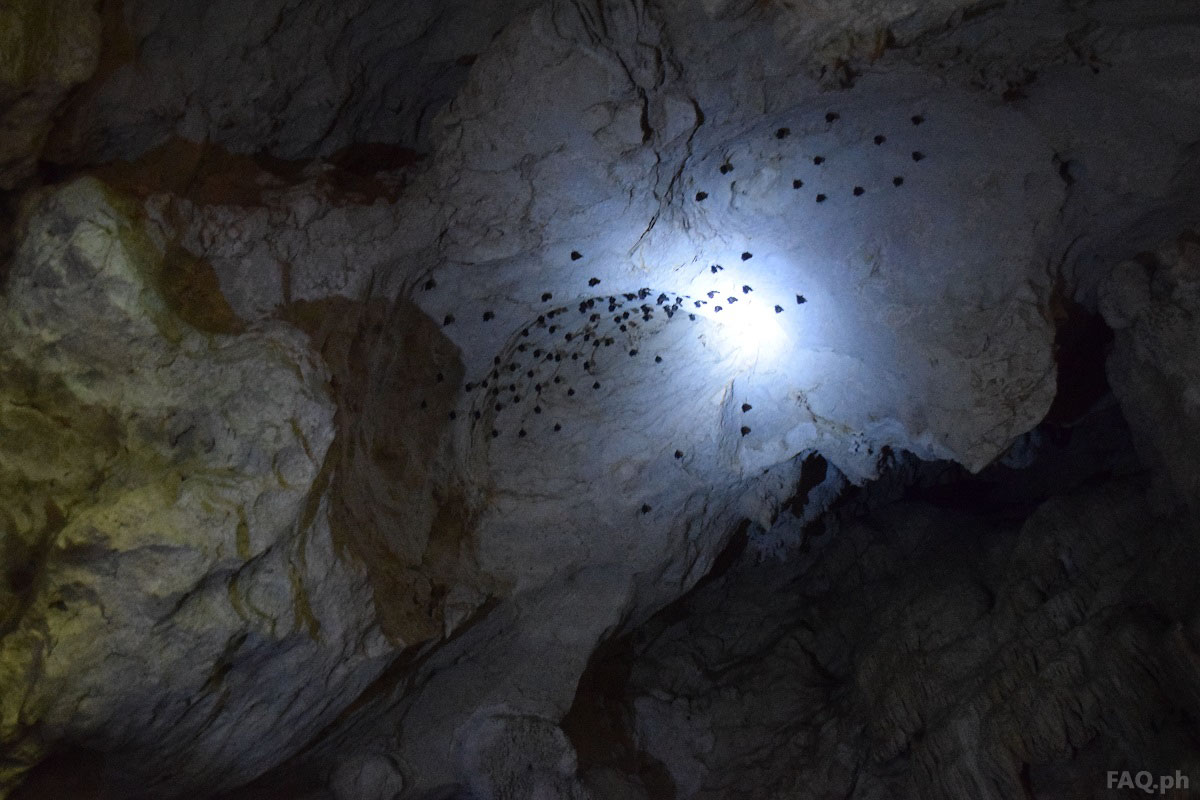 As seen from the floor, they just look like black butterflies. According to our tour guide, these cave-dwelling bats don't grow bigger.
11. See the trees and flora outside the cave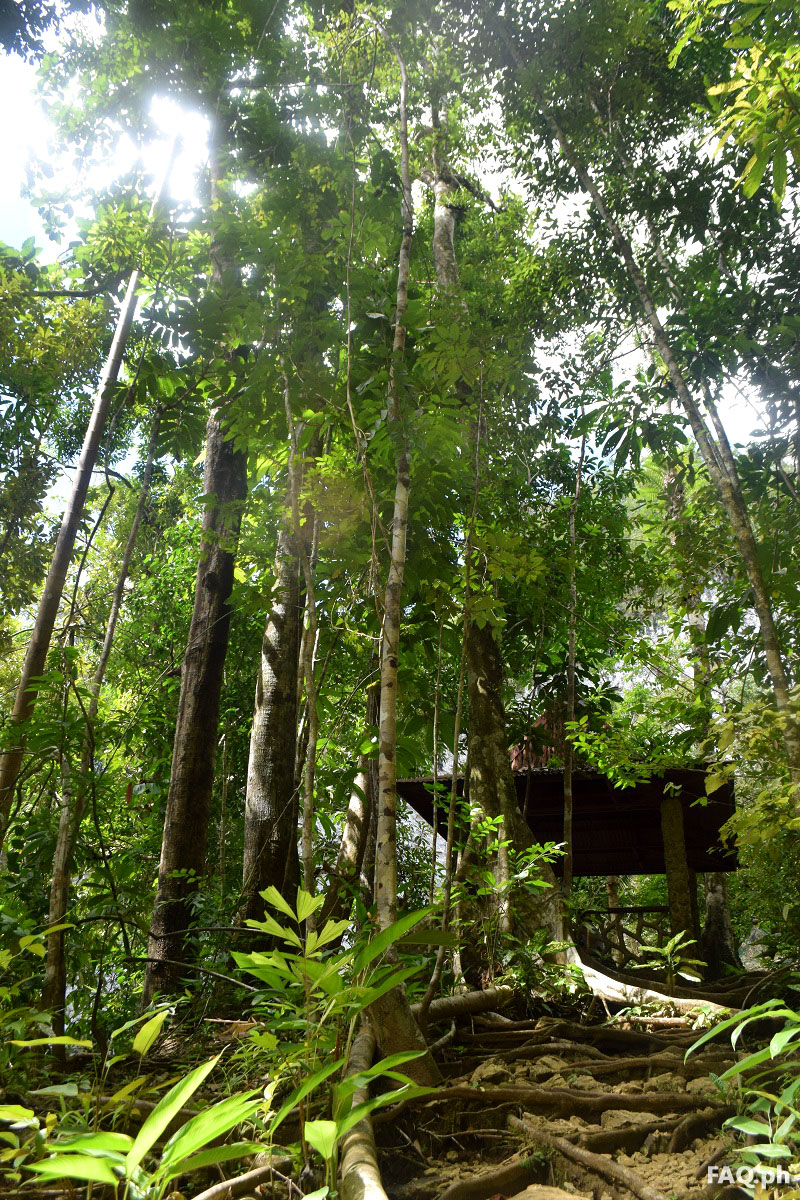 Outside the cave are few cottages where you can eat your food while enjoying the nature with its air freshened up by these trees.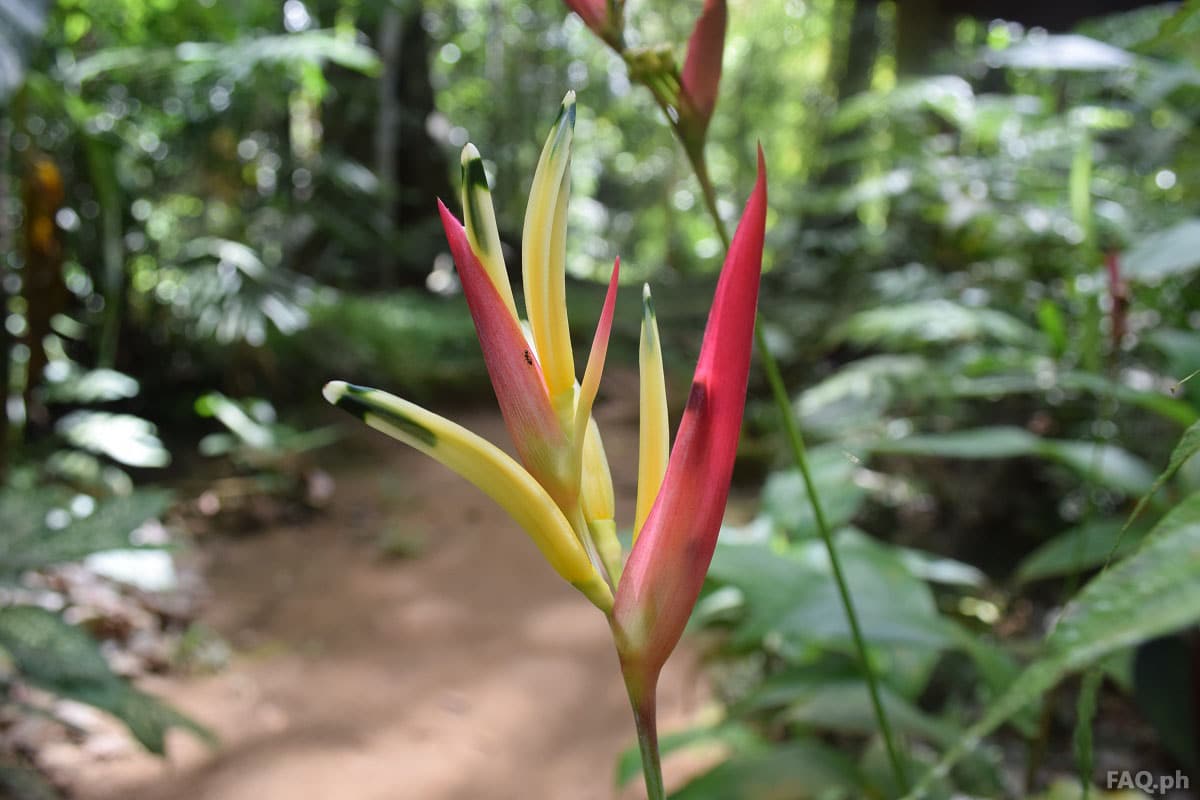 These plants are growing near the entrance of the cave.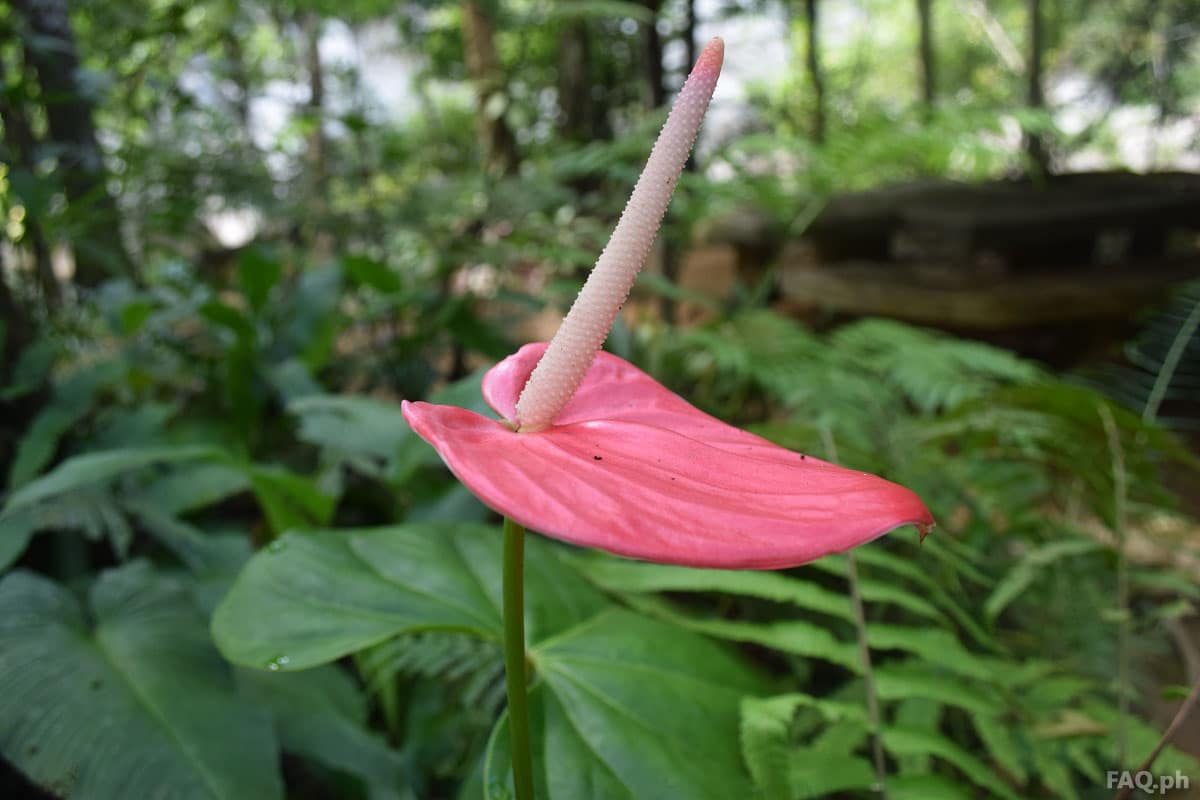 And here's another one.
12. Release your adrenaline by kayaking along the river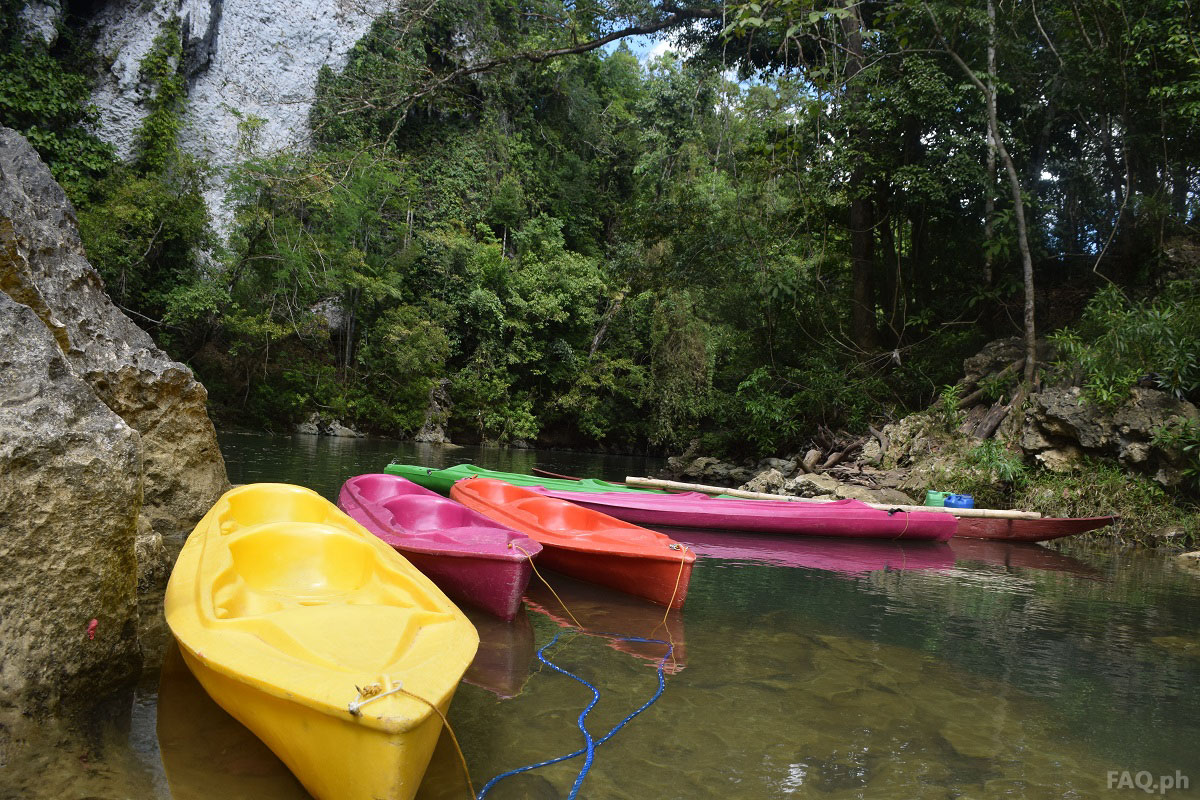 After exploring Sohoton Cave, these kayaks were waiting for us. Kayaks can be rented at Php50 per kayak for two persons. However, it's mandatory to have a kayak guide who will guide a maximum of 6 pax for Php 150.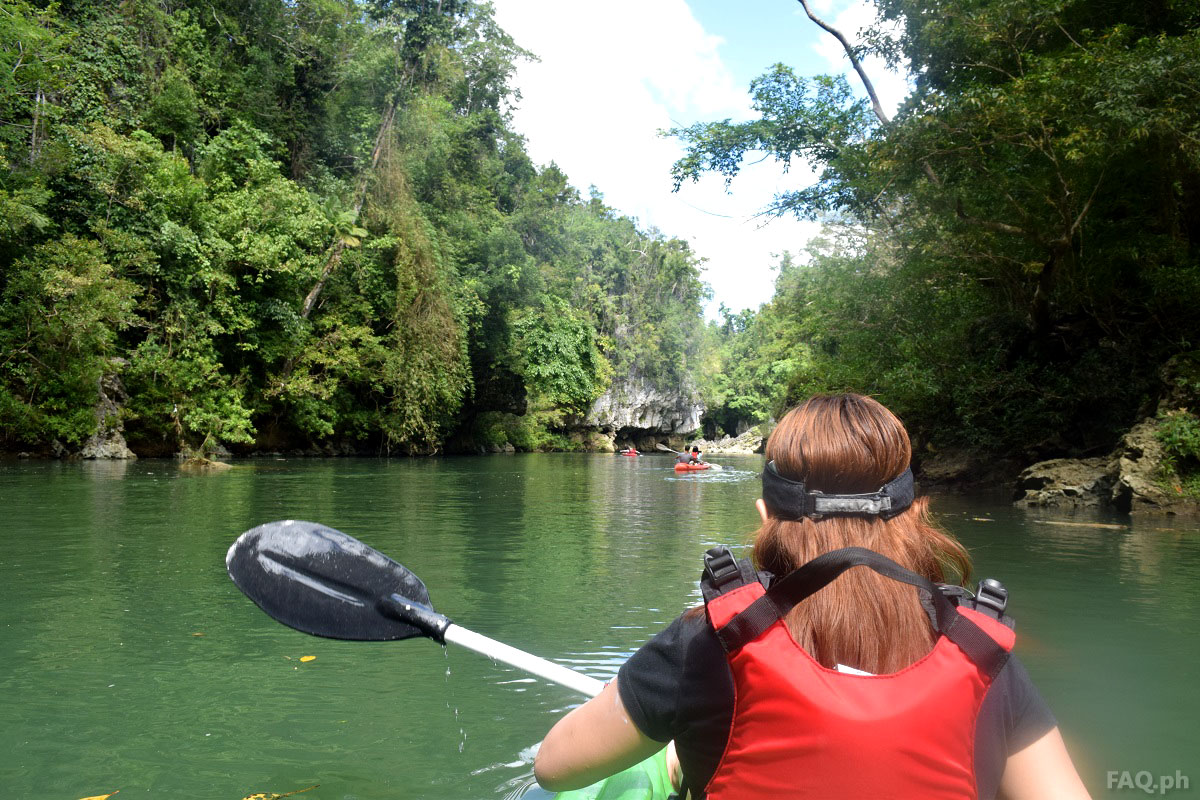 Kayaking along Sohoton River is one of the activities that you must not miss here.

Burn your calories by paddling your kayak and by carrying it when you reach the shallow part of the river.
13. Reach the stunning Sohoton Natural Bridge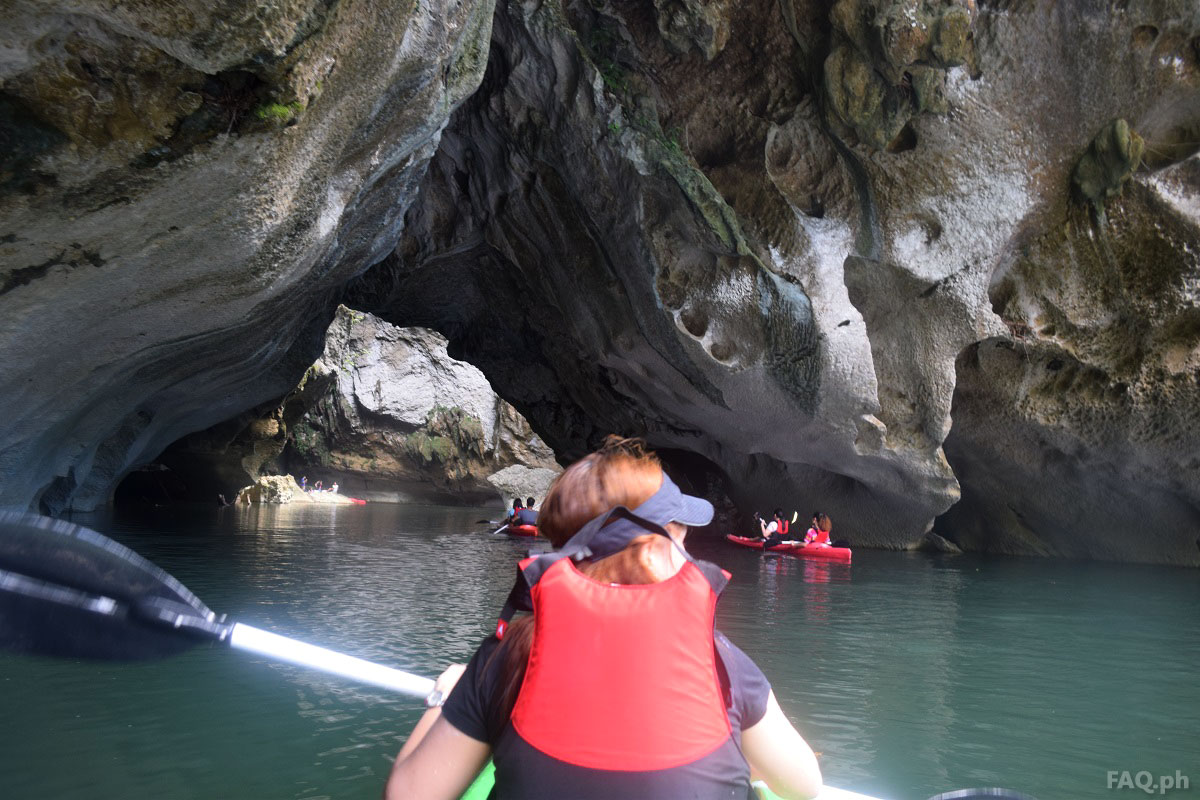 If you are enchanted with Sohoton and Panhulugan caves, wait till you reach Sohoton Natural Bridge, a colossal arch-shaped rock that connects two mountain ridges across Sohoton river.

This naturally formed arc is huge. Can you spot the people at the middle?
14. Enjoy swimming in the cold waters of the river

After reaching the natural bridge, you can park your kayak here and enjoy swimming and splashing your body with the cold waters of the river.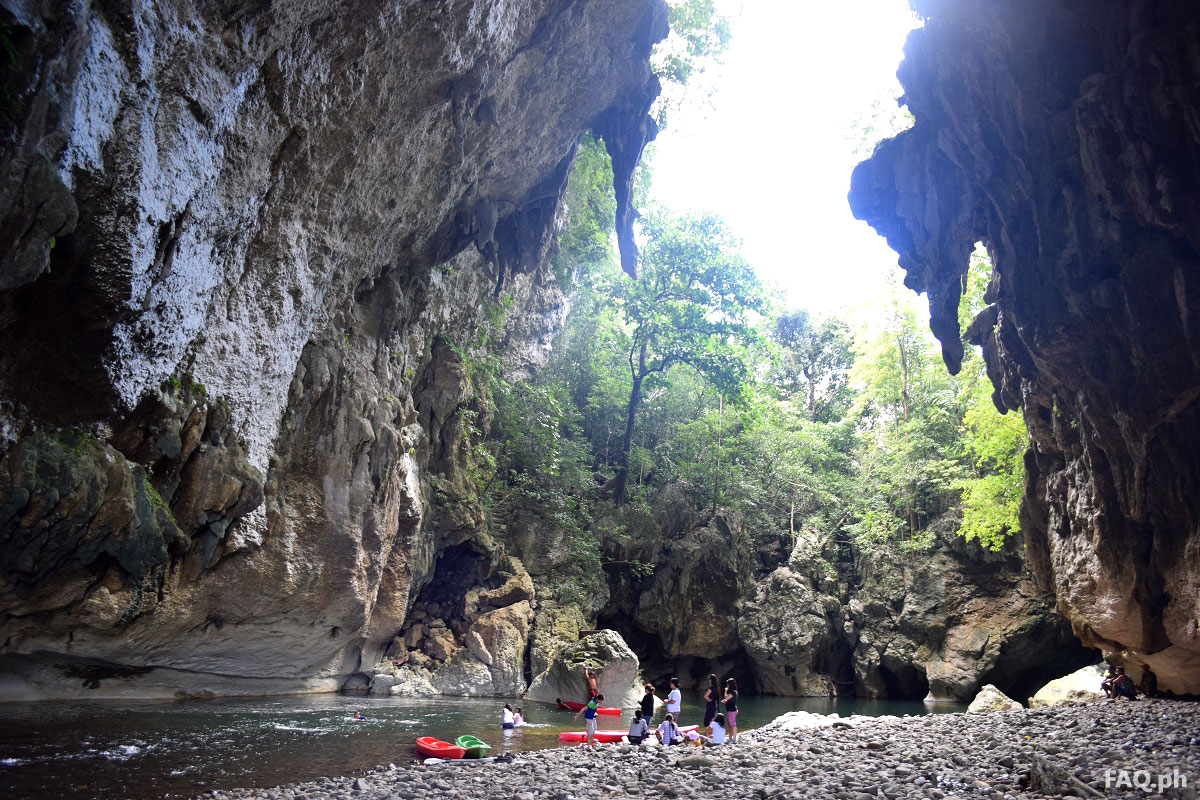 We spent time here taking pictures, swimming, chitchatting, and just chilling with Mother Nature.
15. Side trip to Balantak Falls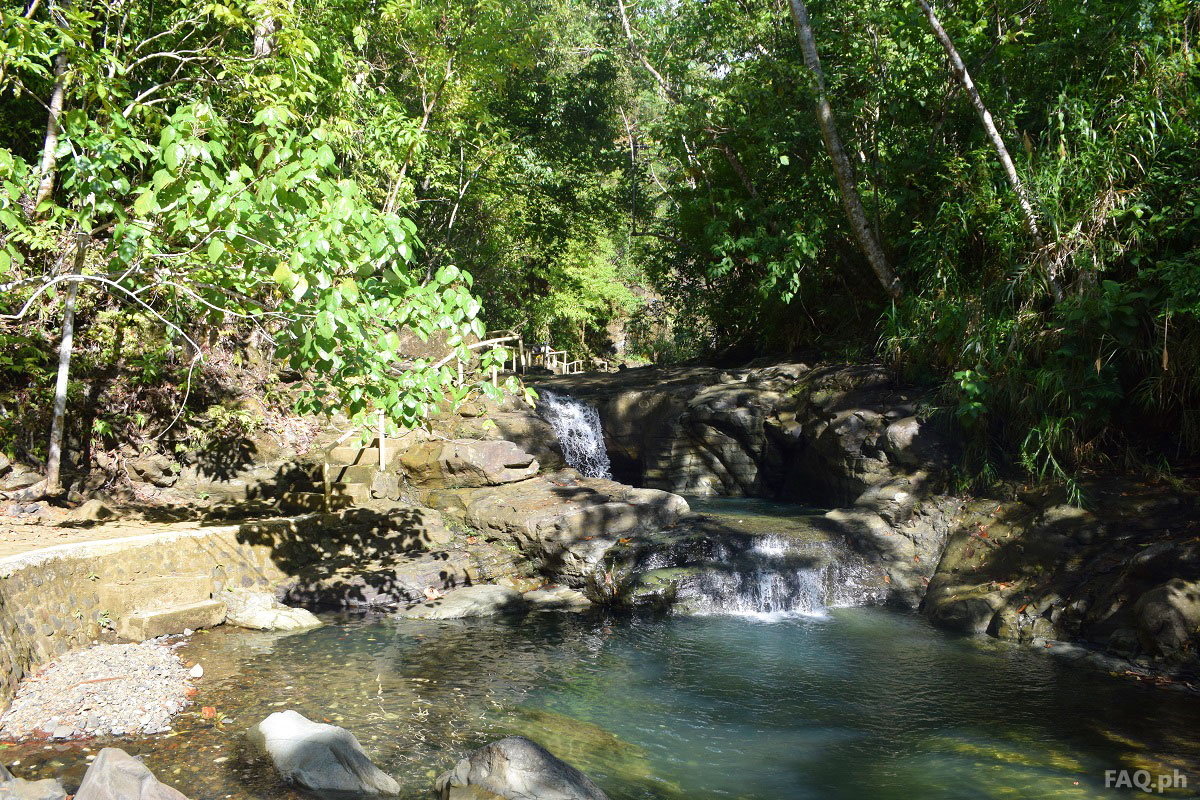 Balantak Falls was not part of our itinerary but we became curious about the place when our tour guide told us that it's just a 5-minute away from Wespal. So when we came back to Wespal with our pump boat from Sohoton Cave, we decided to give it a try. Balantak Falls is composed of 3 waterfalls, the photo above is the second waterfall.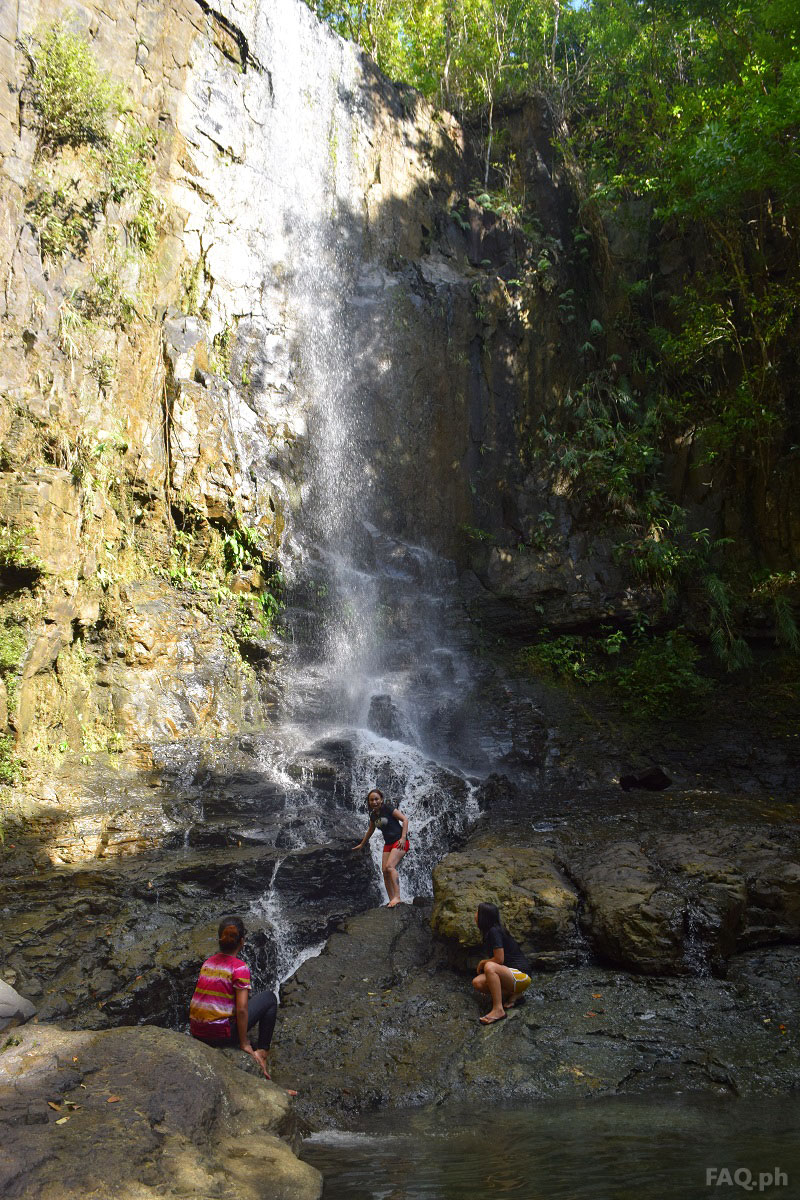 This is the third and the main waterfall. The road going to Balantak Falls from Wespal is a rough road. So expect to experience a bumpy ride if you will ride a habal-habal. If you still have a lot of energy and time, you can trek to the waterfalls. But in our case, we were already exhausted from our Sohoton journey so we rode a habal-habal for Php100 per pax from Wespal to Balantak Falls and back.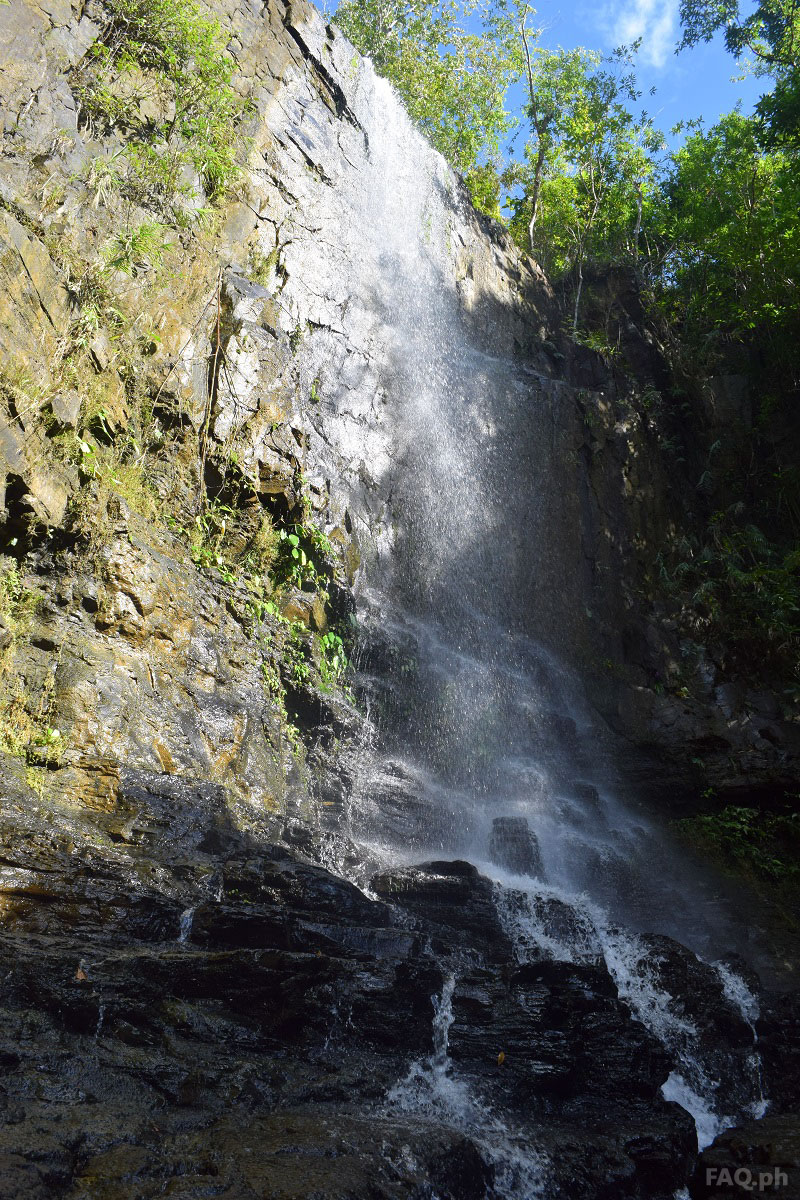 Balantak Falls was just perfect to complete our Basey adventure. Its cold and falling waters are just perfect to comfort and massage my already tired body.
16. Visit the century-old church of Basey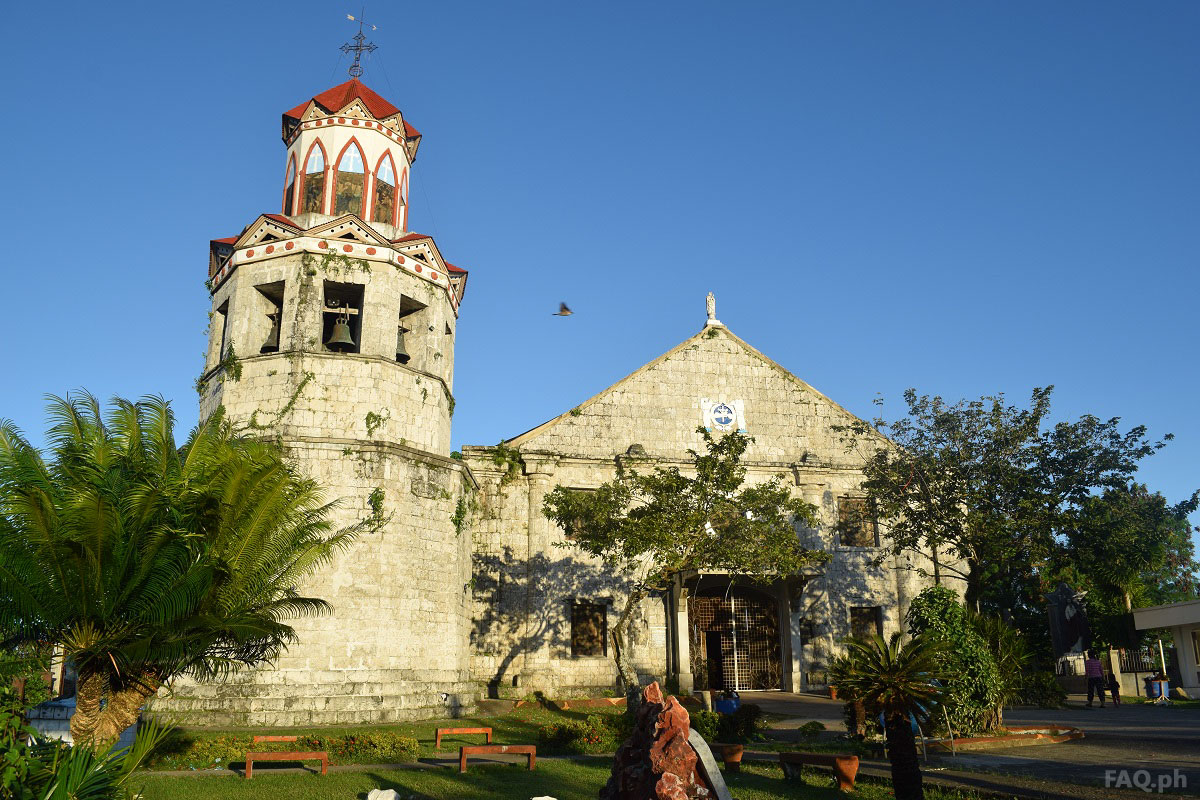 The last trip of vans going from Basey to Tacloban City that day was at 5:30 PM. We arrived at the town from Balantak Falls an hour earlier so we decided to visit St. Michael Archangel Church first before going back to the city. This 17th century old church, particularly its bell tower and stone convent were constructed in 1845. It is situated on the top of the hill giving the church an ideal location.
How to get to Sohoton Natural Bridge Natural Park?
The nearest airport to Basey, Samar is Daniel Z. Romualdez Airport in Tacloban City.
From Tacloban City New Terminal, ride a van or jeepney to Basey, Samar. Travel time is about 40 minutes. Van fare is Php 30 to 40.
In Basey, go to the local tourism office to pay the required fees and get some important information. From Basey town, you can either ride a pump boat directly to Sohoton Cave or ride a habal-habal to Wespal then ride a pumpboat to Sohoton Cave. If you have your own vehicle, you can also drive to Wespal to save the cost of riding a habal-habal.
From Sohoton Cave, you can ride a kayak to Sohoton Natural Bridge.
For more tips, also read How to Get to Sohoton Natural Bridge National Park in Basey, Samar
How to get Balantak Falls
From Wespal, you can ride a habal-habal or trek to Balantak Falls. It's a rocky road so expect a bumpy ride if you will ride a motorcycle or a habal-habal. I think the distance from Wespal to Balantak Falls is around 4 kilometers.
Estimated costs of our trip
Here's the breakdown of the expenses (good for 5 people) that we incurred during our one day trip to Basey's tourists destinations:
Fees collected by Basey Ecotourism office:
Pumpboat from Wespal to Sohoton (round trip): P500 (maximum of 5 people)
Cave Guide: P300 (maximum of 10 pax)
Lighting Fee: P300 (maximum of 10 pax)
Entrance Fee: P125 (P5 per pax)
Environment Fee: P250 (P50 per pax)
Kayak Rental: P100 (P50 per kayak)
Kayak Guide: P150 (maximum of 6 pax)
Guitarist: P200
15% SSA Operational Expenses: P288
Sub Total: P2,213
Other fees:
Van fare from Tacloban New Terminal to Basey: P150 (P30 per pax)
Van from Basey to Tacloban Downtown: P200 (P40 per pax)
Habal-habal from Basey to Wespal: P250 (P50 per pax)
Habal-habal from Wespal to Balantak Falls and back: P500 (P100 per pax)
Habal-habal from Wespal to Basey: P300 (P60 per pax)
Balantak Falls Entrance Fee: P100 (P20 per pax)
Balantak Falls Tour Guide: P200
Sub Total: P1,700
Total: P3,913 or P783 per pax
Note: We brought our own food and water. We left Tacloban City at around 8 AM and returned to the city at around 6 PM. The fees and prices above may also change without prior notice.
For more information, you may contact Basey Tourism at 09287459915/09283358783 or email at tourismbasey@yahoo.com. These are the contact information I got from their flyers.
Finally I would like to say thanks to my travel buddies Regine, Kathryn, Geann and Larissa. 🙂
Our trip and this article are not paid and sponsored by any brand. But I welcome brand sponsorship in our future travels. So feel free to contact us if you like to be part of our future adventures and be promoted in front of our 100,000 to a million audience on the Internet. 🙂 All images on this post are owned by the author and FAQ.ph.
Related Articles:
20 Amazing Photos that Show why Samar is the Caving Capital of the Philippines
Linao Cave in Guiuan: How to Get There and be Closer with Nature
About Victorino Q. Abrugar
Vic promotes tourism-related businesses, brands and places. He's the marketing strategist of FAQ.PH. He believes that the key to success is to always do what to do next. Want to promote your business? Contact him at mail@optixor.com.