It was my second time to visit Kalanggaman Island in Palompon Leyte, and the first time since super typhoon Yolanda (Haiyan) struck Eastern Visayas in November 2013. I was concerned that the beauty of the island won't be as amazing as I first visited it before Haiyan. However, on March 30, 2015, my worries were cleared as I was once again mesmerized by the charm of this paradise just like the first time I saw its beauty during my first visit.
The beach is one of the top places to visit during summer. And an island blessed with clear waters and white long sandbar is a dream spot every tourist is looking for. Kalanggaman Island is by far the most beautiful island I've visited, not only in Eastern Visayas, but in the Philippines. If you haven't been to this paradise in Palompon Leyte, here are some of the enchanting photos I took during our visit to the island from March 30 to March 31, 2015.

Kalanggaman Island is located in Palompon, Leyte, a 3-hour ride by van from Tacloban City. The town of Palompon can also be reached from Cebu City via Super Shuttle Ferry and Cokaliong Shipping Lines. Read our travel guide on how to go to Kalanggaman Island for more details.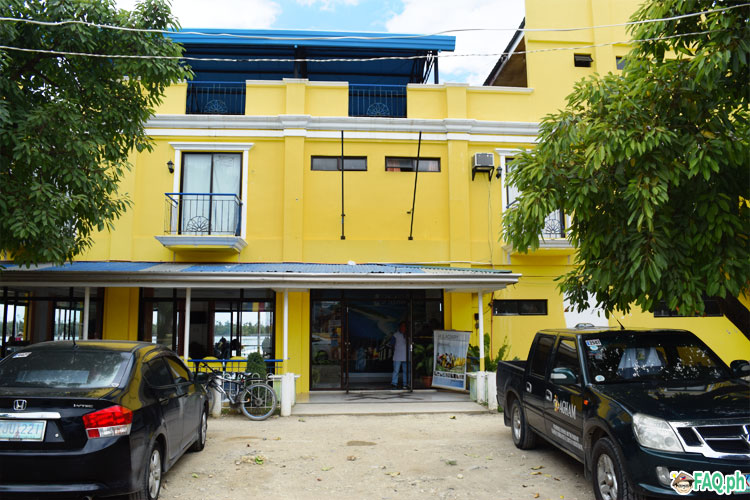 The Ecotours office of the local government of Palompon is the agency who manages the Island. Tourists have to call the office for boat reservations and other inquirers. You may call their Booking Service Desk Officer, Mr. Christopher Montebon at +639173037269 for reservations and other important questions.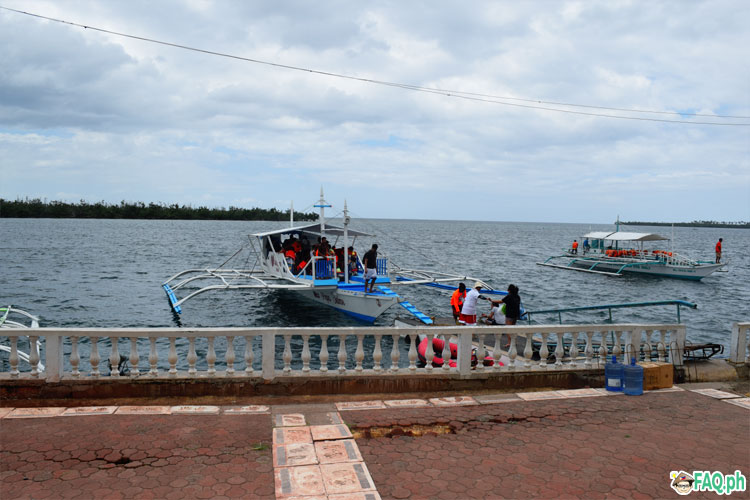 From the port of Palompon to Kalanggaman Island is an hour boat ride. Expect a bumpy ride if you're sailing at noon, which was our schedule going to the island. The smallest boat, which can carry 15 people, costs P3,000 for a round trip. If you're only travelling alone or with few people, you can find a group and agree to share a boat with them to save money.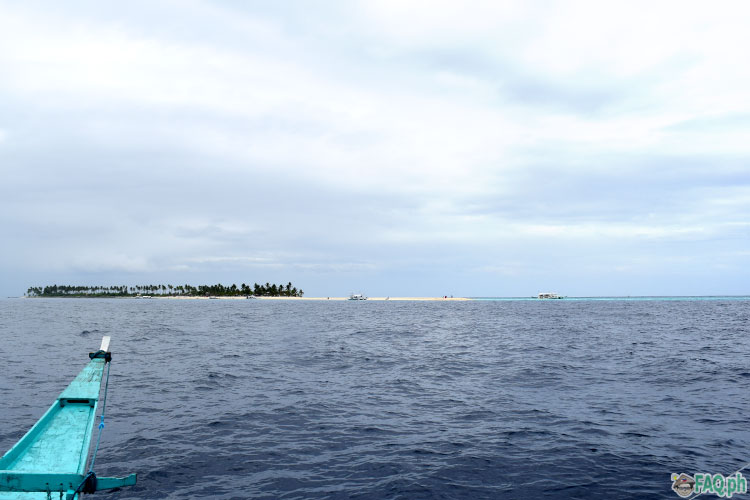 After the great ride through the waves and rain showers, we've finally arrived at Kalanggaman Island. From this distance, we can already see the long sandbar of the island.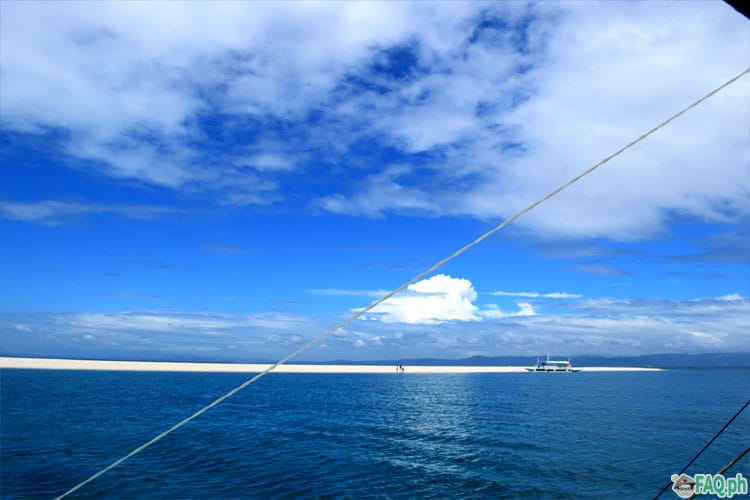 The sandbar was still captivating just like the first time I saw it before.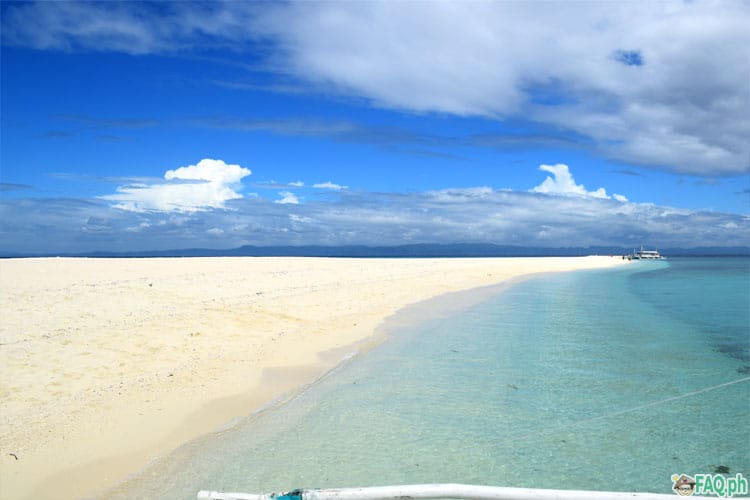 The white sand shores and clear waters were breathtaking just like the first time I came here.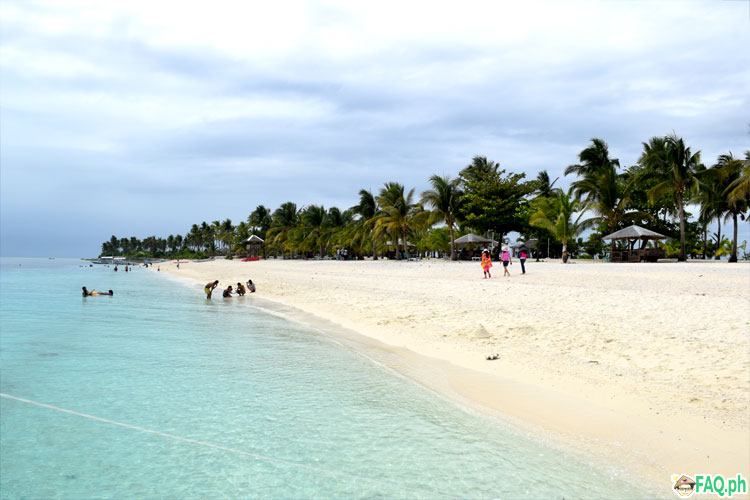 It was a mix of a rainy and a sunny weather but it did not matter – the beauty of the island cannot disappear.

Kalanggaman Island is also considered a sanctuary of dolphins. Dolphins can be seen if you will travel in the morning when the sea is calm, as we did and observed during our 7am return from the island to the town. Unfortunately, I wasn't able to capture a clear picture of the dolphins jumping out of the water.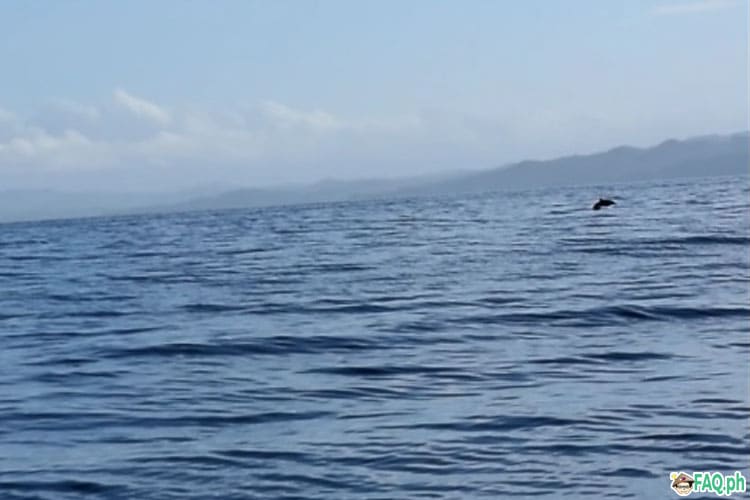 Yes, that's a dolphin jumping out of the water. You will have a better chance to see these intelligent creatures if you will travel to or from the island early in the morning.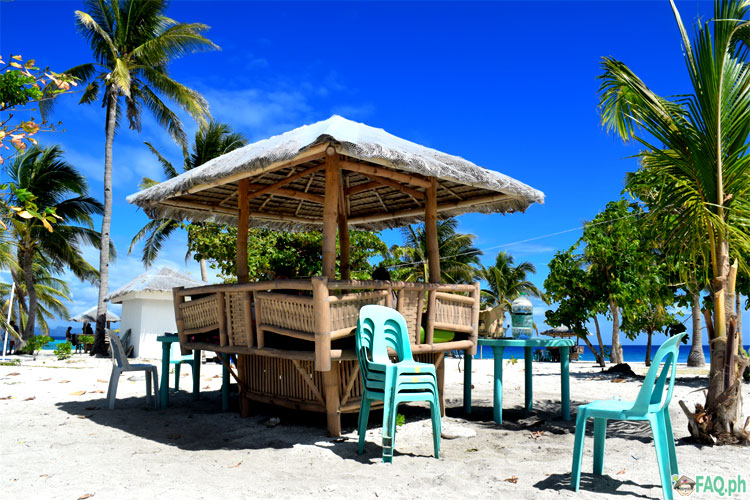 A small cottage for the three of us. This costs P250 for overnight use. The larger cottages cost P500.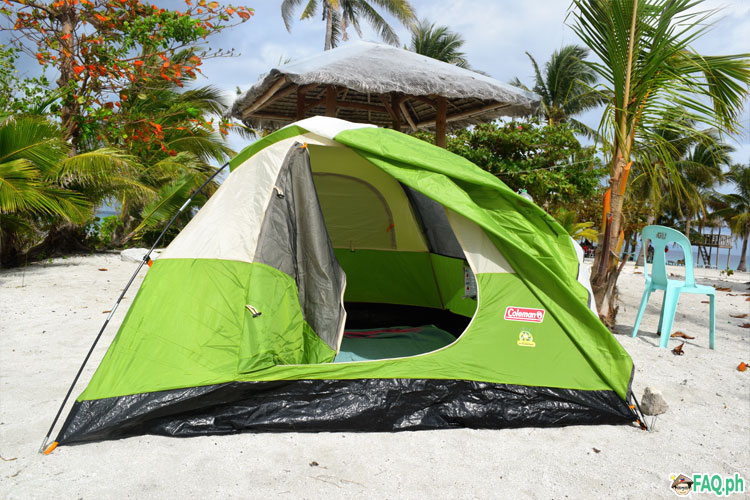 We immediately looked for a perfect spot to set up our tent. If you're staying overnight at the island, you have to bring your own tent as there are no tents for rent at the island. The cottages are open and are not good for sleeping at night, especially when the weather isn't good.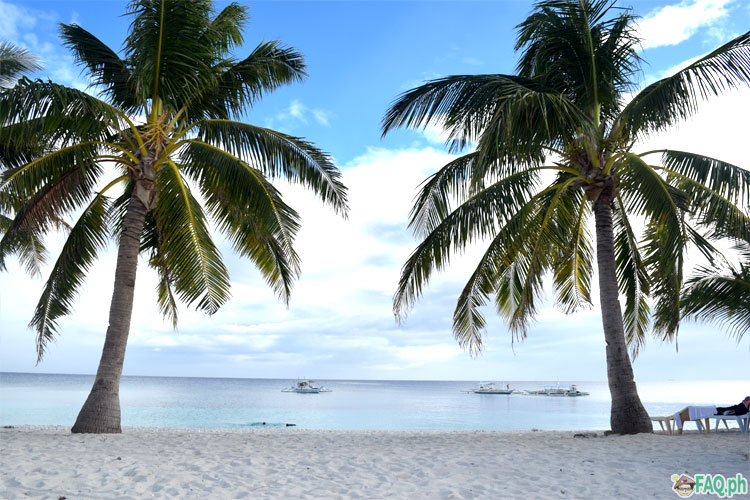 The beach is already inviting us to swim.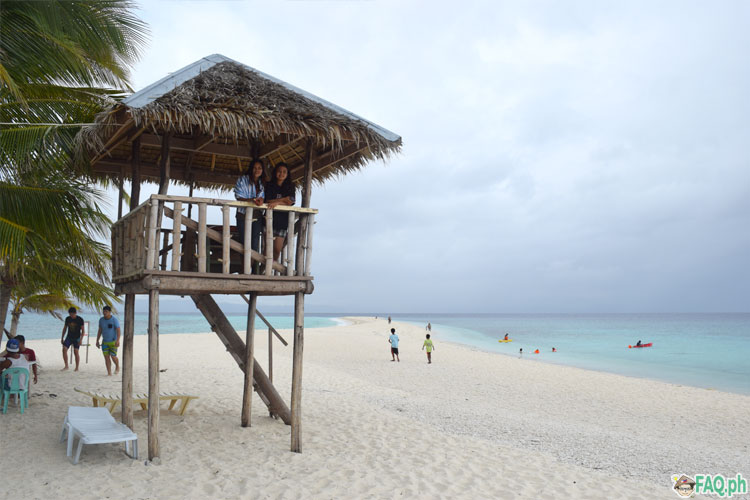 That's one of the lifeguard towers in the island.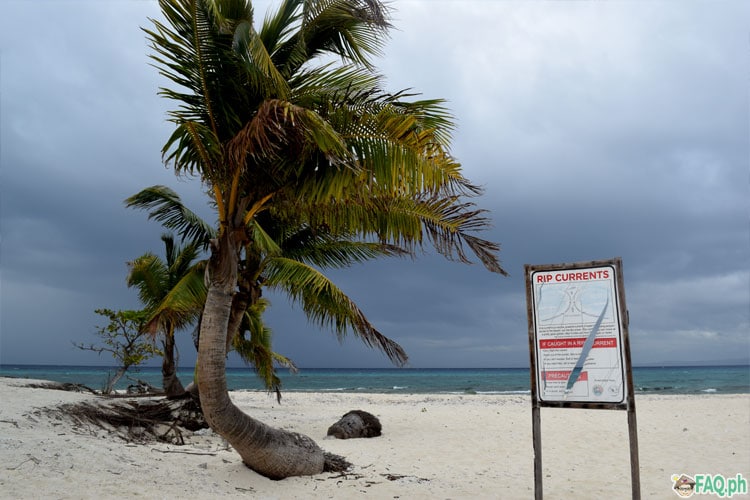 A signboard educating and warning tourists to take precautions about swimming near the rip currents.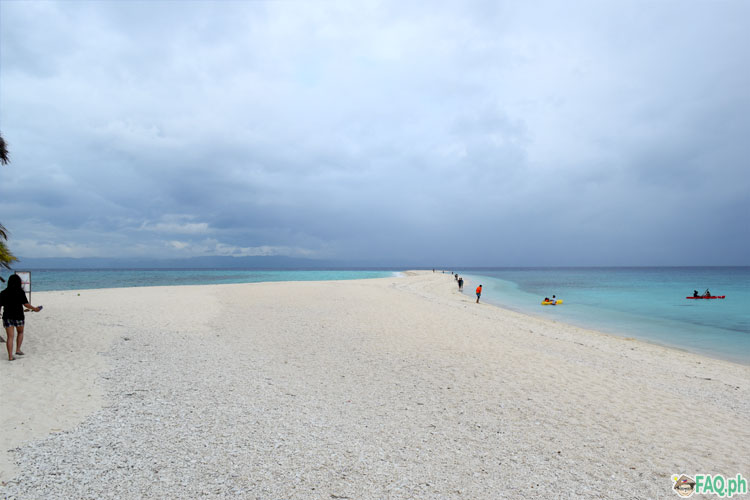 We're now ready to explore the famous sandbar of Kalanggaman Island.

The weather was partly sunny, cloudy and rainy but the beauty of the island continued to awe us.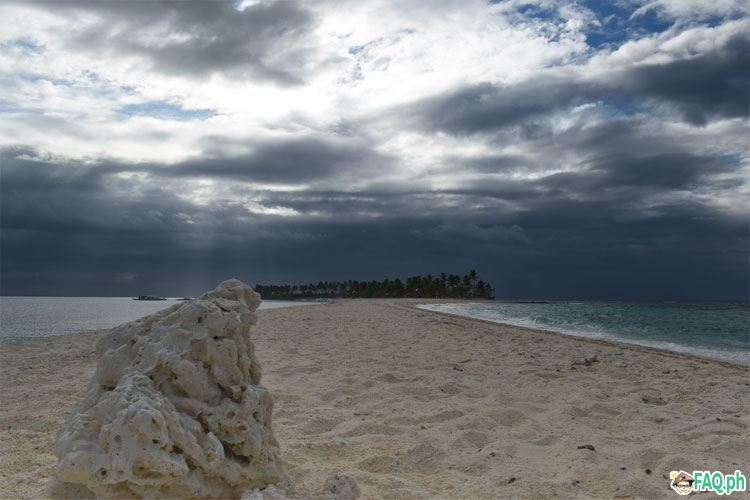 The sun was hiding behind the clouds.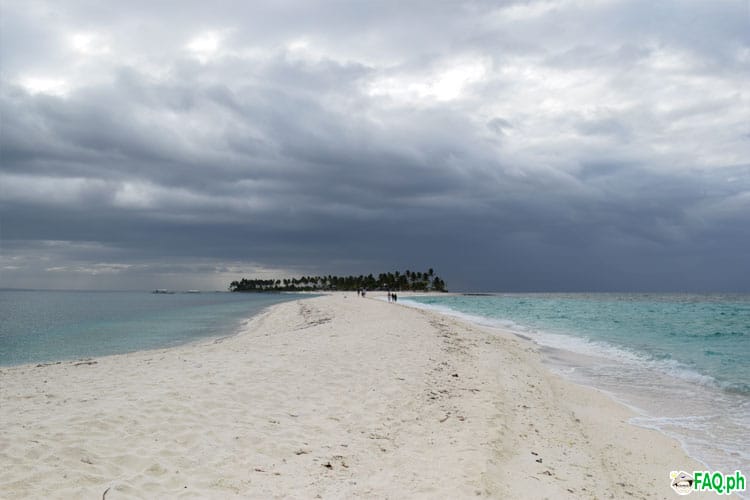 The weather was not giving us clear blue skies but what can you ask more if you have this heavenly sent island?

The rain can't stop us from taking selfies and group pictures.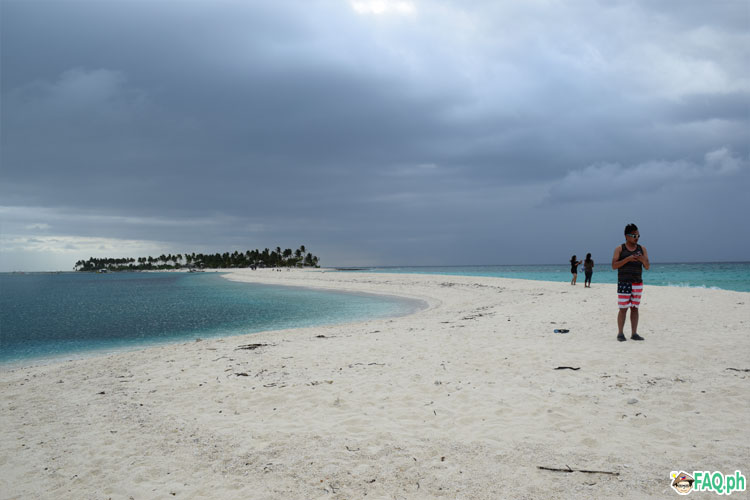 This place is a paradise. I've been to the white beaches of Boracay and the islands of El Nido but Kalanggaman Island never ceases to amaze me.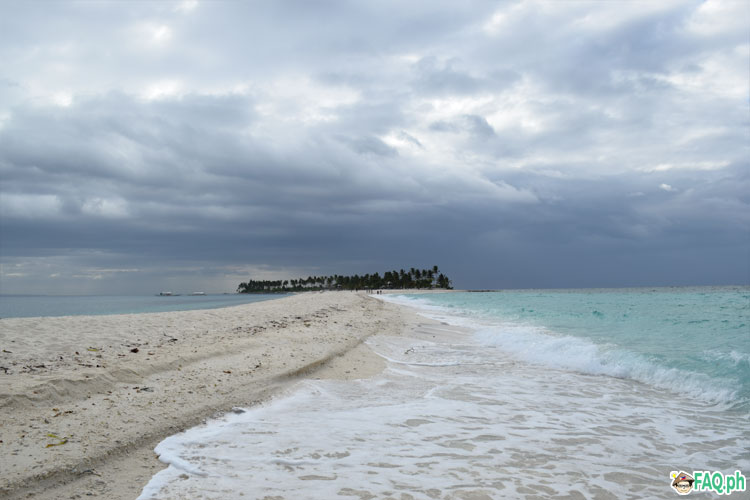 The waves at the other side of the sandbar.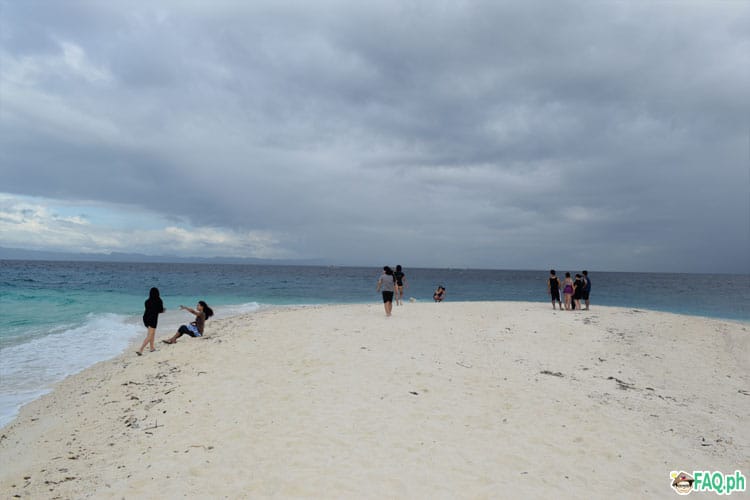 We've finally reached the end of the long sandbar.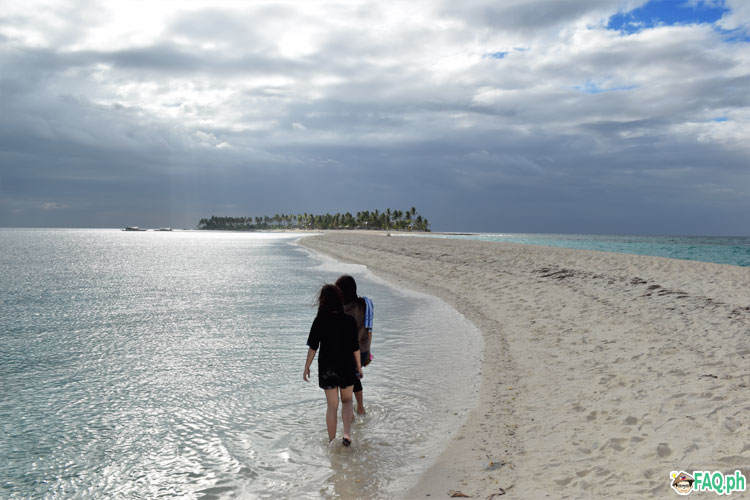 It's time to go back and explore the other sides of the island.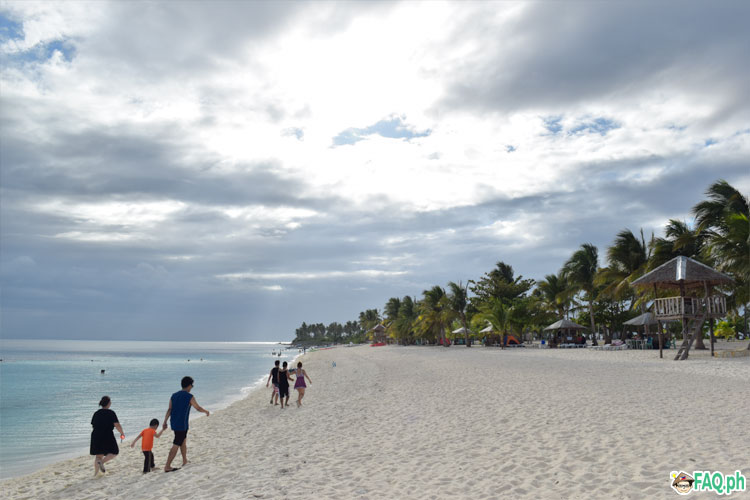 After a long walk on the sandbar, we decided to go back to our cottages to eat and prepare for swimming.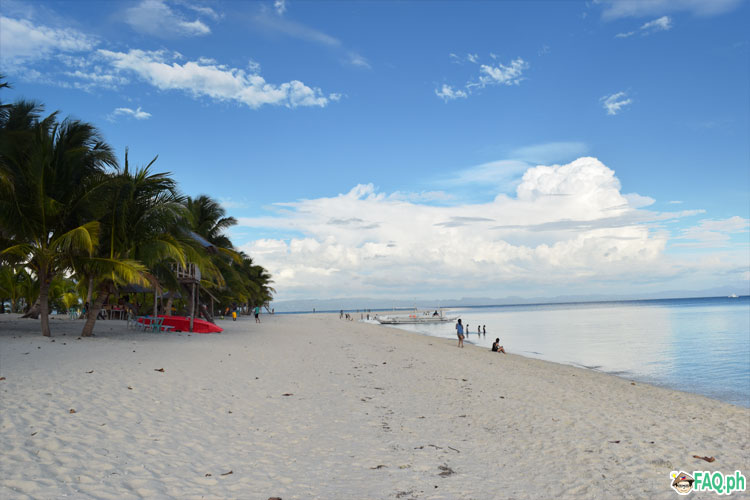 Who doesn't want to visit this place this summer?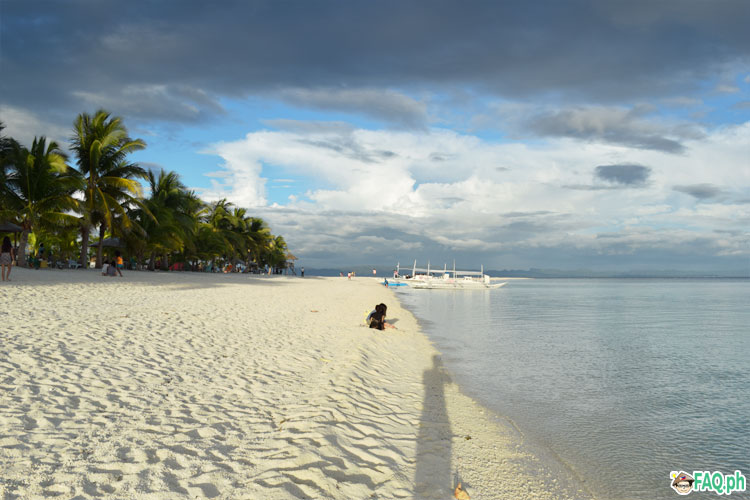 Who doesn't want to come here to relax or enjoy the white sand and clear waters?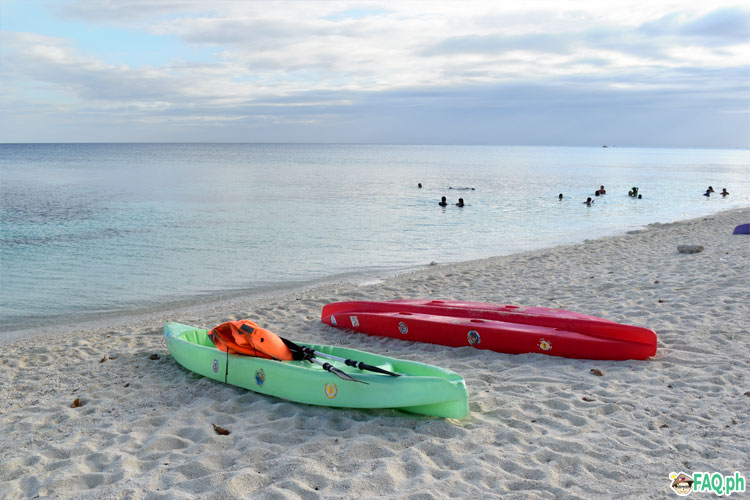 We decided to rent a kayak for P150 an hour.

Swimming and kayaking are best activities to burn calories and get our tummy empty so that we can enjoy eating our food afterwards.

You can also play volleyball with your friends and companions.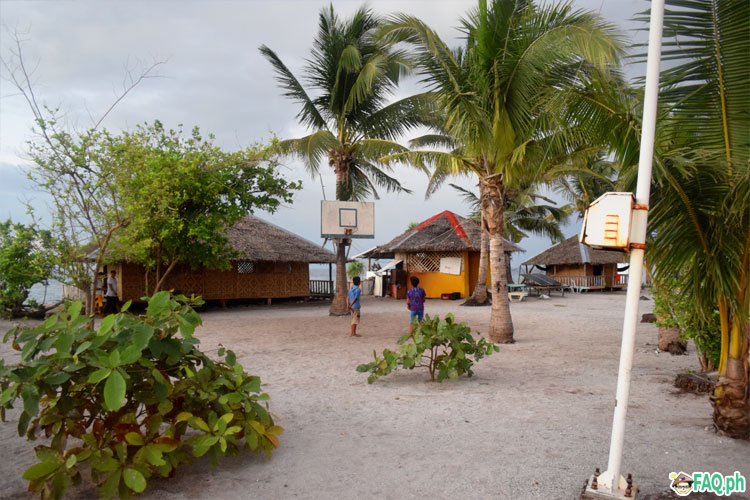 There's also a single basketball ring near the island's staff house.

If you're a Catholic, there's a chapel for praying, whether it's a Holy Week or not.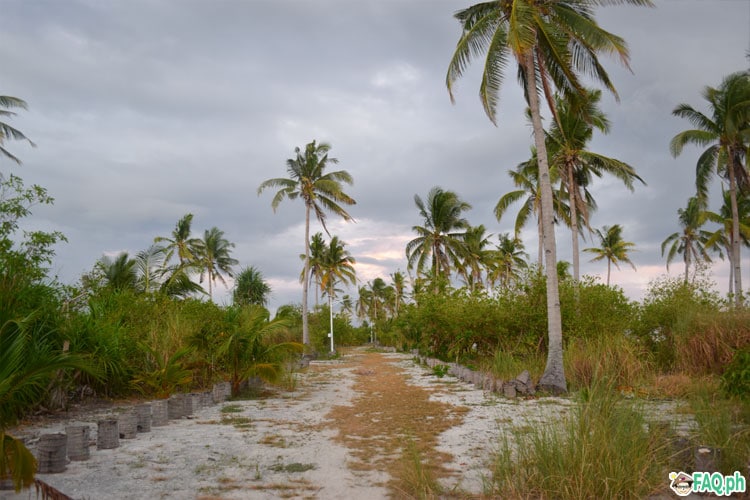 A pathway to the other side of the island.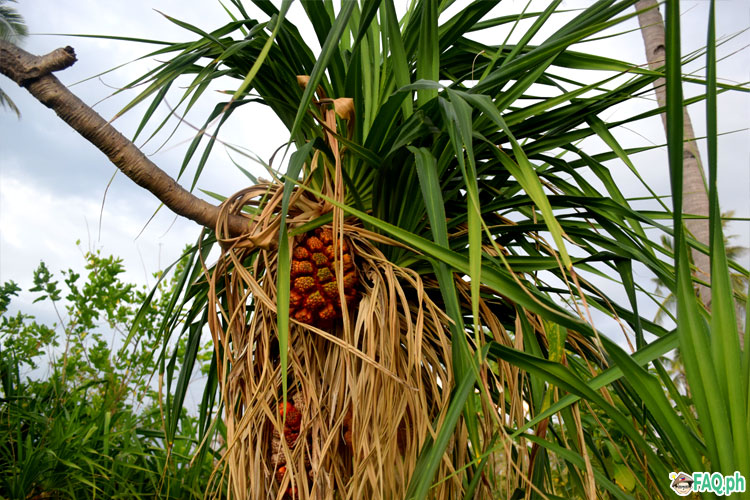 Did you know the name of this fruit? I think these fruits are the reason why bats are coming to this island.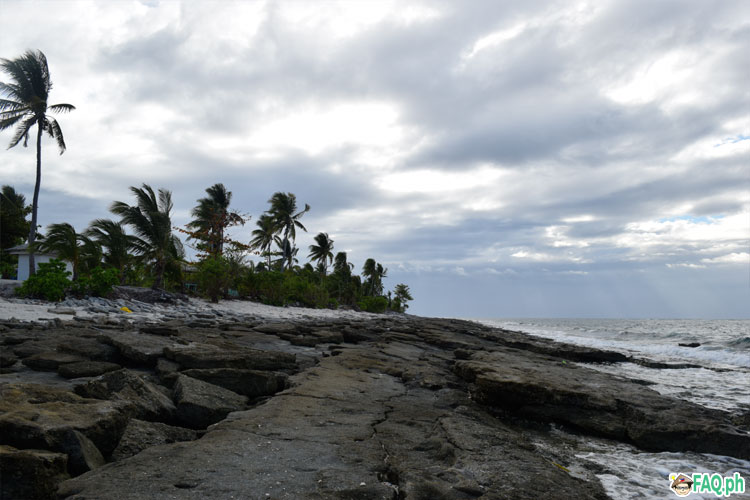 This is the rocky beach of the island.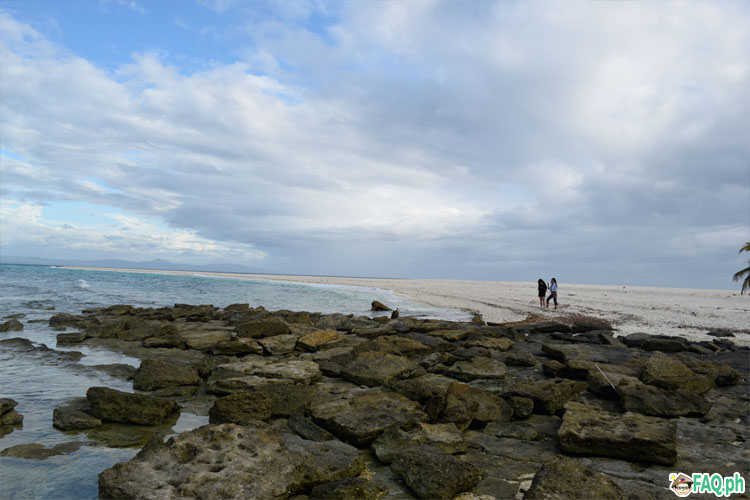 Tourists can walk and explore around the island in less than an hour.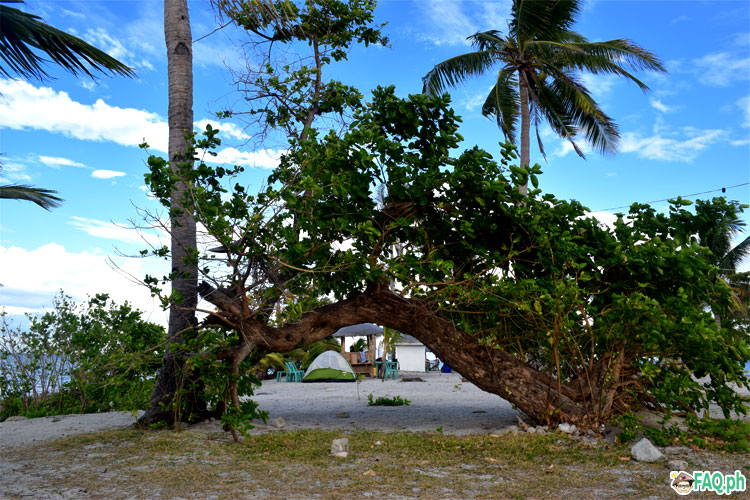 Can you see our tent and small cottage?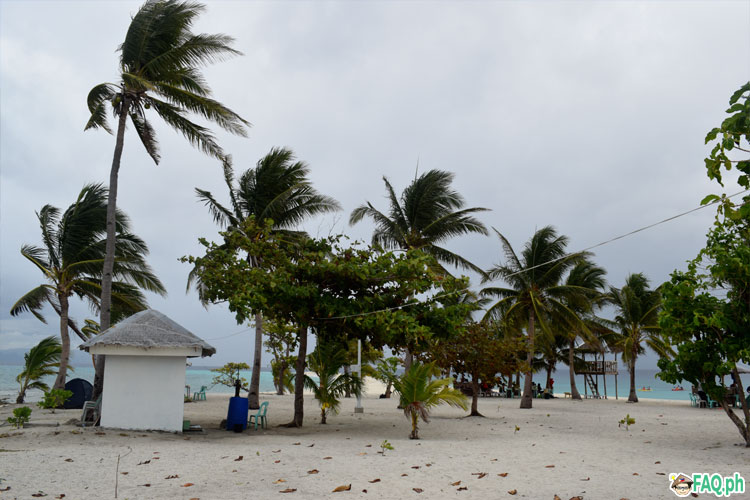 Those are the comfort rooms or toilets which are cleaned and maintained by the Island's staff.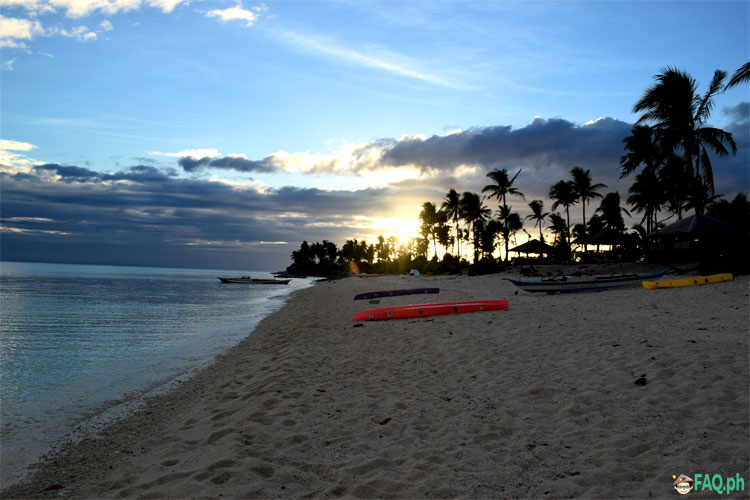 That's sunset at Kalanggaman Island.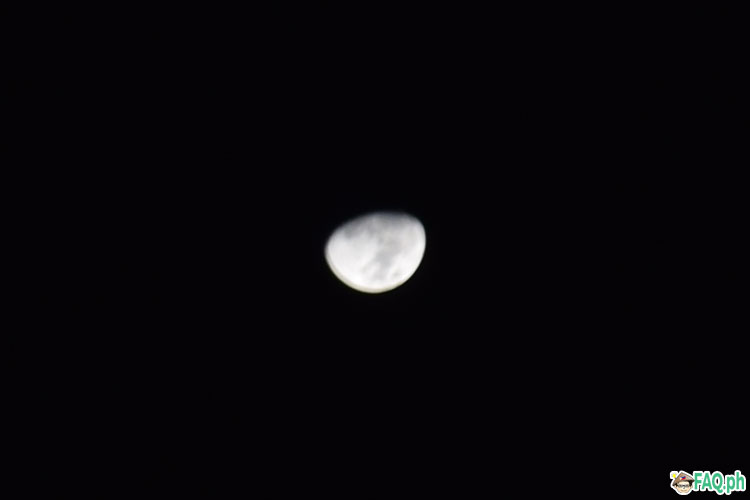 Here comes the moon view from the island. The sky was not clear so our idea for stargazing did not happen.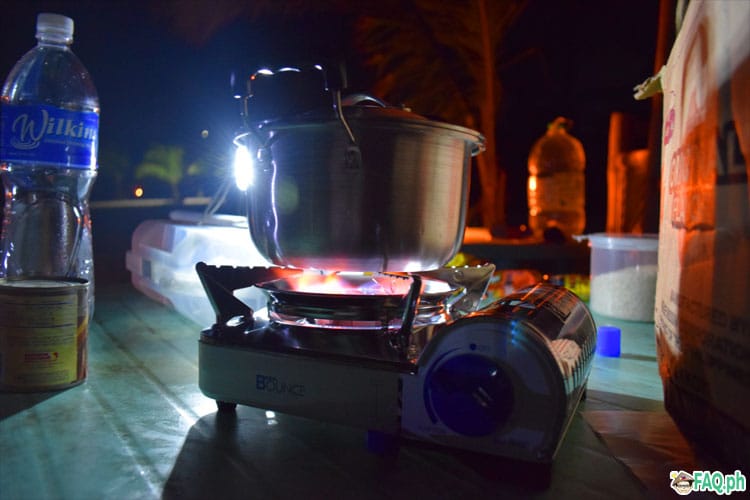 It's time to cook for our dinner with our portable stove.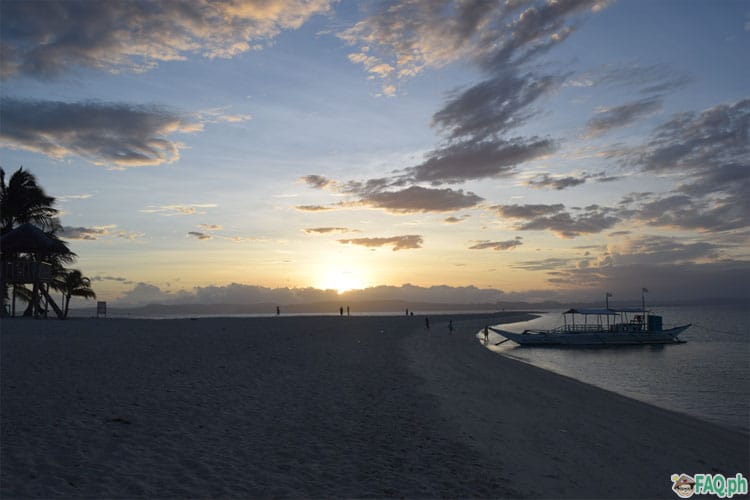 Good morning paradise!

Here's a close shot at the sunrise in Kalanggaman Island.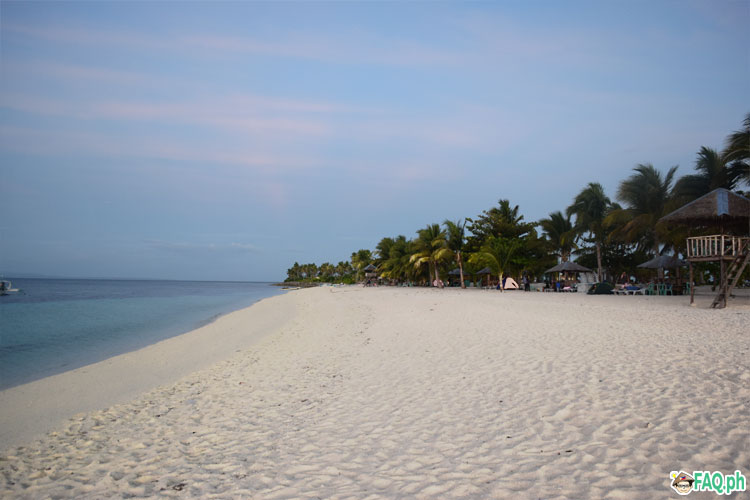 We are scheduled to be fetched by the boat at 7am. It's time to go back to town now. Goodbye paradise! We will surely come back.
Useful tips and important things you should know before going to Kalanggaman Island
1. Call Palompon's Ecotours office to book your trip early and ask important questions such as the current rates of entrance fees, cottages and other amenities. You may call their Booking Service Desk Officer, Mr. Christopher Montebon through this mobile number: +639173037269. You can also visit the official website of Palompon to check updates about the island.
2. Check and monitor the weather forecast to make sure that your target date of travel will have a nice weather.
3. The following are the current rates for the pumpboat to the island and back (roundtrip).
P3,000 – for 15 people and below
P3,500 – for 25 people and below
P4,000 – for 30 people and below
If you're going to the island alone or with a small group, you can agree and share a boat with other passengers so you can save some money.
4. Entrance fees for day tour and overnight stay are the following:
Regular Rate (Day Tour)
International Tourists – P500
Non-Palompon Tourists – P150
Non-Palompon College Tourists – P40
Non-Palompon High-school Tourists – P30
Non-Palompon Elementary Pupil – P20
Non-Palomponganon Senior Citizen – P120
Overnight Rates
International Tourists – P750
Non-Palompon Tourists – P225
Non-Palompon College Tourists – P60
Non-Palompon High-school Tourists – P45
Non-Palompon Elementary Pupil – P30
Non-Palomponganon Senior Citizen – P180
5. Open cottages can be rented for P250, P500 and P700, depending on the sizes. Kayak can be rented for P150 an hour.
6. Bring your own tent if you plan to stay overnight on the island. Find a good spot to set up your tent. Choose a flat surface for your tent. Avoid areas that are directly hit by wind. Check the ground for ants and other insects.
7. Bring your own snorkeling gears if you want to enjoy snorkeling. There are no available snorkeling gears for rent during our visit to the island. Don't forget to bring underwater cameras if you want to capture your moments under the sea.
8. Bring a sunblock to protect your skin from the heat of the sun.
9. Bring first aid medicines. The bumpy boat ride going to the island can cause motion sickness.
10. There are no stores at the island. Hence, bring enough supply of food and water.
11. There is no electricity in the island. Therefore, make sure that your gadgets like cameras, tablets and mobile phones are fully charged. A power bank can be helpful.
12. Portable stove can be useful if you plan to stay longer in the island.
13. Throwing your garbage anywhere in the island is strictly prohibited. The ecotours office will give you a garbage bag to put all your garbage and bring them out from the island when you return to the town.
14. If you're travelling from Palompon back to Tacloban City, remember that last trip schedule of the van is at 11am. Otherwise you will have to rent the whole van and pay more.
15. Finally, if you want to see dolphins, choose to travel to the island or back to the town during the morning, particularly 7am.
Have you been to Kalanggaman Island? Share you amazing stories with us. Did I forget something? Feel free to share your thoughts and questions through the comments below.
About Victorino Q. Abrugar
Vic promotes tourism-related businesses, brands and places. He's the marketing strategist of FAQ.PH. He believes that the key to success is to always do what to do next. Want to promote your business? Contact him at mail@optixor.com.