The Province of Leyte is home to many islets with white sand beaches and crystal clear waters. Among the popular are Kalanggaman Island in Polompon and Canigao Island in Matalom. But if you want to get all the best out of Leyte, head to Cuatro Islas, a 12,500-hectare of protected landscape and seascape situated in the municipalities of Inopacan and Hindang. Cuatro Islas is a group of four small islands, namely, Digyo, Himokilan, Apid and Mahaba.
We went to Cuatro Islas on April 2 and 3, 2016 to beat the heat of summer. The following are some raw photos (edited only for the watermark) and useful information that will help you get familiarized with this tourist destination and learn how to get there.
How to Get to Cuatro Islas
The first thing you have to do before going to Cuatro Islas is to contact a tour guide to book a boat and ask for travel assistance, especially during summer where tourists flock to the islands. Our contact was Kuya Loloy with mobile number 09065004881.
If you're coming from Manila or Cebu, you can take a direct flight to Tacloban Airport (Daniel Z. Romualdez Airport). From Tacloban City, you can ride a van with "Tacloban-Maasin" route to Inopacan, Leyte. Tell the driver to drop you off in Inopacan near the town hall where you can walk straight to the town's baywalk. Travel time from Tacloban City to Inopacan thru van is approximately 2.5 hours. The fare per person may cost less than 250 pesos.
If you're from Cebu, you can also ride a ferry boat to Hilongos, Baybay City or Ormoc City. Hilongos to Inopacan is only 16.3 kilometers away, while Baybay City to Inopacan is 30 kilometers away. Ormoc City is the farthest since it would take a 76-kilometer road trip from the city to Inopacan, via Baybay-Inopacan road.
From Inopacan proper, you can walk directly to Inopacan Town Hall and go straight to the Tourism department to register your trip. The town's baywalk, which is also the docking area of the pump boats going to Cuatro Islas, is just located at the back of the Town Hall.
Boat Fare and Other Fees
The following were the boat and other fees as of the date of our trip.
1. Pump boat fee*
10 pax and below – P2,000
11-22 pax – P3,000
23 pax and up – P4,500
2. Entrance fee: P50/person
3. Cottages: P350 for open cottages and P500 for closed cottages
4. Tent Fee: P50 for using your own tent
* The rates of the pump boats above are only good for visiting one island. For overnight stay and inclusion of island hopping to all four islands, add P500. The rates may also change anytime.
What to bring to Cuatro Islas
I recommend bringing the following:
1. Food and drinks. It is best to bring your own food and a lot of drinking water. During summer, when there are many tourists in Digyo Island, there are fisherfolks who are selling fresh caught fishes, which they can also grill for your convenience at an extra charge.
2. Utensils. Bring your own utensils. A portable stove is also ideal if you will be staying overnight and you need to cook rice and boil water.
3. Fresh water. The common water used in the toilets are seawater. There were fresh water sold in the island, but you can also ask your boatmen to bring fresh water from the town.
4. Tents, hammocks and mats. There are closed cottages for rent for Php 500 in Digyo Island (the preferred island for staying overnight), However, if you love camping, bring your own tent. Moreover, palm or coconut trees are abundant in the island, thus, a hammock would be ideal if you want to chill and relax.
5. Flashlights or solar lamps. I don't recommend making a bonfire since it may harm the natural state of the white sand. So if you want to light up your night in Digyo Island, bring solar or battery powered flashlights.
6. Swimming gears. Bring swimming and snorkeling gears. At Digyo Island, watch out for sea urchins. Among the four islands, I think swimming is best in Mahaba Island.
7. First-aid kit. Always bring this. If you're travelling from Tacloban to Inopacan by land, expect a curvy stretch of road, which may cause you to suffer motion sickness.
8. Hygiene and personal care. Don't forget to also bring sunblock.
9. Camera. Don't miss the stunning landscapes and seascapes of Cuatro Islas. If you want to capture what's underwater, bring a waterproof camera. Don't forget your power bank and extra batteries.
10. Garbage bags. Be a responsible tourist and bring your garbage with you when you leave the islands.
Our First Stop: Digyo Island
Digyo Island is the smallest among the Cuatro Islas. Its name Digyo actually means "small" in Cebuano dialect. I already visited the island back in November 2011. During that time, the island was still undeveloped with only a few cottages.
The locals told us that a large mass of white sands was illegally quarried and delivered to a prestigious hotel in Cebu City for landscaping in the 1980's. Despite that, the island's beautiful scenery still remains. But of course I think the island would be more magnificent if the illegal quarrying did not happen at all.
One of the main attractions of Digyo Island is the beauty of its long white sandbar that glares under the bright sunlight.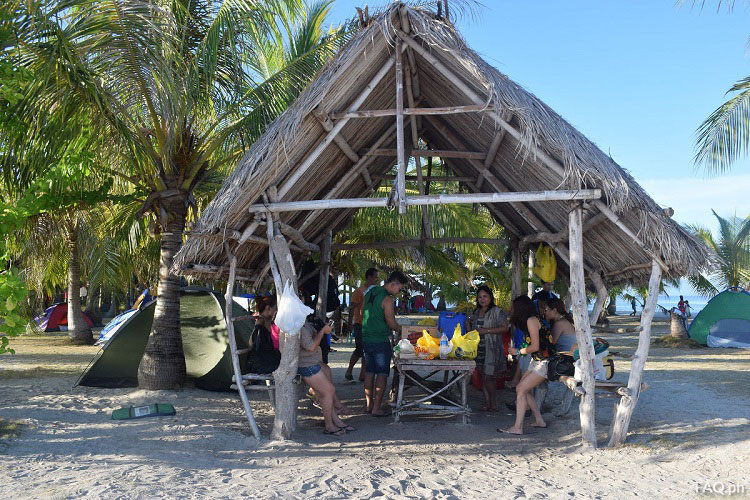 Open cottages are priced at P350 for an overnight use.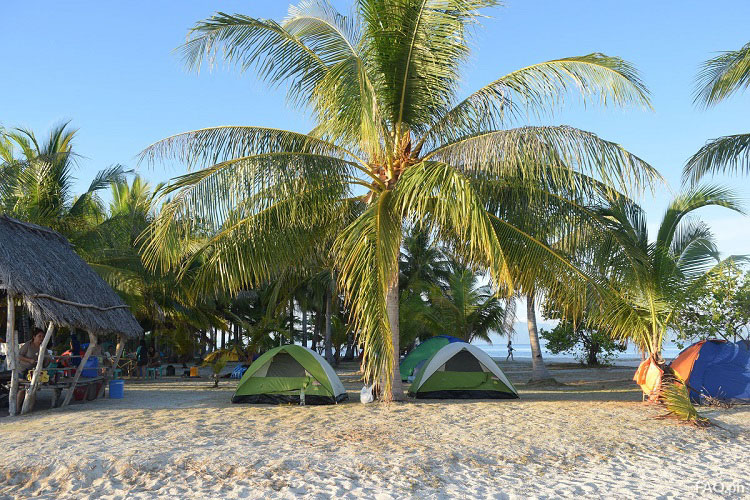 I love camping so I preferred to bring my tent and slept in it.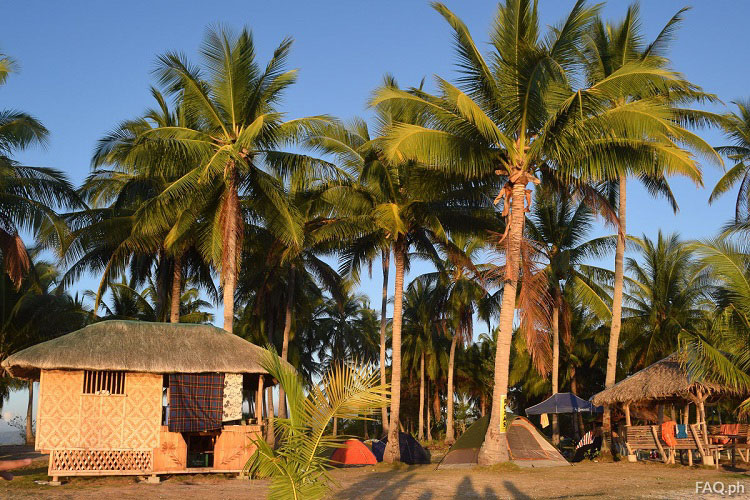 There are also closed cottages for P500 if you prefer to sleep inside a cottage.
The other side of Digyo Island is a rocky shore during low tide. I wonder what these tourists are doing. I hope they're not harming the corals.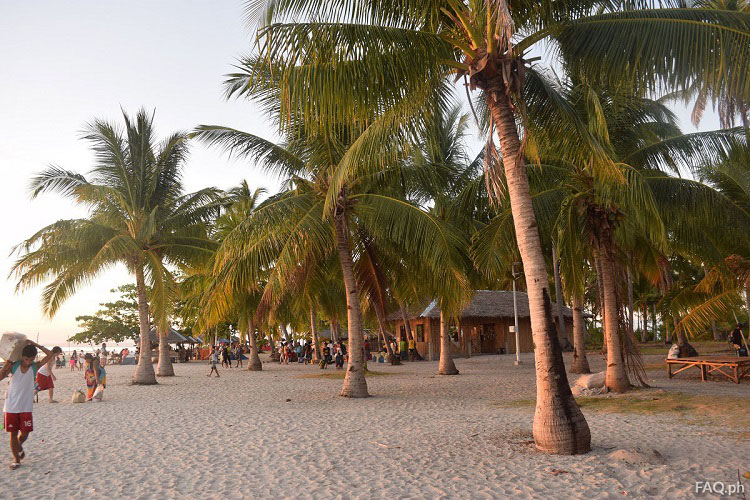 This summer, expect a crowd of tourists, especially during weekends. I noticed a lot of changes in Digyo Island since I first came in 2011. There were already a lot of cottages and other structures in the island. I could already sense the boom of tourism business in Digyo Island.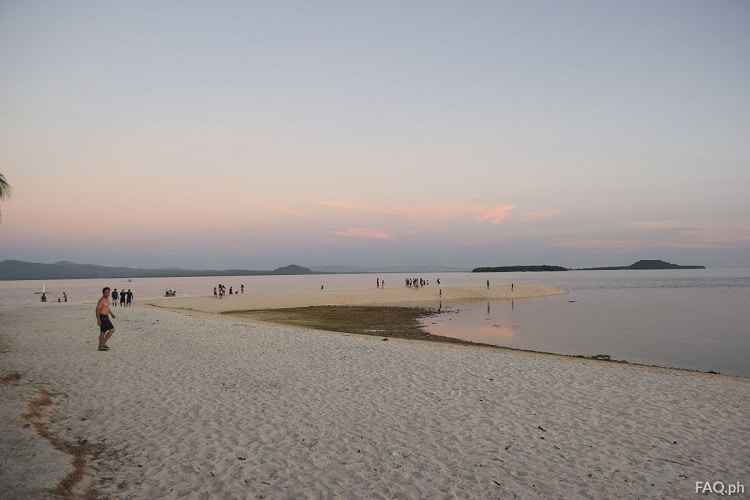 The clear sea water in Digyo Island is ideal for swimming and snorkeling. However, avoid the portion were there are sea urchins.
The picture above shows the island of Apid, as seen from Digyo Island. Apid Island has residents, whose primary livelihood is fishing. Tourists can buy fresh caught fishes from the fishermen in the island.
Watching the sunset is one of the best experiences one shouldn't miss when in Digyo Island.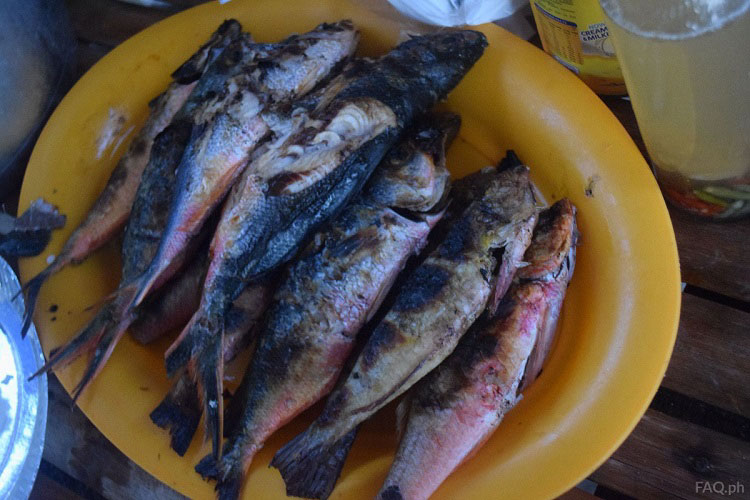 We bought these fish and let the vendor grilled them for us at an additional fee.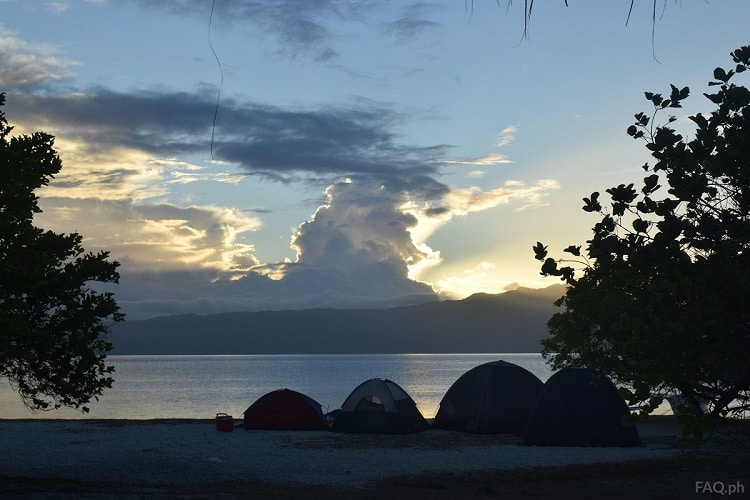 Waking up inside your tent and beholding the beauty of nature when you turn your eyes outside is probably one of the best moments you can have during summertime.
Digyo Island is the most preferred of all the four islands to spend the night with since it has more cottages than the others. Apid and Himokilan Islands are populated islands, while Mahaba Island, though uninhabited, is undeveloped and doesn't have toilets.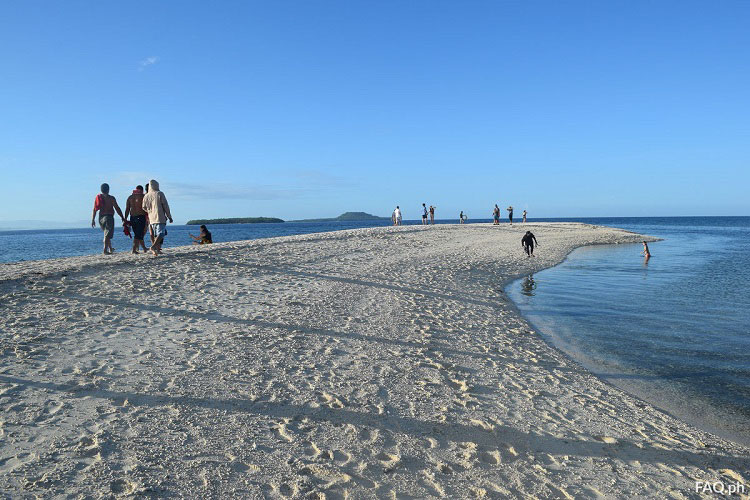 Your visit to Digyo Island won't be complete without walking on its long sandbar.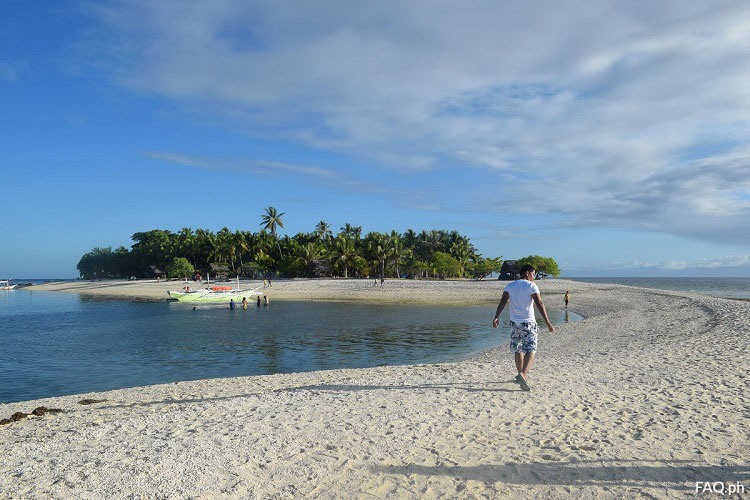 The sandbar in Digyo Island is not as long as the sandbar in Kalanggaman Island. However, if you love island hopping, remember that Digyo Island is only one of the four islands you will be visiting in Cuatro Islas.
It's time to go to our second destination.
Our Second Stop: Apid Island
Apid Island is the second largest among the Cuatro Islas. Its villagers are fisherfolks.  You can also buy souvenirs from them.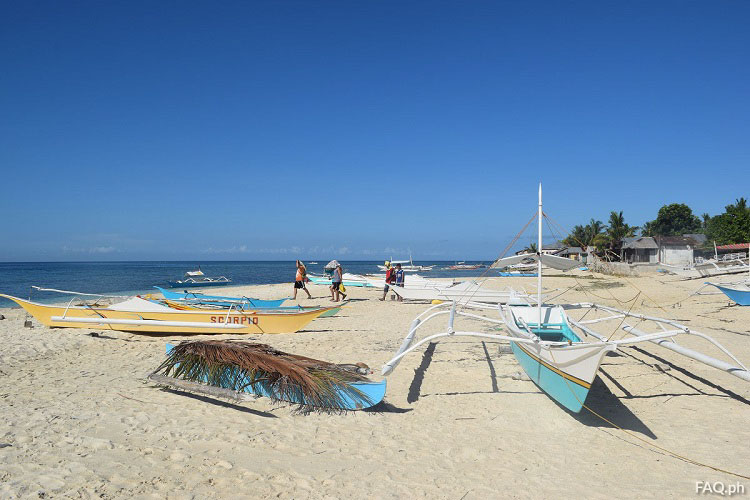 We spent our time in the island buying fresh caught fish from the villagers and trying to swim in its crystal clear shallow waters.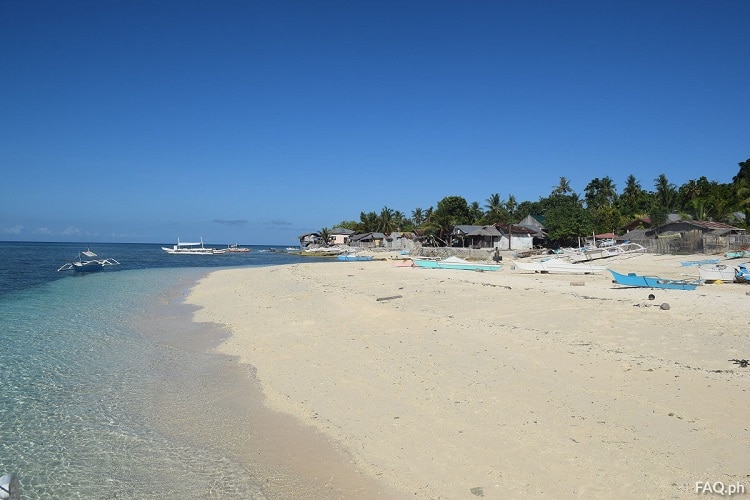 Apid Island may not be a secluded resort but a villager's island yet its beaches are as good as the beaches of a private resort.
Our Third Stop: Mahaba Island
Mahaba Island is my favorite island. Its rock formations, crystal clear waters and fine white sand beaches reminded me of one of the islands I visited during our Island Hopping in El Nido, Palawan.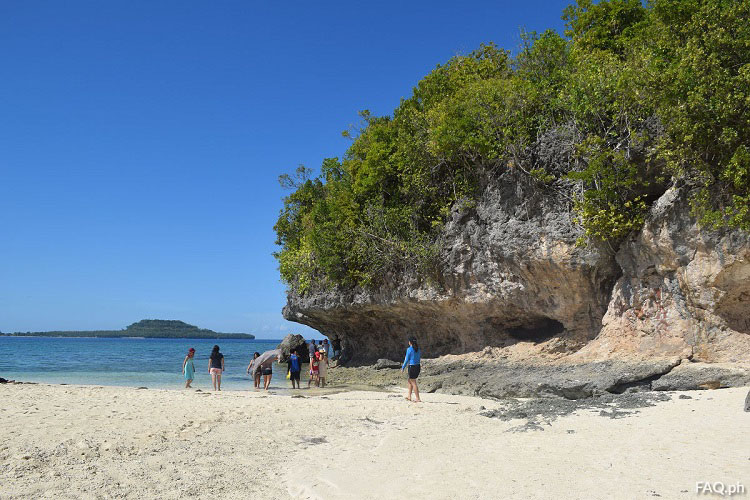 The first thing we did when we arrived in the island was to take pictures on these rock formations.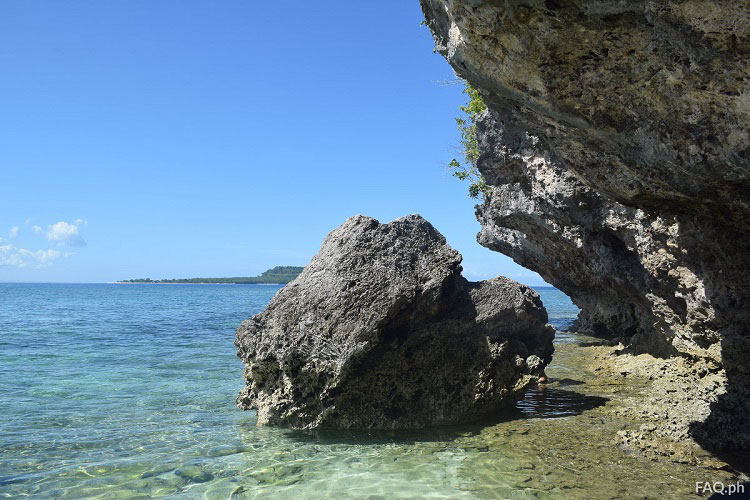 This huge coral rock became our favorite spot for taking photos and selfies.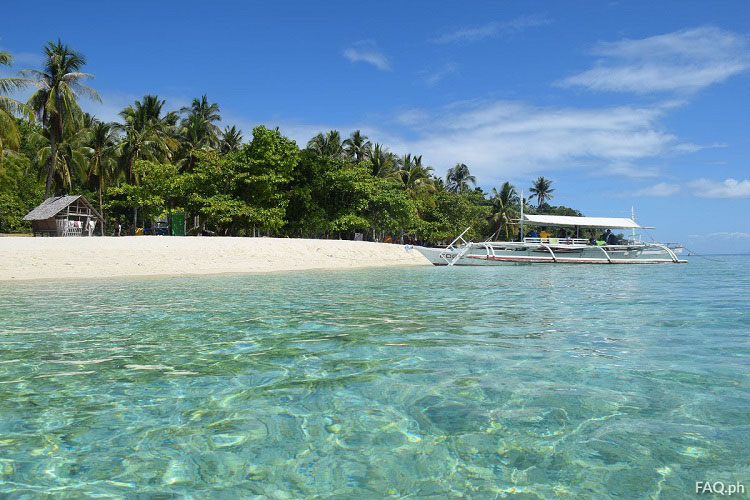 The clear and pristine waters in Mahaba Island are perfect for swimming and snorkeling.
Mahaba Island was less crowded than Digyo Island during our trip.
The island has soft powdery white sand near the shoreline.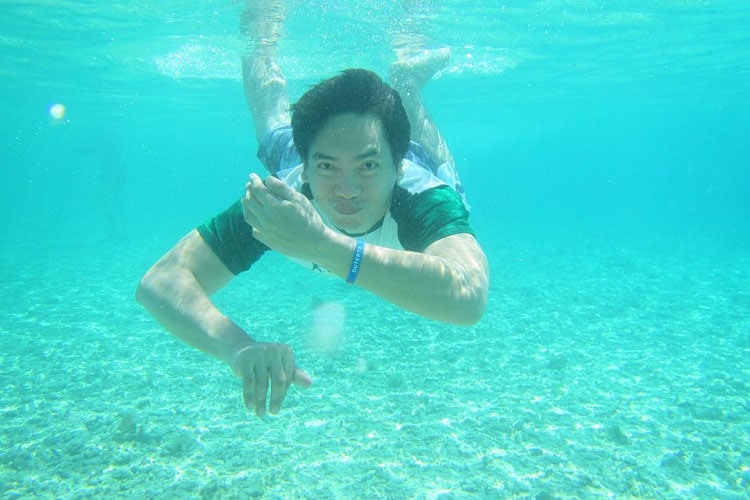 The scenery beneath the surface of the water is clear so bring your waterproof camera. I don't have my own waterproof camera. The picture above was taken by my friend Myko and Rutchie.  I don't have any other underwater picture that I can use legally in this blog so pardon me for my baller band. 🙂 I honestly didn't mean to promote it but only to show how clear the view underwater.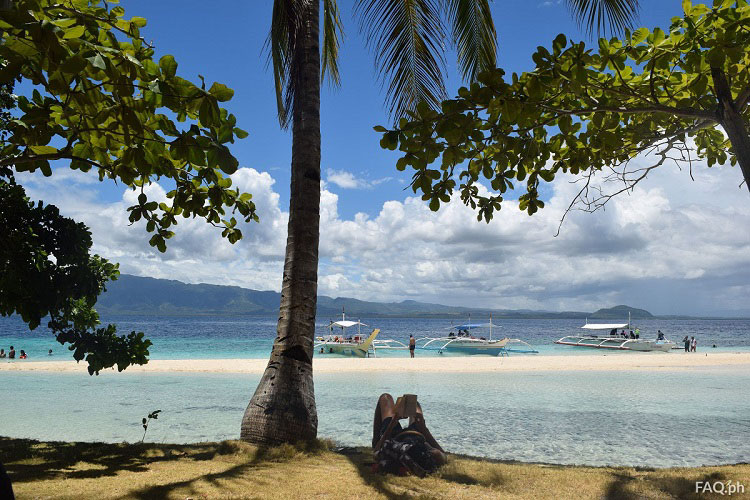 We spent more than 3 hours in Mahaba Island, and of course, it was not enough.
Our Fourth and Last Stop: Himokilan Island
Himokilan Island is the largest among the four islands. It is also the only island, which is part of the municipality of Hindang. The other 3 islands belong to the municipality of Inopacan.
Just like Apid Island, the island has also residents. The island is known for activities like swimming, snorkeling, camping and mountain-trekking. However, as we were already in a hurry to go back to Tacloban City, we only spent a few minutes in the island.
Other Tips and Thoughts
1. If you have more time, spend it with the locals of Apid and Himokilan Islands to learn and appreciate their culture and way of life.
2. There's also the popular Bontoc Cave in Hindang, Leyte to include in your itinerary.
3. There's a great chance of seeing dolphins if you go to the islands in the morning. Be alert and prepare your camera since dolphins may appear unexpectedly.
4. I hope the local government and other government agencies will intensify its efforts to preserve the landscape and seascape of Cuatro Islas.
5. Tourists should be required to bring their garbage with them when they leave the islands to preserve cleanliness in Cuatro Islas.
6. The local government should build toilets in Mahaba Island, as there are some tourists who are camping and spending the night in the island. More toilets should also be built in Digyo Island, as the place could be crowded during summer season.
7. Tourist cops should also be assigned in the islands to secure the tourists.
8. Tourists should be prohibited to take corals and sands in Digyo and Mahaba Islands.
By the way, this is my photo of the dolphins playfully swimming and jumping out of the water while simultaneously travelling with out boat. Unfortunately, I was not prepared to take pictures or take a video so I only got this. 🙂
Have a wonderful vacation at Cuatro Islas!
About Victorino Q. Abrugar
Vic promotes tourism-related businesses, brands and places. He's the marketing strategist of FAQ.PH. He believes that the key to success is to always do what to do next. Want to promote your business? Contact him at mail@optixor.com.