Last year, I wrote about 10 Facts You Should Know About San Juanico Bridge in Samar and Leyte. I talked about my first visit to this magnificent structure in Region 8. I described it to look like a dragon from afar.
Sure, most of us have seen it from a picture, from afar or have passed through it but how does cruising through it sounds like? Interesting, isn't it? Never in my wildest dream have I imagined going (sailing) under it until October 29, 2015.
Thanks to the people who have thought of the brilliant idea of converting the fishing boats donated to the Yolanda survivors by Oxfam (an international non-governmental organization) into a tourism-related livelihood, a cruise through San Juanico strait is now a reality.
According the Department of Tourism Regional Director Karen Tiopes, this project is a collaborative effort of Oxfam, Leyte Chamber of Commerce, Leyte Gulf Travel and Tours, Mr. Philip Romualdez and other stakeholders to help the fisher folks community association from San Jose, Tacloban who are beneficiaries of fishing boats to be able to use them for the cruise since they will not be able to use them for the cruise since Maritime Industry Authority (Marina) banned commercial fishing for three (3) years in the area.
On October 29, 2015, I was lucky enough to be on an invitational only soft launching with Department of Tourism Regional Director, Karen Tiopes, the staff of Mr. Philip Romualdez, the operators of Leyte Gulf Travel and Tours; Mr. Gerry Ruiz and Mrs. Ludette Ruiz, Tour Director, Butz Eguia, Mr. Oliver Cam and other hotel owners.
The cruise from Tacloban Port area to San Juanico Bridge started at around 4 o'clock in the afternoon and we got back a few minutes before 6 in the evening.
Our first stopover was in the area of Barangay Amandayehan, Basey, Samar to see the fish cages where fishermen are feeding the milk fish. It was fun looking at the fishes move together every time the fisherman throws the feeds. According to Mr. Eguia, those fish cages are part of the livelihood projects for the Yolanda survivors.
Then, finally we got near the San Juanico Bridge; we stopped there a bit longer because everyone wants to take a picture of this gigantic structure connecting Samar and Leyte. Although the weather wasn't s so cooperative and we didn't get to take a perfect picture of the sunset, the feeling of cruising under the bridge was simply fantastic. I hope I could do it again with a better weather and maybe if lucky enough, be able to watch a flock of birds fly by.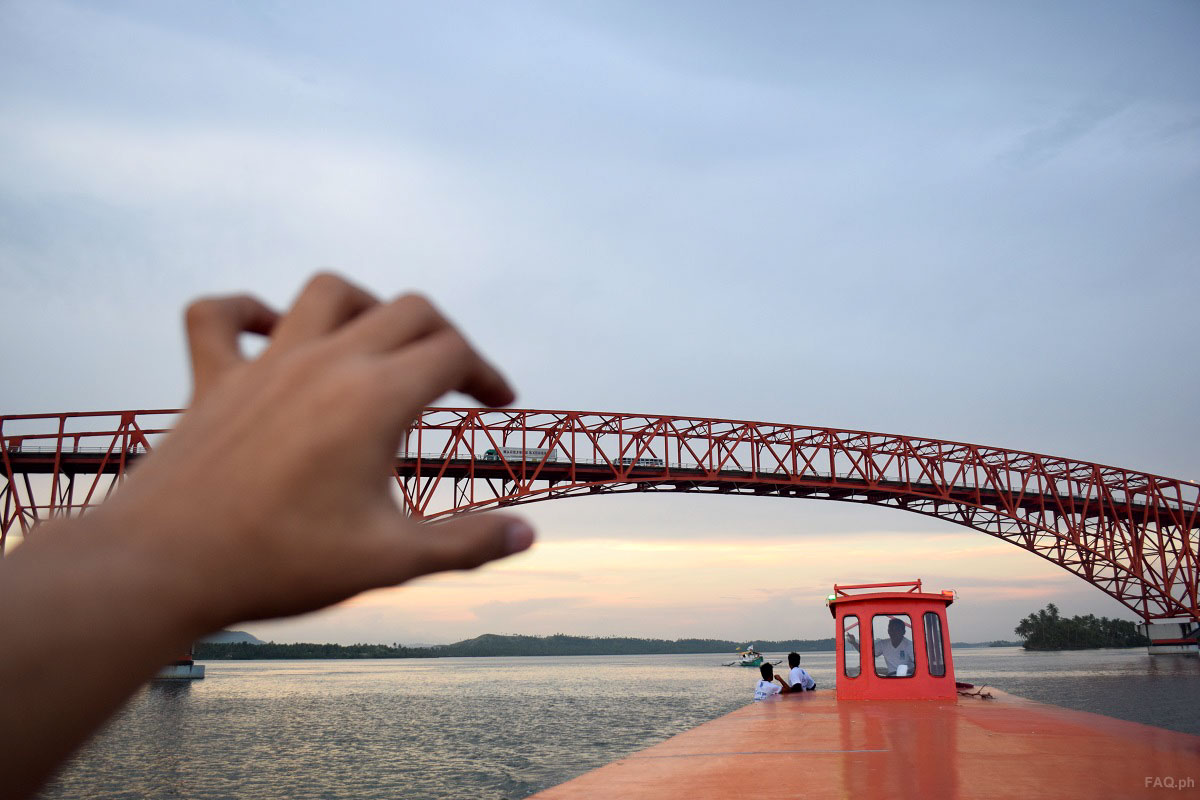 During the tour, we also got to see Sinapdan Island, Barangay Tinaogan, Basey, the last barangay of Sta. Rita and on the left side Cabalawan, Tacloban, the on-going construction of the new Eastern Visayas Regional Medical Center (OPD) building which is worth two billion pesos and the National Maritime Polytechnic (NMP) training complex in Cabalawan, one of the biggest maritime schools in the Philippines.
On our way back, the sky was already dark and it was the first time I noticed the oil depot in Anibong, Tacloban. As we got nearer the port, the city comes alive as the lights from the buildings came on.
Cruise Rate:
P525.00 per person for a minimum of 15 passengers (including; one and half hours cruise, snacks and thank you card)
P399.00 per person for a maximum of 25 passengers ((including; one and half hours cruise, snacks and thank you card)
For cruise reservation contact:
Mrs. Ludette Ruiz at (63) (53) 321-7966 Telefax: (63) (53) 523-7966 or on her Facebook account. You may also visit their website's contact page at Leyte Gulf Travel & Tours.
Future Plans:
After the cruise we sat together with Mr. Eguia, Mr. Cam, Mr. & Mrs. Ruiz and they shared their future plans for the San Juanico Cruise Tacloban.
– Trivia questions with corresponding prizes during the tour (History of Samar & Leyte)
– Pit stop for biking at Brgy. San Juan, Sta. Rita, Samar.
– Floating restaurant at St. Martin, Cabalawan,
– Five (5) trips every day
– 35 Motor bankas. As of today, they are only renting one boat but in December they will add two more boats.
– Tacloban – Kalanggaman Trip
– Converting to real cruise ships with restaurants and entertainment aboard
Job Opportunities: Tour guides and crews. The project team is planning to enrol the qualified beneficiaries to undergo proper training for tour guiding and safety for crews.
Grand Launching: The grand launching of the cruise would be this coming summer.
The Yolanda survivors are the main beneficiaries of this project, by supporting this you will not only have that once in a lifetime experience, you will also help the tourism industry in Region VIII which will provide more job opportunities to the people who suffered the hardest blow from the super typhoon's wrath.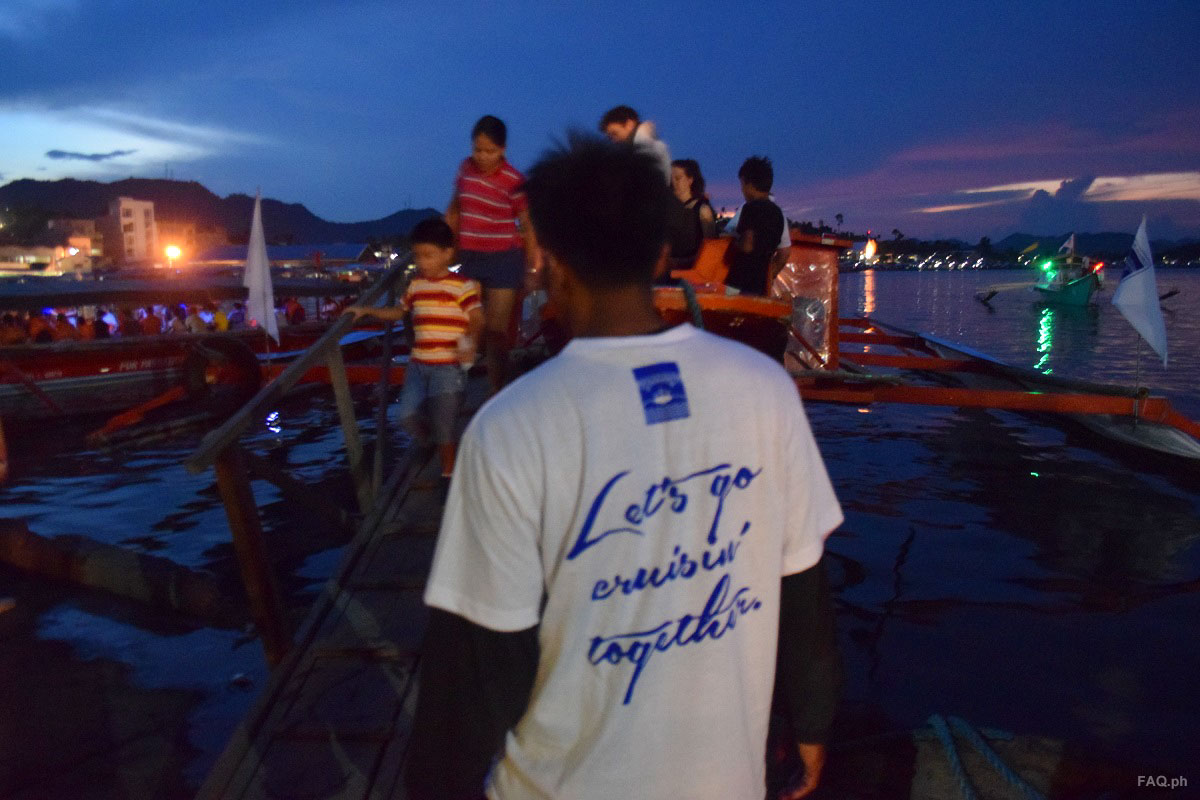 Let's go cruisin' together Eastern Visayas!
For more photos of San Juanico Cruise, see our post about 24 Photos that Show Why San Juanico Cruise is a Must in Eastern Visayas.
About Lyza R. Sabornido
Lyza writes to share the colorful and wonderful Filipino culture to the world. She's a seasoned writer, researcher and news reporter. She's the editor for lifestyle, culture and travel of FAQ.PH. Follow her on Twitter at @lyza_lyz.