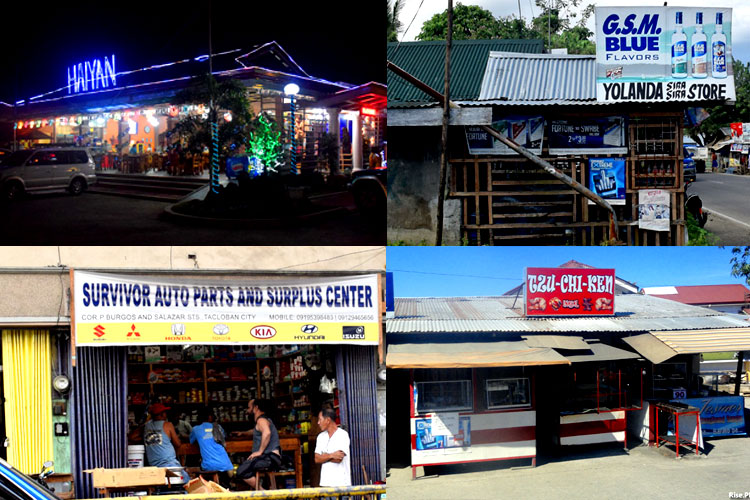 Yolanda, known internationally as Haiyan, is one of the strongest typhoons ever recorded in history. It killed thousands of people and destroyed more than a million homes. But the Haiyan survivors can't be stopped from moving on and rebuilding their lives for a better future. Although the word Haiyan and any other words related to it can give us some feeling of pain, they could also give us some sense of strength, resilience, hope, and other golden lessons in life.
While touring Leyte and Samar, I discovered these 5 businesses or establishments that were named after Haiyan, Yolanda or any other term related during and after the typhoon.
1. Haiyan Foodstop – Tanuaun, Leyte
Haiyan Foodstop is located in Brgy. Bislig, Tanauan, Leyte. According to the waiter that served us the food when we had our dinner there, the restaurant was still under construction when typhoon Haiyan struck Leyte. The owner decided to name the restaurant after Haiyan as a symbol of recovery, rebuilding and transformation. When I first discovered Haiyan Foodstop on the Internet, I thought it was only a snack house. But I was wrong, it's actually an ideal restaurant for dinner. The food is excellent and there's also a band performing live for the customers.
2. Yolanda Sira Sira Store, Tacloban City
I discovered this sari-sari store and took a picture of it when I was on my way to San Juanico Bridge from Tacloban Downtown. Sira-Sira is a tagalog word for damaged or broken. But this little store teaches us a great lesson that although we are damaged by a storm, we can still stand, rise and continue to move on.
3. Survivor Auto Parts and Surplus Center, Tacloban City
Haiyan or Yolanda survivors are not only people. They can also be businesses and establishments. And this store located in the corner of P. Burgos and Salazar Streets in Tacloban City is one of them. We can't deny it. Its business name is a testament of being a survivor.
4. Yolanda Beach, Salcedo Eastern Samar
Yolanda Beach, as what the locals called it now, is located in Jagnaya, Salcedo, Eastern Samar. According to the locals, the beach was expanded significantly when the storm surge and strong wind of Super Typhoon Yolanda uprooted several coconut trees in the area. The beach is facing the Pacific Ocean, thus, if you love the sound and sight of big waves, this place is for you.
5. Tzu-Chi-Ken Inasal, Tacloban City
I saw this one along Maharlika Highway near Kassel Homes Subdivision in Tacloban City. Pardon me for I'm not sure if this store was opened before or after the typhoon Haiyan. But one thing I'm sure of is that many Taclobanons will never forget the name Tzu Chi. Tzu Chi Foundation is one of the NGOs that actively and compassionately helped the Haiyan survivors rebuild their lives. It's not a surprise if there will be entrepreneurs in Tacloban City who will name their businesses after the name of the foundation.
Did I miss something? Do you know any other businesses or establishments that were named after the Haiyan event? Please feel free to make a comment below.
About Victorino Q. Abrugar
Vic promotes tourism-related businesses, brands and places. He's the marketing strategist of FAQ.PH. He believes that the key to success is to always do what to do next. Want to promote your business? Contact him at mail@optixor.com.