We Filipinos love to eat, and we have particular cravings depending on the season. When the weather is cold we tend to crave for food that would help us warm up. Now that the summer is officially here, may you be on a summer outing or simply at home, I am pretty sure that you are craving for something that would quench your thirst!
Here are 12 perfect summer foods and drinks that would absolutely satisfy your craving and help you stay cool no matter how hot the day gets.
1. Halo-Halo
This is considered by many as the number one Filipino favorite iced treat not only on a hot summer season but all year round.
Just the thought of the taste of the kidney beans, sweetened banana, macapuno, langka, monggo,
ube jam, gelatin, nata de coco, creamy milk, leche flan, and a scoop of ice cream on top of shaved ice and sprinkled with rice crispies in one bowl or glass would make you want to grab one now.
Here's a video tutorial on how to make a special Halo-Halo.
2. Sorbetes or Ice cream
This sweet iced treat is the number one on the list of the kid's wish to eat every day. They would patiently wait for Manong Sorbetero to pass by with his colorful, stainless steel cart.
Sorbetes is the Filipino version of ice cream made from Carabao or coconut milk and comes in various flavors such as chocolates, mango, ube and cheese, served on a cone.
Check out this tutorial video on how to make a "Toblerone and Hershey Sorbeter". Sounds yummy, isn't it?
3. Ice Candy
This must be the cheapest of the best frozen treats both young and adults crave for during a hot summer day.
It is usually made of fruit juice poured into ice candy wrapper and kept in a freezer overnight. It also comes in various flavors such as buko, mango, pineapple and more.
Learn how to make ice candy in this tutorial video.
4. Fruit Shakes
This summer treat is a healthy chilled favorite that will surely satisfy your craving for a glass of cold refreshing fruit drink. As heat beats it's important for us to be rehydrated but it is best that we also make sure that what we take in is nutritious, and fresh fruit blended with shaved ice is perfect for that need.
You can simply put a few slices of your favorite fruit into a blender; add sugar, milk and shaved ice and get that healthy drink in just a few seconds. Don't have a blender? Not a problem, I'm sure one of your neighbors is thinking of making fruit shakes an extra source of income this summer.
Here's a video on how to make Apple Banana Shake.
5. Sago't Gulaman
Just like Halo-Halo, Sago't Gulaman is sold throughout the year but it is more affordable.
Its ingredients consist of sliced jelly (usually red or green), tapioca pearls and banana (arnibal) or caramelized brown sugar sauce.
Do you like to try making Black Sago at Gulaman? Watch this video.
6. Maiz con Hielo (Mais con Yelo )
This summer favorite is another best selling thirst-quencher, it may be a simple treat, but it can help you stay cool this hot summer season.
With just a glass of shaved ice, a few table spoons of sweet corn kernel, and sweetened milk, your sweet summer chiller is ready. You may also add a scoop of ice cream, corn flakes or rice crispies to make it look more enticing.
This video will give you the recipe and guide on how to make Mais Con Yelo.
7. Ice Scramble
Next to ice candy, the "Skrambol" is one of the kid's best favorite cooler. This pink-coloured sweet treat is usually topped with powdered milk and chocolate syrup. But others prefer to sprinkle colorful candy bits on top.
Here's a video that will teach you how to make ice scramble.
8. Buko Juice
This tropical fruit which can be seen everywhere in the Philippines provides us the simplest yet nutritious refreshing drink this summer. It can be served by simply adding ice to a fresh young buko juice with buko strips but milk and sugar can be added to make it sweeter.
Here's a picture of coconut fruit – think of anything you can do to this wonder fruit.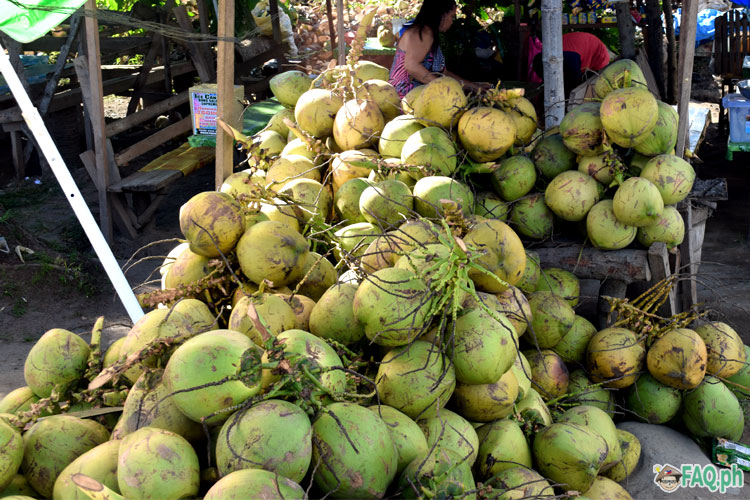 9. Chilled Taho
Taho is usually served with hot caramel sauce but to beat the summer heat you might want to try a cold version of this sweet nutritious treat.
It still consists of silky soy pudding with tapioca pearls and caramel sauce, the only difference is that it is chilled.
Here's how to make chilled and tasty Taho at home.
10. Buko Pandan
Buko Pandan is a salad made of young buko strips, tapioca pearls, cream, milk and pandan-flavored gelatin. Serve chilled for a perfect summer snack.
Check out this useful tutorial video on how to make a Buko Pandan.
11. Leche Flan
Aside from being one of the many ingredients of Halo-halo, Leche Flan may also be served as a dessert on its own. It is always present in any occasion especially during fiestas which are celebrated mostly during summer season. Made basically with eggs, sugar and milk, this creamy dessert dripping with sweet caramel and served cold is one of every Filipino's favorites.
Do you want to learn how to make a Leche Flan? Check out this video.
12. Mango Float
This delicious dessert is another hit to the taste of every Filipino. It is easy to make and affordable too.
All you have to do is mix whipped cream with condensed milk then arrange graham crackers in a baking dish, pour and spread evenly the cream mixture on top of the crackers then top it with thinly sliced mangoes. Repeat the process until you have 3 layers and then sprinkle crushed crackers on top. Before serving, it is best to keep it refrigerated for 8 hours.
Here's a 2-minute video that will teach you how to make a mango float if you're already craving right now.
There you are, I hope that this article will help you enjoy the summer with your favorite summer treats. Don't forget to share these tasty favorites with your family and friends. And of course, don't forget to also share this article to your friends on Facebook and other social media places. Enjoy the summer!
About Lyza R. Sabornido
Lyza writes to share the colorful and wonderful Filipino culture to the world. She's a seasoned writer, researcher and news reporter. She's the editor for lifestyle, culture and travel of FAQ.PH. Follow her on Twitter at @lyza_lyz.