With so many medical facilities in Philippines, it can be it difficult to know which hospital will be the right option for you. Hospitals in both the private and public sectors are typically safe and reliable. Deciding between both is generally a matter of choice, as both systems deliver top-of-the-line medical care.
The largest benefit of going public is the affordability factor. Costs are generally lower than those in private hospitals, as public hospitals are usually subsidized by the government. Public hospitals in Philippines are typically considered to be of a high standard with highly trained medical professionals and world-leading facilities.
In addition to these public hospitals, there are a number of privately run hospitals and centres that do not receive the same funding from government and therefore charge patients directly for services. If ultimate luxury and comfort are what you are after, then chose a private hospital for your treatment. Expect shorter waiting times and a smoother administration and billing process.
If you don't already have health insurance and get sick, you have to pay the full cost of your medical care.
So make sure you have quality health insurance that covers your medical expenses, including prescriptions.
We have compiled a list of 10 best hospitals in Philippines including options from both public and private sectors.
1. Philippine Heart Center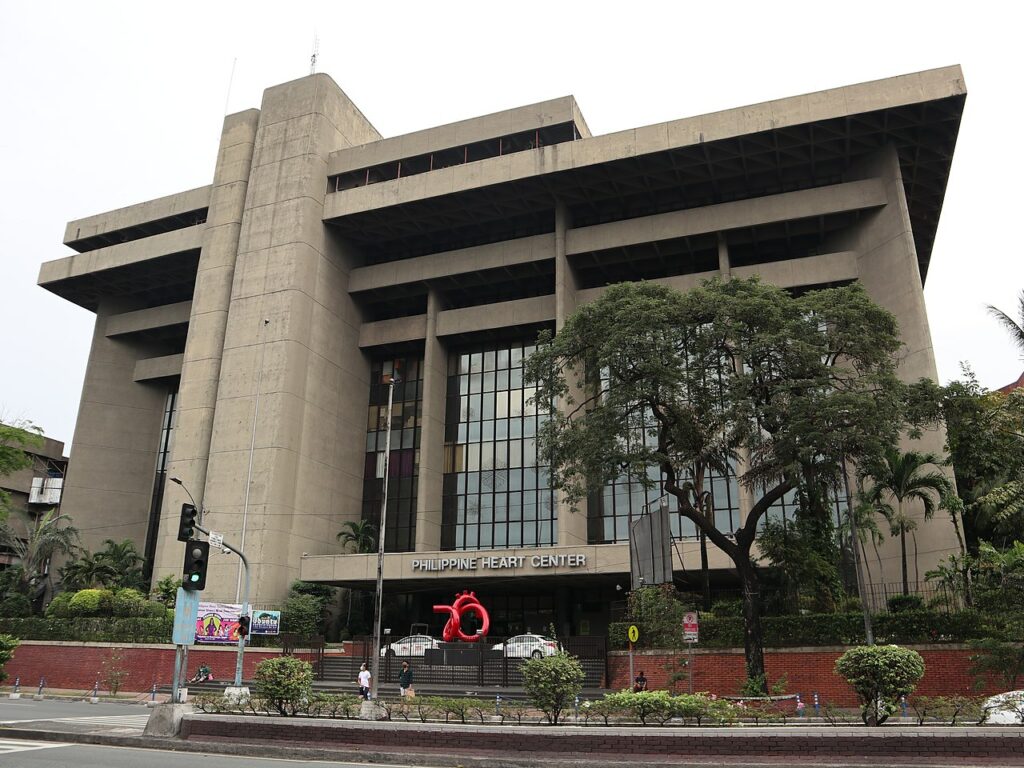 The Philippine Heart Center is a hospital in Quezon City, Philippines, specializing in the treatment of heart ailments. It was established in 1975 under the Marcos Administration. It ranks as one of the leading medical institutions in Asia for the medical and surgical treatment of heart diseases. The Center admits more than 14,000 patients yearly, of whom more than 3,300 undergo heart surgery.
Aside from offering medical services, the Center is deeply involved in cardiovascular research, training and education and public information. It offers training programs not only for aspiring heart specialists but also for private and government medical practitioners. It engages in various researches on the prevention and control of cardiovascular diseases and undertakes nationwide information programs on the heart and heart care.
Location: East Avenue, Quezon City, Metro Manila
Website: www.phc.gov.ph
Phone: +632 8925 2401
2. St Luke's Medical Center Quezon City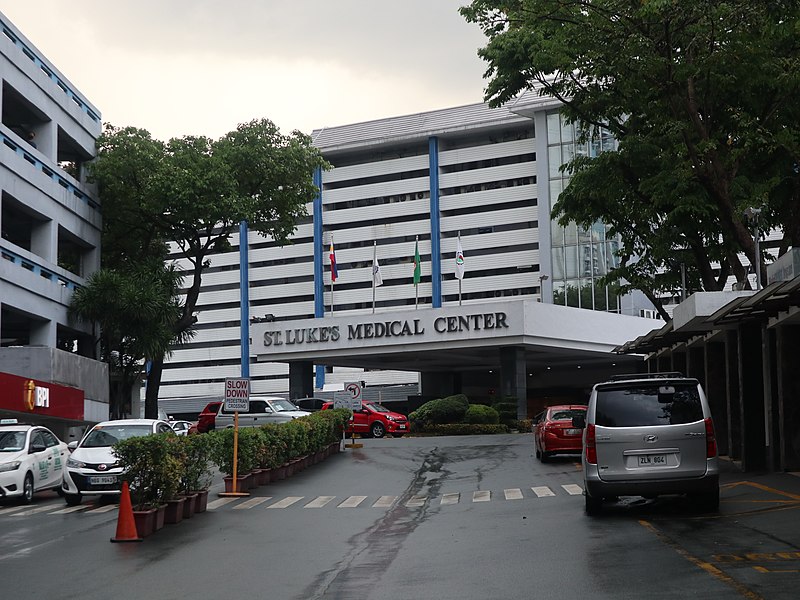 Considered as one of the best in Asia and renowned the world over, no hospital in the Philippines has gained so much attention over time as St. Luke's. The hospital has a 650 bed-capacity and also hosts medical equipments such as the 3-Tesla MRI, 1152-slice dual energy CT scanner, PET scanner and Cyclotron. It employs at least 1,700 doctors and about 2,600 non-medical staff.
The St. Luke's Medical Center in Quezon City is the first hospital in the Philippines and the second one in Asia to be accredited by the Joint Commission International. The hospital first earned the distinction in 2003 and the accreditation has been renewed at least four times. In 2012, HealthExecNews chose St. Luke's Medical Center as one of the Top 25 Most Beautiful Hospitals in the World.
Location: 279 E. Rodriguez Sr. Ave., Quezon City, Metro Manila
Website: www.stlukes.com.ph
Phone: +632 8723 0101
3. Makati Medical Center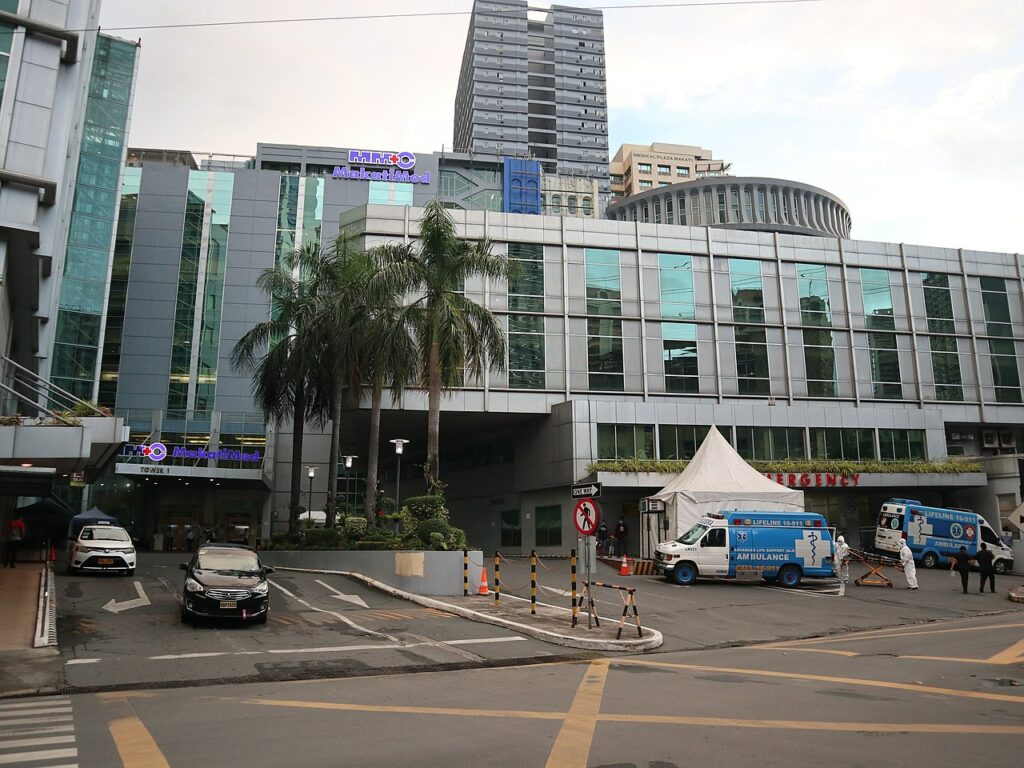 The Makati Medical Center in Manila, Philippines, has been providing top quality care for over 45 years. Their depth of experience and highly regarded reputation make it an excellent option for anyone seeking affordable medical treatment abroad. The Center has a 600 bed-capacity and is known throughout the country as one of the best places to receive treatment for both domestic and foreign patients.
In 2011, Makati Medical Center became the first and only Philippine health institution to be certified with the 4th edition Joint Commission International accreditation and the 4th hospital in the country to be accredited. Also in the same year, Asian Hospital Management Awards (AHMA) gave Makati Medical Center an "A Decade of Achievement" special award. This recognition was given to the top three hospitals who won the most Asian Hospital Management Awards in the 10 years of HMA.
Location: 2 Amorsolo Street, Legaspi Village, Makati, Metro Manila
Website: www.makatimed.net.ph
Phone: +632 8888 8999
4. Asian Hospital and Medical Centre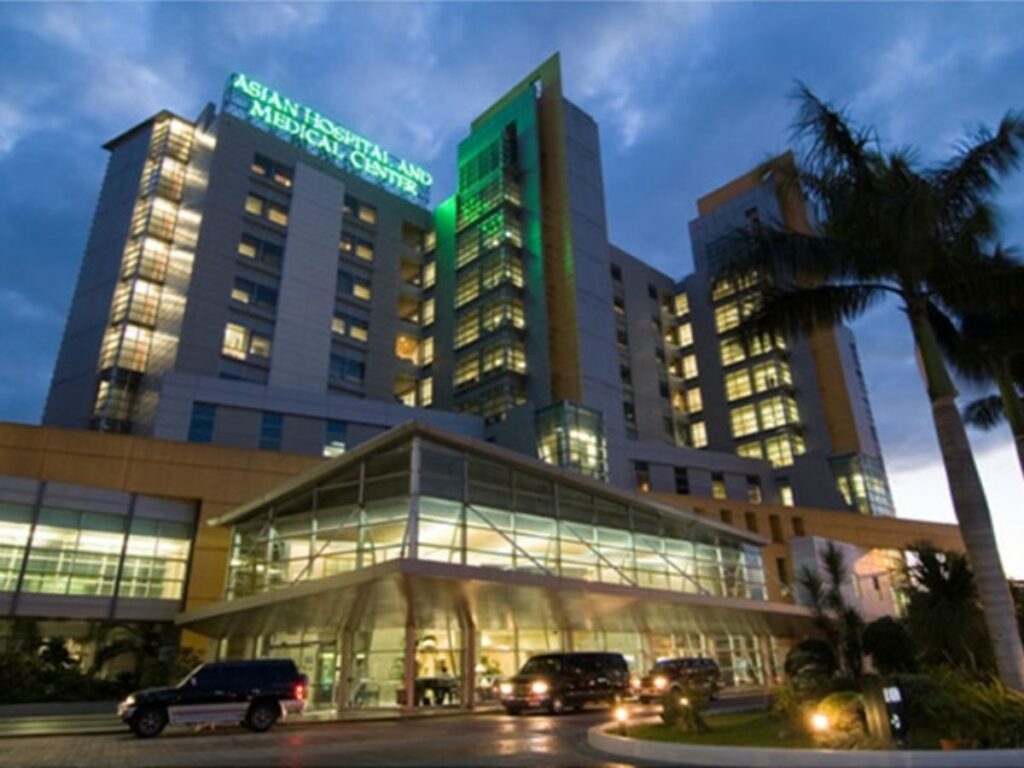 Founded in March 2002 by Jorge Garcia, MD – an alumnus of the Faculty of Medicine & Surgery of the University of Santo Tomas – Asian Hospital and Medical Center (AHMC) has been synonymous to advance medical facilities that are at par with international standards of medicine. Located in the Filinvest City in Alabang, Muntinlupa City, the hospital has 296 beds and a thousand medical staff who are trained to provide quality and compassionate patient care.
The first hospital in the Philippines designed with a hotel-like ambiance, AHMC believes in creating an environment which ultimately promotes healing, comfort, and care for the patient and their family. It has also been accredited by The Joint Commission in 2013, with a renewal of the accreditation given in 2016.
Location: 2205 Civic Drive, Filinvest Corporate City Alabang, Muntinlupa City
Website: www.asianhospital.com
Phone: +632 8771 9000
5. The Medical City
The Medical City (TMC), the largest healthcare network in the country, is composed of one flagship complex, four provincial hospitals, and over 50 clinics in Metro Manila and in select provinces in the Philippines. The main facility is located on a 1.5 hectare property along Ortigas Avenue in the business district of Pasig City, Metro Manila. It is composed of 115,000 square meters of floor space, and includes two Nursing Towers with capacity of up to 800 beds.
The Medical City Main has been conferred accreditation by the Joint Commission International for attaining and maintaining the highest standards of quality for healthcare organizations. JCI is widely recognized as the most prestigious accrediting body for international healthcare organizations.
TMC has defined for itself the value proposition: "Where Patients are Partners." This phrase finds its fullest meaning when the patient is viewed not as a problem to be solved or a charge to be cared for, but as a partner in his own health.
Location: Ortigas Center, Pasig, Metro Manila
Website: www.themedicalcity.com
Phone: +632 8988 1000
6. Cardinal Santos Medical Center
Named in the honor of Archbishop Rufino Cardinal Santos, the medical center is a 235-bed tertiary general hospital. Cardinal Santos Medical Center (CSMC) earned its place as a leading hospital in the country that specializes in cardiology, neurosurgery, oncology, and rehabilitation medicine. CSMC is also recognized for its expertise in pediatrics, obstetrics and gynecology, pulmonary medicine, nephrology, urology, and minimally invasive surgery.
CSMC has defined for itself the value proposition: "YOU are family". At CSMC, every patient is treated like a family member. Each one is guaranteed to experience not just the best of care but the warmth and dedication we give to our own family.
Location: 10 Wilson St. Greenhills West, San Juan City, Metro Manila
Website: www.cardinalsantos.com.ph
Phone: +632 8727 0001
7. Philippine General Hospital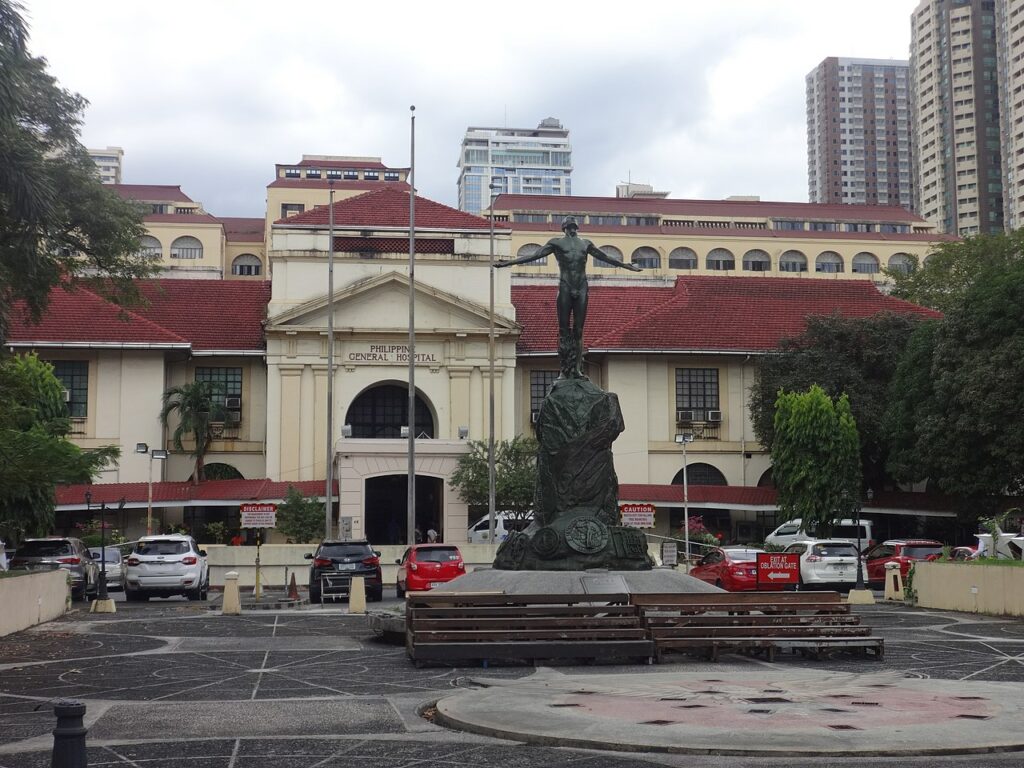 More than most hospitals, Philippine General Hospital (PGH) has become a household word, and rightly so. Administered and operated by globally-recognized top university in the country, University of the Philippines, the hospital can certainly boast of the best and the brightest medical personnel in the region.
As a public hospital, PGH is regarded as the national public hospital of the Philippines, and because of this, it has been known as the hospital of the indigents. PGH has 1,100 beds and 400 private beds, and has an estimated of 4,000 employees to serve more than 600,000 patients every year.
Location: Taft Avenue, Ermita, Metro Manila
Website: www.pgh.gov.ph
Phone: +632 8554 8400
8. Manila Doctors Hospital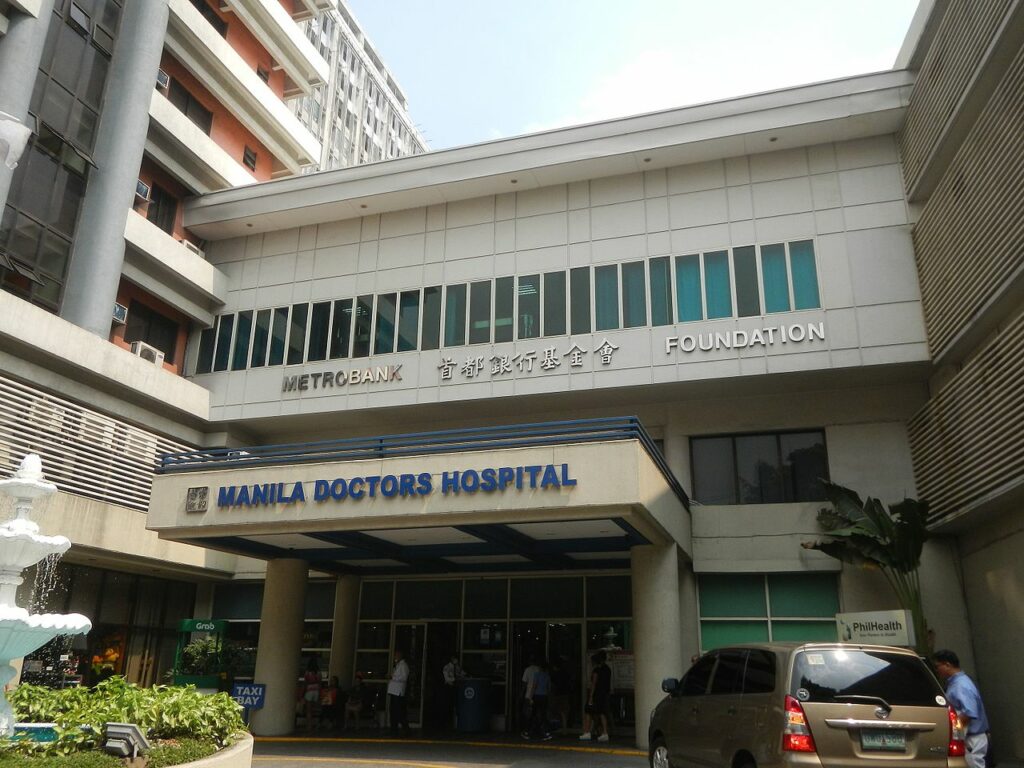 Recently acquired by MetroBank Foundation, Inc., Manila Doctors has certainly become a premiere health-care destination inside the country and right at the tourist district of Manila. It was founded in the City of Manila in 1956 by the group of doctors. The hospital is currently owned by the Manila Medical Services, Inc. It provides services for physical examination, cardiovascular check, and oncology unit.
The hospital slogan is "World Class Care Within Your Reach".
Location: 667 United Nations Avenue, Ermita, Manila
Website: www.maniladoctors.com.ph
Phone: +632 8558 0888
9. University of Santo Tomas Hospital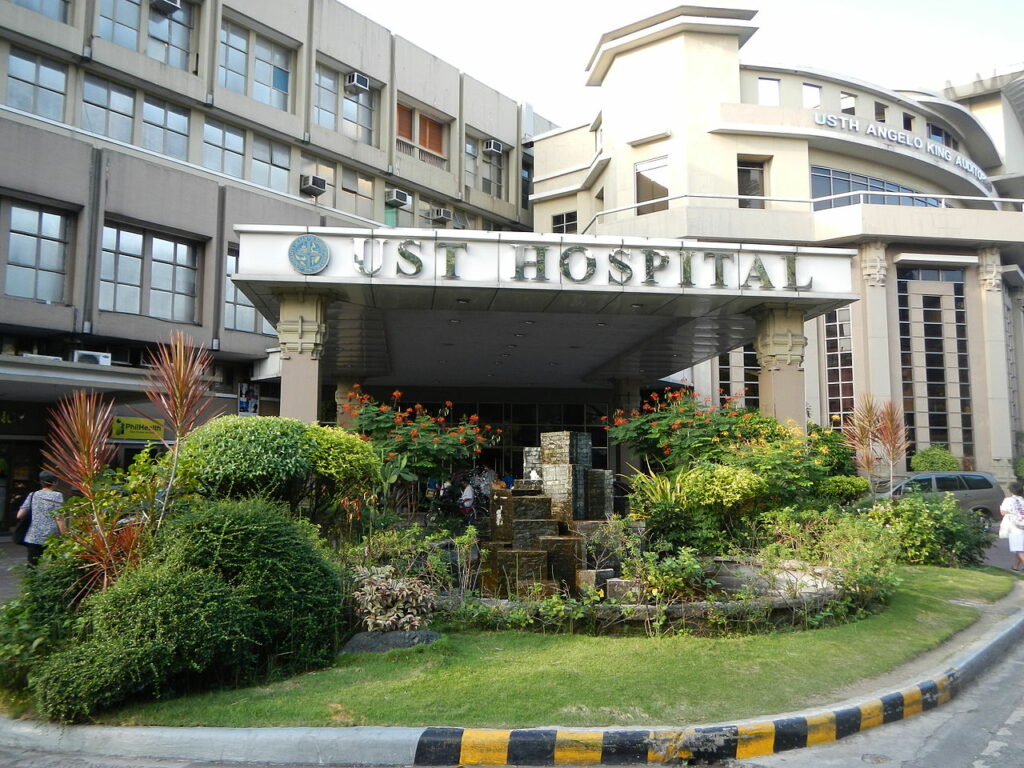 The University of Santo Tomas Hospital (simply UST Hospital or USTH) is a hospital located at the University of Santo Tomas. Founded as San Juan de Dios Hospital in 1577, UST Hospital is one of the oldest – if not the oldest – hospital in the country. The hospital has two divisions, a clinical teaching hospital that offers inexpensive medical care for indigent patients and a private hospital for patients with financial means, which is partially used to subsidize the clinical division.
The USTH, the base hospital and training facility of students of the University of Santo Tomas Faculty of Medicine and Surgery, the UST College of Nursing, and the UST College of Rehabilitation Sciences, is a level III, tertiary care center within the campus of the University of Santo Tomas, the oldest University in Asia. As a premier institution of learning in the Philippines, excellence in training, education and research is central in the vision and mission of the USTH.
Location: A.H. Lacson Avenue, Sampaloc, Manila, Metro Manila
Website: www.usthospital.com.ph
Phone: +632 8731 3001
10. Chong Hua Hospital
Chong Hua Hospital is a hospital in Cebu City, Philippines. It is a non-stock, non-profit organization, owned and managed by the Asociación Benévola de Cebú. With 660 beds and state-of-the-art facilities and equipment, Chong Hua is considered as one of the biggest, most advanced, fully integrated and comprehensive healthcare facility system in the Visayas and Mindanao.
In 2009, it became the first hospital outside Luzón and third in the Philippines to be accredited by Joint Commission International. The hospital had been able to keep its agency accreditation until 2015.
Location: Don Mariano Cui Street, Fuente Osmeña, Cebu City, Central Visayas
Website: www.chonghua.com.ph
Phone: +633 2255 8000
About FAQ
FAQ.ph stands for Facts, Answers and Questions about the Philippines. It is an online place where you can read interesting facts, useful answers and frequently asked questions about our country, its places, events and people. Our mission is to share stories that will help Filipinos and the world gain knowledge about everything in the Philippines, including its beautiful spots, rich history, unique society, and solutions towards the nation's progress.