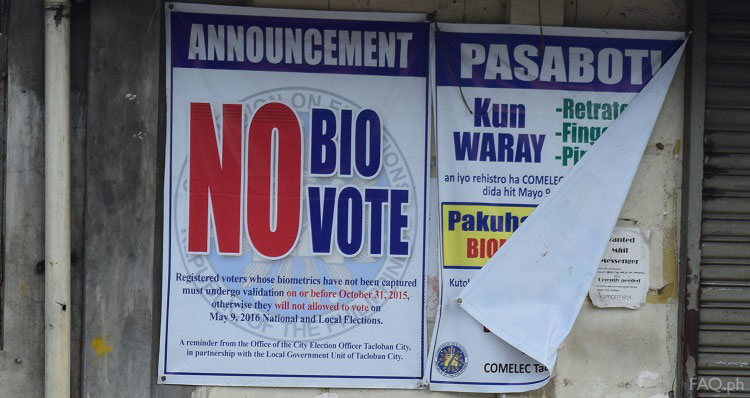 The upcoming 2016 Presidential Elections is one of the most talked about topic these days. Three Presidential candidates have already announced their interest in running for the highest position in the Philippine government and there are already a lot of issues that are coming out too. People are expressing their opinion about the candidates some bashing some showing support but before we focus on the elections, there is something every Filipino should have to be able to truly express what they want for our country. I am talking about securing voter's ID.
As we might have observed, the Commission on Elections (COMELEC), rolled out a campaign to collect voters' biometric data for next year's election with the slogan 'No Bio, No Boto' or 'No bio, no vote'. You might have seen their tarpaulins along highways and busy streets but most people have no idea as to what is the reason why we need to have our biometric data collected by the commission. So COMELEC also used various ways to spread information to people such as social media youth drives and malls.
Why use biometrics?
The purpose of the biometrics is to reduce if not eradicate voter fraud. As we all know, flying voters has been one of the issues we've been having every election may it be a Barangay, Local or National Elections.
This biometric voter authentication has been tried in other countries such as Nigeria where the system proved to be successful. Now the Commission is strictly implementing COMELEC Resolution No. 9853 by mandatory taking photograph, fingerprints and signature (biometrics) during the registration process to create a clean, complete, updated and permanent list of voters.
With the use of COMELEC's Voter Registration Machine (VRM) and Voter Registration System (VRS), the biometrics of a person who wants to register is captured. This includes the fingerprints and signature. The VRM is a desktop computer attached with a digital camera and signature pad.
Here are the steps and processes on how register with the COMELEC and have your biometrics captured.
Eligibility to vote
To qualify for registration, one must be:
A Filipino citizen
At least 18 years old
A resident of the Philippines for at least 1 year
A resident in the place where he or she proposes to vote for at least 6 months immediately preceding the Election Day
Not otherwise disqualified by law.
And must not have been:
sentenced by final judgment to suffer imprisonment for not less than one (1) year
adjudged by final judgment by a competent court or tribunal of having committed any crime involving disloyalty to the duly-constituted government or any crime against national security
Insane or incompetent person as declared by competent authority
Steps for registration
1. Visit your local COMELEC Office or satellite registration office.
Satellite registration booths are provided by COMELEC in your barangays or the nearest malls.
2. Bring a valid ID with photograph and signature.
The following are the acceptable IDs:
Employee's identification card (ID), with the signature of the employer or authorized representative;
Postal ID ;
PWD Discount ID;
Student's ID or library card, signed by the school authority;
Senior Citizen's ID;
Driver's license;
NBI clearance;
Passport;
SSS/GSIS ID;
Integrated Bar of the Philippine (IBP) ID;
License issued by the Professional Regulatory Commission (PRC);
Certificate of Confirmation issued by the National Commission on Indigenous Peoples (NCIP) in case of members of ICCs or IPs; and
Any other valid ID.
In the absence of any of the above-mentioned identification documents, the applicant may be identified under oath by any registered voter of the precinct where he (or she) intends to be registered, or by any of his/her relatives within the fourth civil degree of consanguinity or affinity. No registered voter or relative shall be allowed to identify more than three (3) applicants.
3. Fill out 3 copies of application forms.
The application forms will be given to you after the successful verification of your identity, residence and registration status. For those who are already registered voters and only need to have their biometrics captured, go to step #4.
You may also download and print a blank Application Form from the COMELEC Website to save time. However, the forms should only be signed and thumbmarked before the Election Officer at the COMELEC Office.
4. Have your biometrics captured.
Your biometrics will be digitally captured using the Voter Registration Machine (VRM) by an authorized VRM Operator.
Photograph capture – Simply look at the camera lens until after the flash. This photograph will be on your voter's ID so ask the VRM Operator to show your picture to check if it was captured correctly.
Fingerprints capture – You will be instructed by the VRM operator to place your right and left thumbs and index fingers one at a time on the fingerprint scanner.
Signature capture – Sign on the signature pad as you would sign on a piece of paper. Your signature will appear on the monitor so that you could verify if you signed correctly. If it is not correct then you may try again until you get it right.
Your biometrics will then be shown on the computer screen as captured on the VRM.
5. Keep your acknowledgment receipt.
Your acknowledgment receipt is found at the bottom part of the application form. The COMELEC Officer will detach it and give it to you. This step doesn't apply to those who are already registered voters and only seek to have their biometrics captured.
Voters registration for the OFWs
For the details on the voters' registration for the Overseas Filipino Workers, please visit this page by the COMELEC.
Things to remember:
1. Voter ID will only be issued to registered voters biometrics in their registration records. This means that only registrants whose biometrics has been successfully captured digitally may be issued with a voter's ID card. In case of lost or destroyed only the registered voter will be issued with a copy.
2. Although a voter ID card is not required for a person to vote, a voter may present his/her voter ID or any other ID in case questioned by the Board of Election Inspectors (BEI) on Election Day.
3. All registered voter's fingerprint images will undergo computerized fingerprint matching process using the Automated Fingerprint Identifications System (AFIS) at the COMELEC Central Office in Intramuros, Manila to make sure that there are no voters registered in more than one location.
4. It takes a maximum of 6 months to generate a Voter ID because it goes through a series of validations. After you have applied, it will first be approved by the Election Registration Board (ERB) before it can be submitted to the main office for voter ID generation (ERB meets only 4x every year: every 3rd Monday of January, April, July, and October). ID generation process includes; fingerprint-matching procedure to filter out voters that have multiple records. This means each new record needs to be matched with the existing 52 million records in the national voter database.
5. A republic Act No. 10367 was signed into law by President Benigno Simeon Aquino III in February 15, 2013 which states that voters who would fail to submit themselves for validation from May 6, 2014 to October 31, 2015 would be deactivated and will not be allowed to vote in the upcoming May 2016 elections. Another reason for deactivation of a registration record is if a voter failed to vote in the two (2) consecutive regular elections which include National and Local Elections (NLE) and the Barangay Elections held every three (3) years.
6. The voter ID is free, local COMELEC office should not collect any charge except for ID reprints due to loss or damaged which has a minimal fee of Php 100.00.
7. For registered voter whose registration record contains incorrect entries, such as wrong or misspelled name, date of birth, birth place or typographical errors, may request for its correction at the concerned local COMELEC office or follow this link for Online Form: CEF-1D – Application for Change/Correction of Entries/Inclusion of Record in the Book of Voters and Reinstatement of Name in the List of Voters.
8. A voter with a deactivated registration record can file for reactivation of his or her registration record at the local COMELEC office of the city/municipality where he or she is registered during the next scheduled registration or follow this link for Online Form: CEF-1C – Application for Reactivation.
Choosing our future leader is a political right which we need to exercise. It is only through casting your vote that you are truly expressing your voice as a citizen. It is your right to choose as to who you want to serve in a particular position. It is not in the "Likes" a particular politician gets in his or her social media account or page which determines our next leader but in every single vote we cast during the election.
You have the power to chose our future leader, chose well.
Other references:
http://www.comelec.gov.ph/?r=VoterRegistration/GeneralInfo/RegistrationRequirements
http://www.comelec.gov.ph/?r=VoterRegistration/GeneralInfo/BiometricsCapture
http://www.comelec.gov.ph/?r=VoterRegistration/NoIncompleteBio
http://findbiometrics.com/no-biometrics-no-vote-says-philippines-election-commission-26221
About Lyza R. Sabornido
Lyza writes to share the colorful and wonderful Filipino culture to the world. She's a seasoned writer, researcher and news reporter. She's the editor for lifestyle, culture and travel of FAQ.PH. Follow her on Twitter at @lyza_lyz.