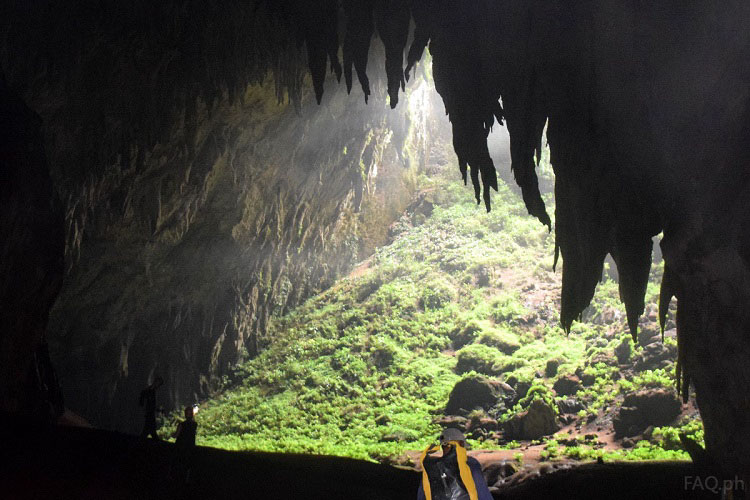 It's my dream to explore all the greatest places in the Philippines, including the highest mountain (Mt. Apo in Mindanao), the largest waterfall (Aliwagwag Falls in Davao Oriental), the cleanest lake (Kayangan Lake in Palawan) and the biggest cave in the country (Langun Gobingob Caves in the island of Samar).
As a native of Samar who was born in Catbalogan City, Langun Gobingob caves in Calbiga came first as my target. So when cave master Joni Bonifacio of Trexplore the Adventures invited me to join a 1 day caving in Calbiga Caves last September 24, I did not hesitate to say YES!
I have previous two spelunking experiences, one in Sohoton Caves in Basey, Samar and the other one in Linao Cave in Guiuan, Eastern Samar. However those were only for the easy or beginner's type of caving adventure.
The Langun Gobingob caving is a different level of quest, as it requires 8-9 hours of trekking outside and inside the country's biggest cave. Yes, there are mountains to cross to reach the cave openings and rock mountains inside the caves where you have to traverse from one cave entrance to another.
Langun Gobingob is a caving system located in Samar Island National Park or SINP. SINP is a 333,000 hectares of protected natural eco-tourism system spanning the whole island of Samar and its three provinces, Northern Samar, Eastern Samar and Western Samar (or simply Samar). It is also the biggest natural park in the Philippines, comprising the largest contiguous lowland tropical rainforest in the country.
The island of Samar is also considered as the Caving Capital of the Philippines, not only because it's the location of the biggest caving system in the Philippines, but also because it houses hundreds or perhaps thousands of explored and unexplored caves in the country.
Aside from holding the title as the biggest cave in the Philippines, Langun Gobingob is also said to be the second largest cave in Asia. Its karst formation is also reputed to be the third largest in the world.
I began my journey in Tacloban City, my current city.
If you wish to see and cross the majestic San Juanico Bridge, you may fly to Tacloban City, and from there, ride a bus or van to Calbiga. I chose bus because it's bigger and cheaper though a bit slower (fare/person: Php50.00, travel time: more than an hour).
I was scheduled to meet Joni and a group of tourists from Metro Manila at 9am in Calbiga, particularly at Rutchel's Native Chicken Eatery, our starting point for our Calbiga Caving journey.
I arrived in Calbiga earlier than 9am so I decided to roam around the town.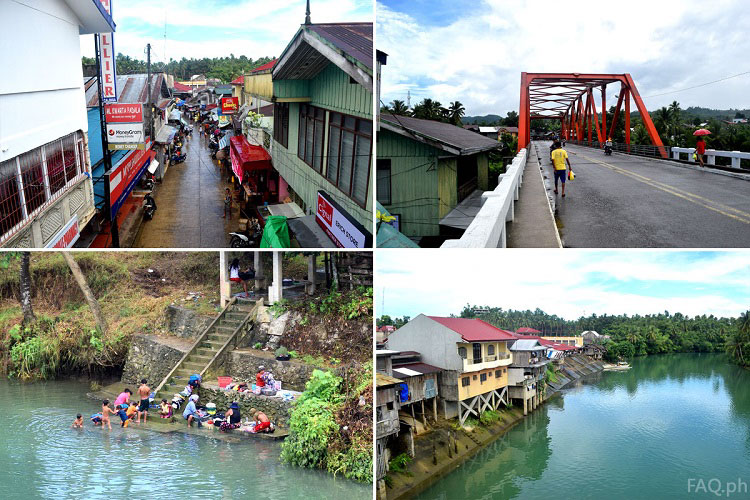 Calbiga is a simple and quite town in Samar. The municipality of Calbiga is located between Tacloban and Catbalogan. Calbiga is more than an hour away whether you're coming from Tacloban or Catbalogan.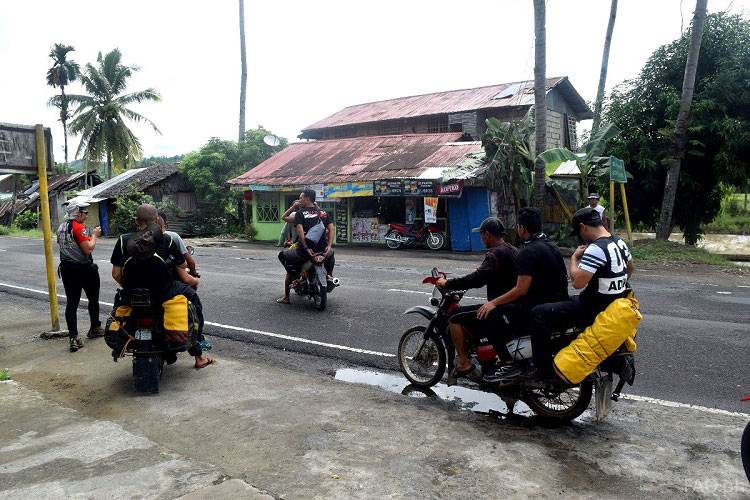 At 9am, Joni and the group of tourists from Metro Manila arrived at Rutchel's Native Chicken Eatery.
I was originally wearing hiking sandals for the caving expedition but Joni advised me to use covered shoes to protect my feet from the sharp rocks along the path to Langun-Gobingob Cave. Fortunately, I brought my running shoes with me. Though they're not for trekking, I finally decided to use them anyway to avoid any injury on my feet and toes.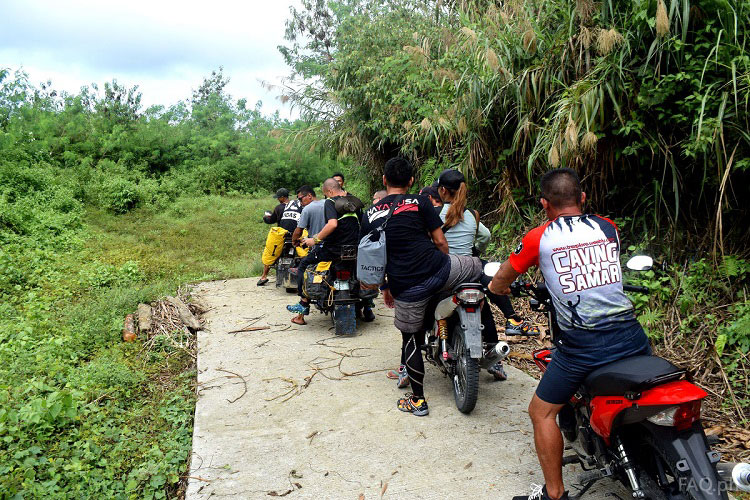 The first part of our expedition was riding a habal-habal or motorcycle along the concrete road in Barangay Panayuran heading to the caves. It was the easiest part and also the shortest. No sweat!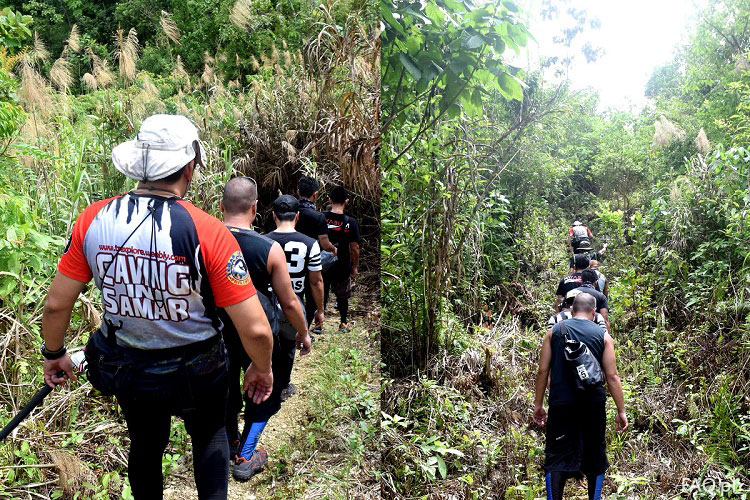 However, the next part will keep you catching your breath. It involved walking through flat grounds, and then descending and climbing thru hills or mountains. I recommend everyone who wants to explore Langun Gobingob Cave to at least do some physical conditioning first, like jogging and running, before going to the caves to gain stamina.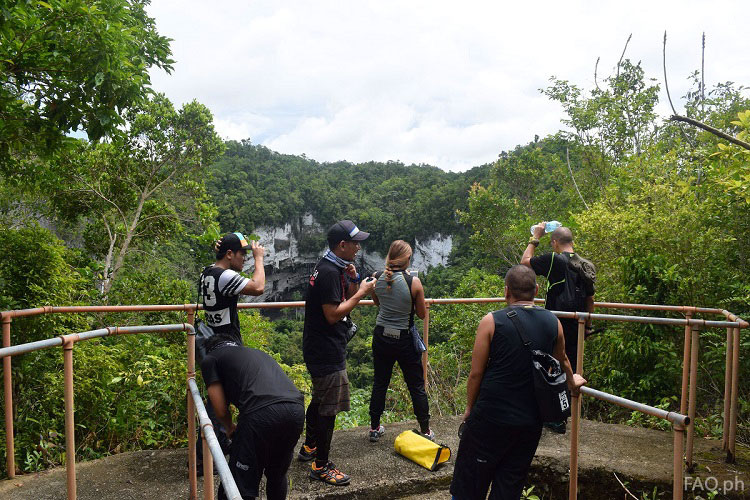 After about an hour, we arrived at the viewing deck of Gobingob Cave entrance.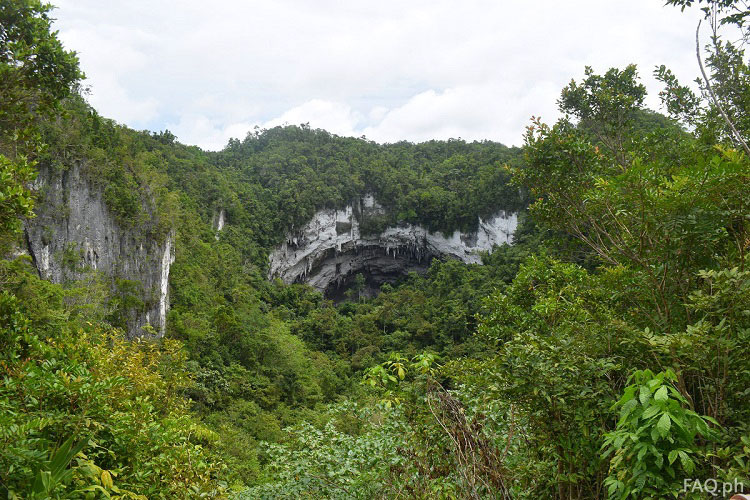 The scenic view of Gobingob Cave entrance was a demonstration of a large cavern covered by a thick forest. I hope the government will not construct a concrete road leading to this cave so that the natural features of this area and the glorious trekking adventure will be preserved. For me, the best way to develop a natural landscape is for humans to not develop it anyway, then let Mother Nature do its job.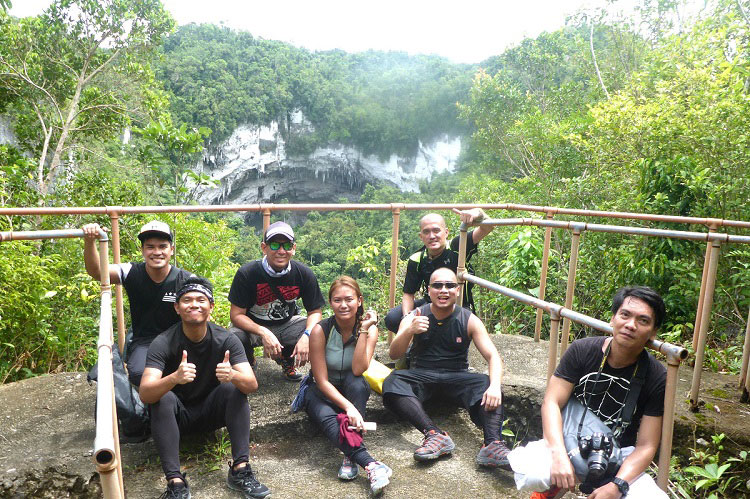 Since our exploration was only scheduled for a single day, we had to keep moving. We only spent a few minutes for taking selfies and group pictures. That's me on the left with my newly found friends from Metro Manila (photo credit to Joni Bonifacio). I was wearing white shorts and orange running shoes – seriously? What was I thinking?
From the viewing deck, Gobingob Cave's entrance is still a half kilometer away. So we continued our trek along the path, where sharp coral-looking rocks challenged our feet. The path here could be slippery, thus, it is recommended to wear hand gloves so you can hold on to rocks and trees without injuring your hands.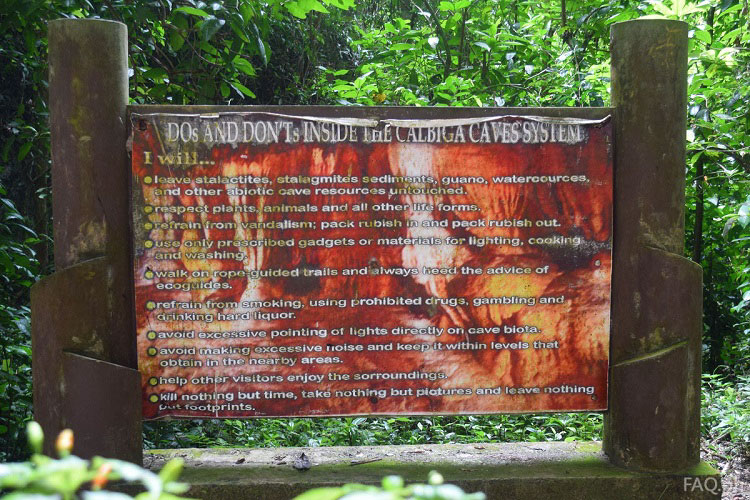 Finally, we arrived at the entrance of Gobingob Cavern. Here, you will read the Do's and Don't inside the Calbiga save system. Take note that all caves in the Philippines are protected by laws, particularly Republic Act No. 9072 or the "National Caves and Cave Resources Management and Protection Act". Irresponsible acts inside the caves, such as harming the speleogem or speleothem inside any cave and disturbing the free movement of any animal or plant life inside or out of any cave is prohibited by this law.
Before entering the Gobingob Cave, Cave Master Joni lectured us first about the important things we should remember while inside the caves. He also shared us the history of Langun Gobingob Cave and other stories about caving in the Philippines.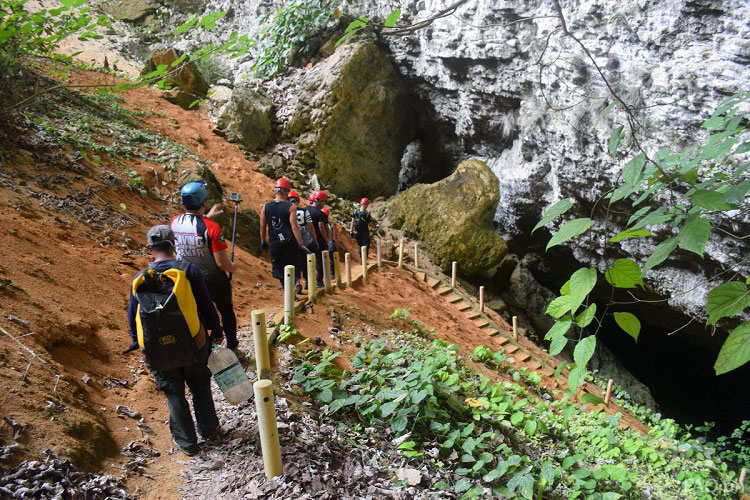 After the orientation and securing caving gears, we started descending to the underworld, right inside the Gobingob cavern.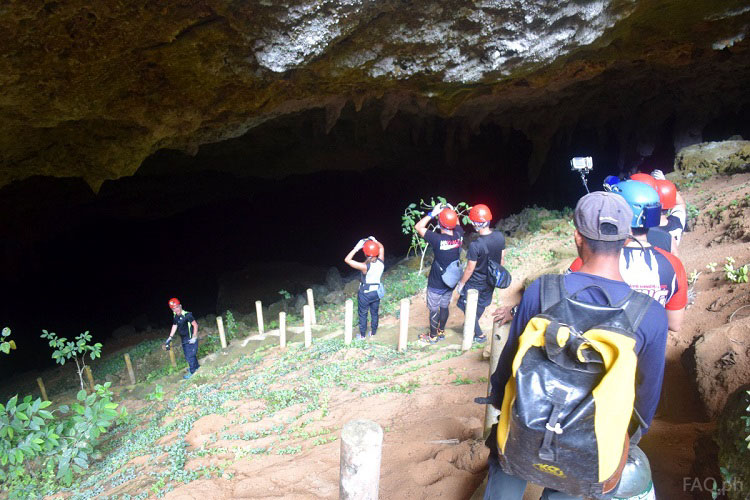 Our caving expedition was to traverse from Gobingob cave and exit at Langun cave.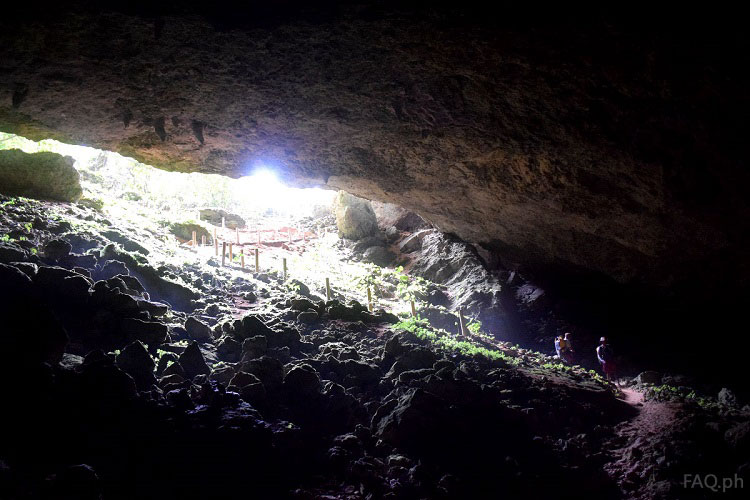 So we said goodbye to the outside world, to the sun and to the skies.
Several amazing rock formations like this magnificent tall limestone stalagmite in the picture above await everyone who wants to get inside the cave. Limestone stalagmites and stalactites (the ones hanging down from the cave's ceilings) or speleothems are formed for thousands of years from the calcium bicarbonate and other minerals found in the water dripping inside the caves.
Speleothems should not be touched to preserve their natural color, growth and formation. Did you know that even the human skin oils can alter the natural formation of the limestone stalagmites and stalactites since they can alter the area where the mineral water holds or flows?
As an amateur photographer carrying a bulky DSLR camera, I struggled to capture great pictures inside the cave. There were actually several stunning limestone water formations that I missed to capture due to poor lighting and limited time for manual photography.
Inside the cave, there were bats, cave crickets, crabs white and the hypogean blind fish. These creatures are not exposed to light and should not be disturbed, especially by photographing them with a flash since it can stress them. Hence, I have no photos to show about them. I think I will leave those hidden wonders of nature be seen by your own eyes rather than see them in pictures. 🙂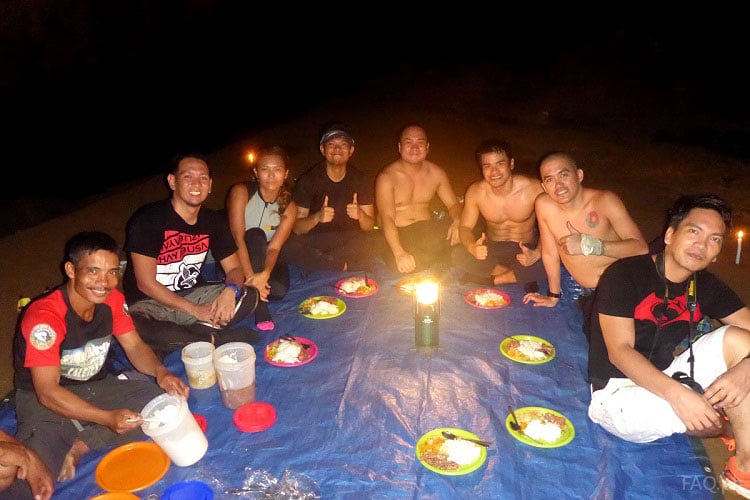 At around 1PM, we had our lunch inside one of the cave's largest chambers, called the Football field. It was called as such because it is said to be that three football fields could fit in that chamber. Joni's wife, Rhine, cooked something special and delicious to energize us for the rest of our caving and spelunking activity. It was my first ever meal in the underworld! Next goal: to spend overnight and wake up in the underworld with my special someone. 😉
After taking a rest at the Football Field chamber, we began to step up and climb through the rock formations to reach the other chamber.
The trek inside the cavern is challenging but our group (which we jokingly called "team competitive") worked in unity to pass on useful information to everyone to guide us on our every step and movement to avoid injury. That's what you call teamwork!
After climbing the rocks, we needed to descend into the darkness.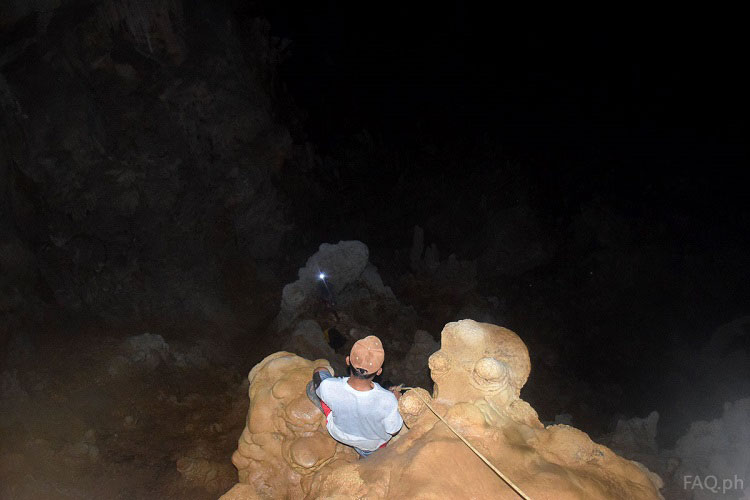 The local porters were experts in this kind of expedition. What's hard for us was easy for them. They went first to the ground to check it and set up the ropes we used for rappelling.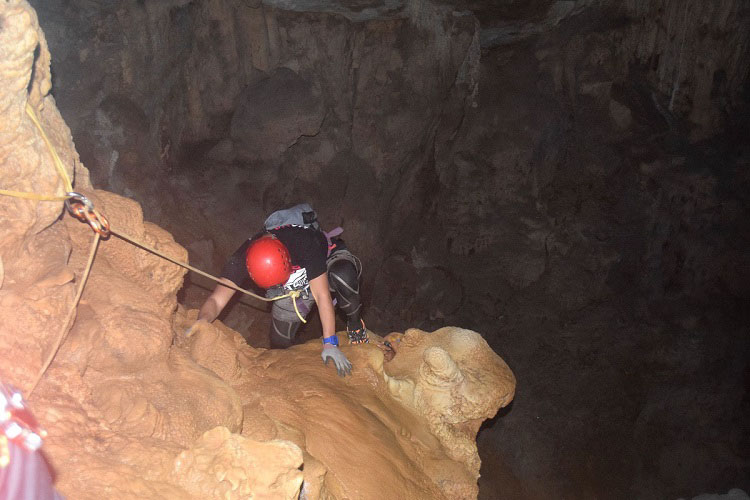 If you like mountain climbing and rappelling, how about doing them inside the caves? I guarantee it's an extraordinary experience. Our cave master Joni ensured our safety by watching and supporting us from above while the porters are also watching below.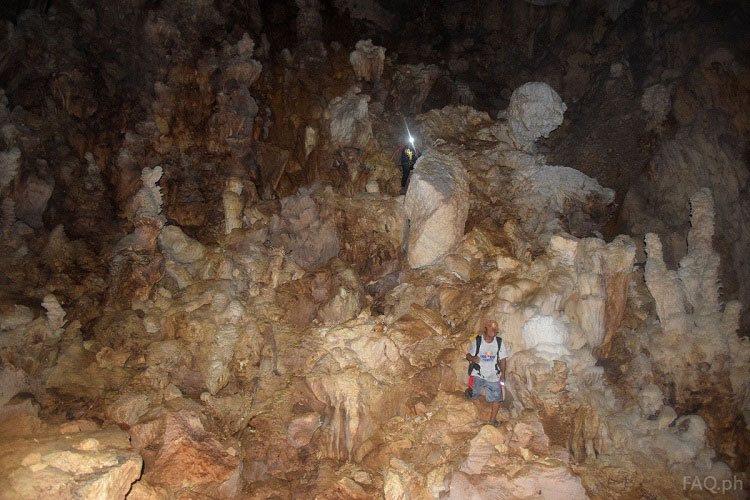 Yes, there are rock hills and mountains inside Langun Gobingob caves, and you will have to get through them if you want to conquer the biggest cave in the Philippines.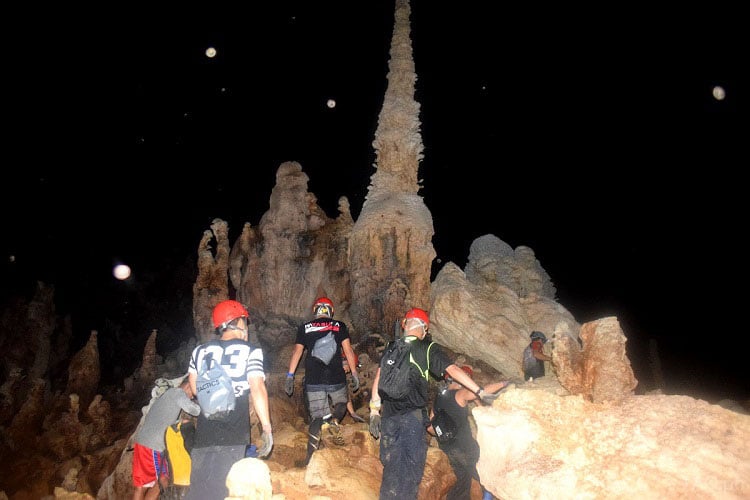 Exploring Langun Gobingob Cave was like exploring another world – a different realm.
It was creepy and mysterious inside yet very exciting and challenging.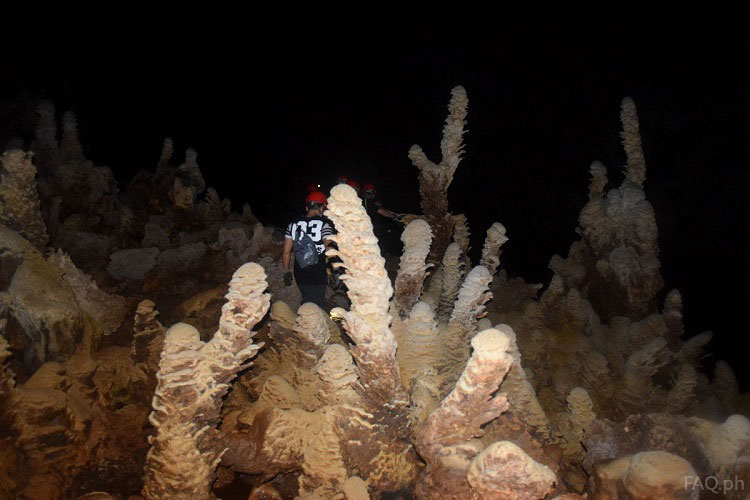 You will be stunned of what you will actually see inside the caverns –– more than how you are amazed in looking at the photos in this article.
Through rocks and mud, we climbed and walked.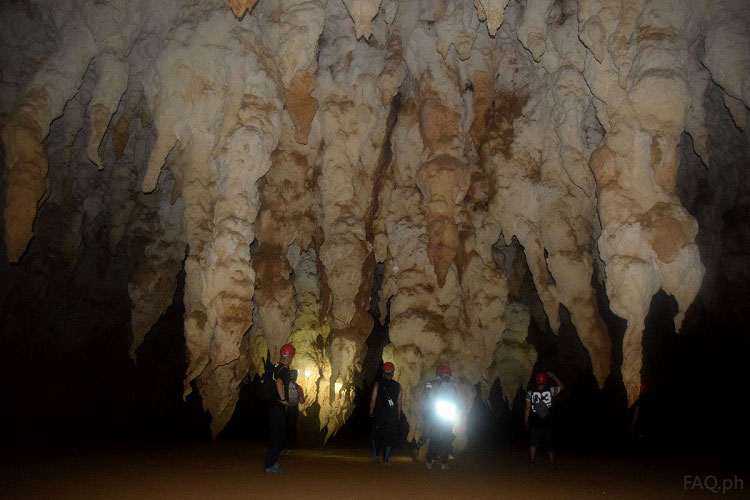 But the sweat and exhaustion are nothing once you see these giant stalactites trying to reach the ground from the ceiling.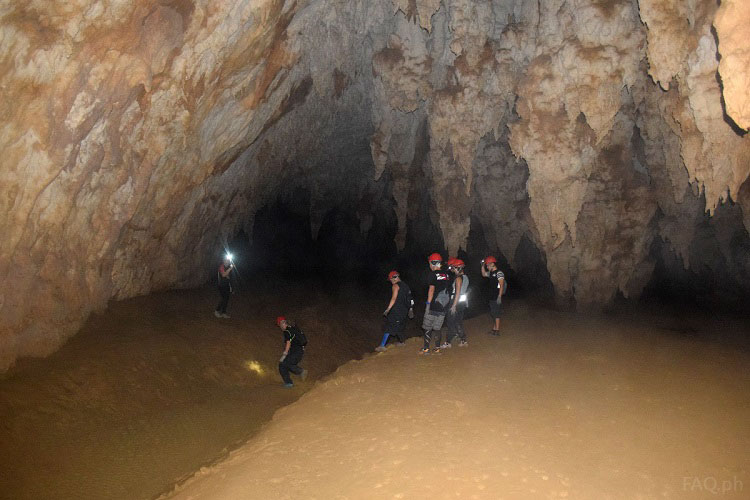 We crossed a river of mud to reach the exit.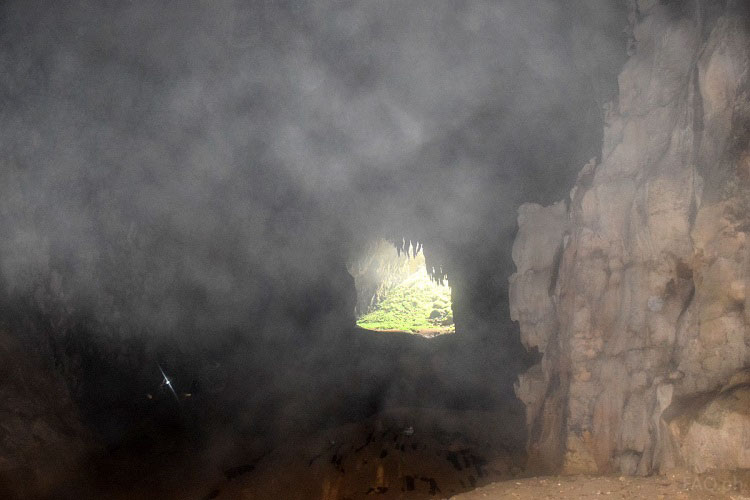 Finally, we could already see the mouth of Langun Cave. It's a small opening.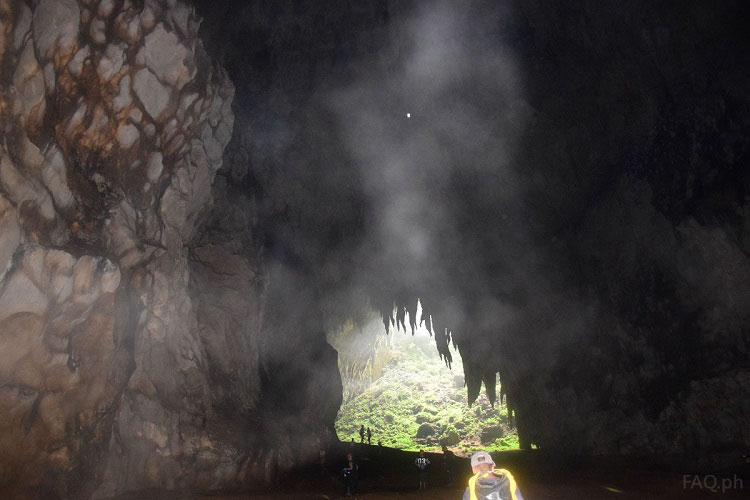 However, as we get nearer, it's also getting bigger.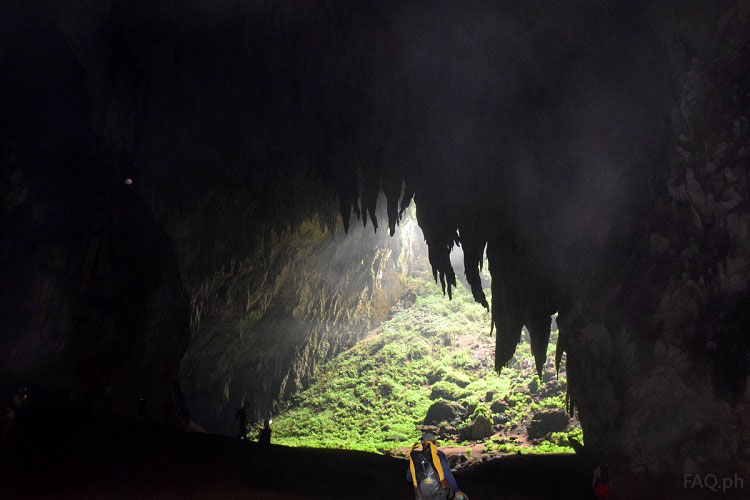 and bigger…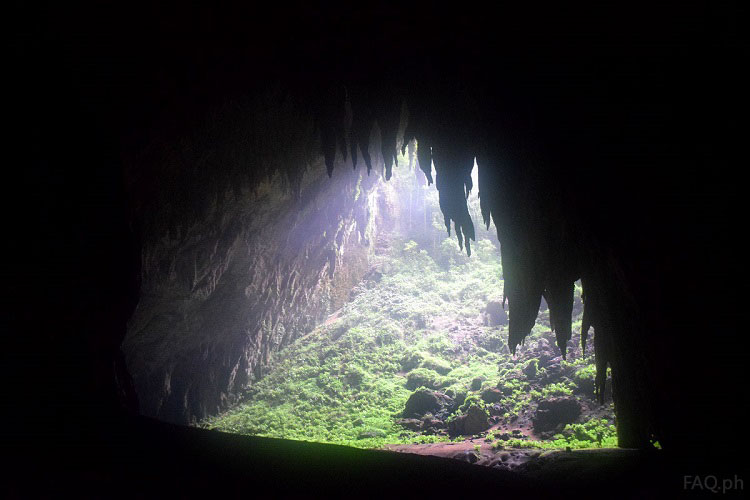 and bigger.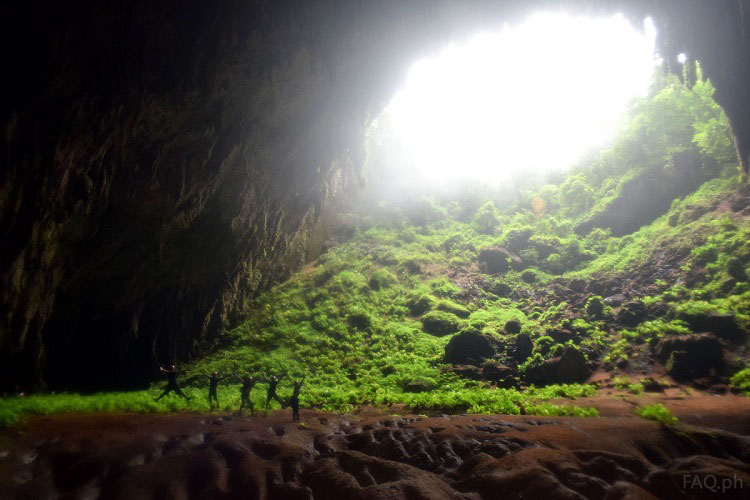 It's so big that my friends who did a jump shot looked like tiny ants in this picture.
At last, we have returned to the outside world. Photo credit to Joni Bonifacio.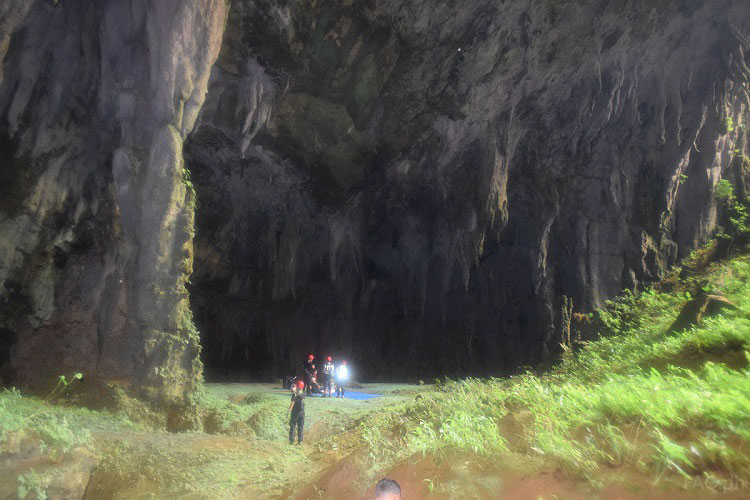 The porters were already waiting for us at the entrance of Langun Cave. They have already prepared our snacks.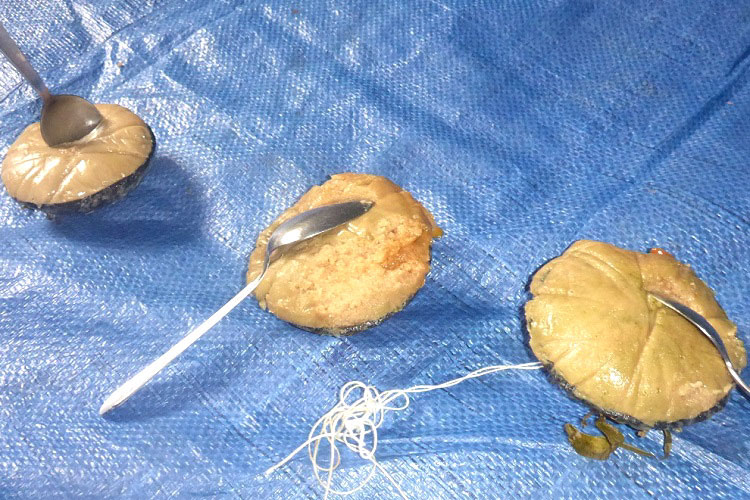 Sweet Binagol, my most favorite delicacy from Eastern Visayas. Photo credit to Joni Bonifacio.
My friends from Metro Manila apparently enjoyed its taste.
This is what our shoes looked like after traversing from Gobingob to Langun cave entrance. Yes, that's my orange running shoes.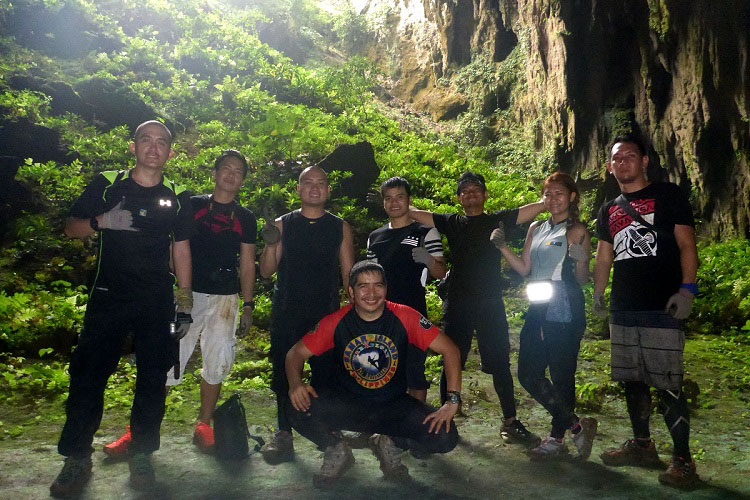 A group picture with the cave master must not be forgotten. Photo credit to Joni Bonifacio.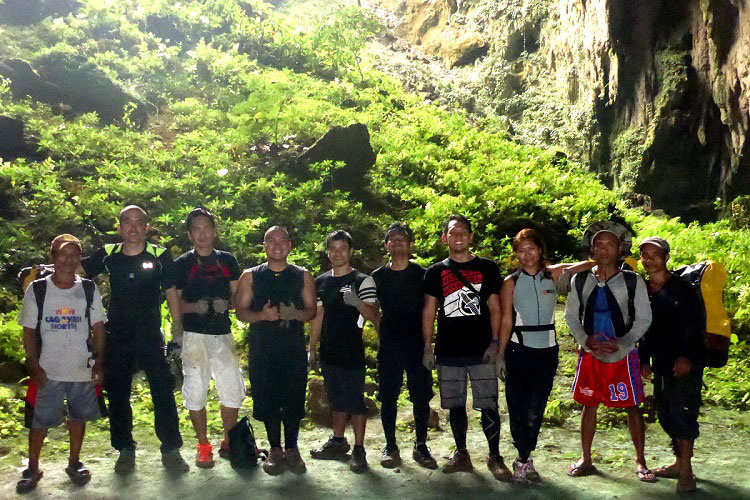 And of course with the mighty local porters of Calbiga. Photo credit to Joni Bonifacio.
After consuming Binagol, rehydrating our drained bodies, taking photos and resting, we decided to start trekking back to the town.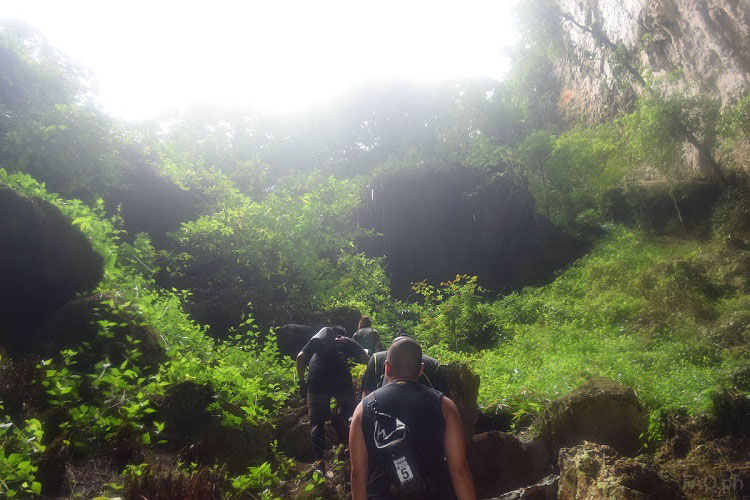 We're so excited to return with our big accomplishment — we conquered the biggest cave in the Philippines!
However, returning to the villages is one of the biggest challenges one must overcome when exploring Langun Gobingob Cave. Trekking back to the highway involves an hour of hiking to the top of a mountain.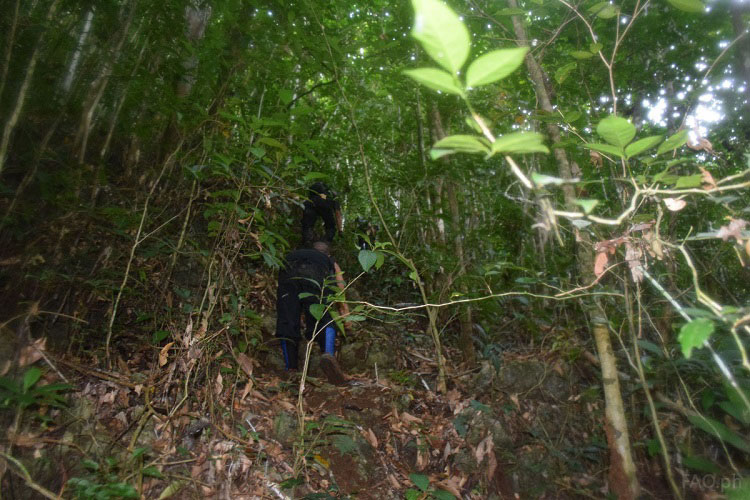 If you want to last in this kind of journey, I strongly advise that you preserve your energy for the last challenge, that is, crossing through a mountain. I thought that the last difficult challenge would be to exit Langun Gobingob Cave, and that the way back to Calbiga Town is a lot easier – but it's not.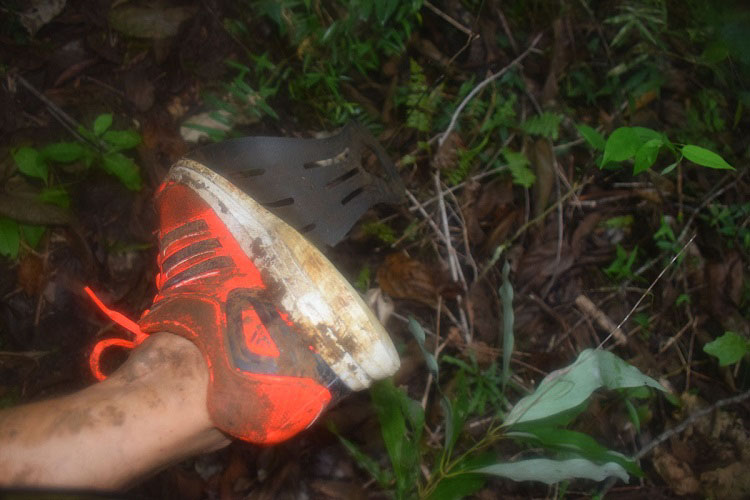 The hour of walking and climbing up the rocky mountain caused the bottom part of my running shoes to be separated. Just imagine if I wore sandals. It would have been my toes or toenails (ouch!). I'm glad I listened to Joni's advice to wear shoes rather than sandals.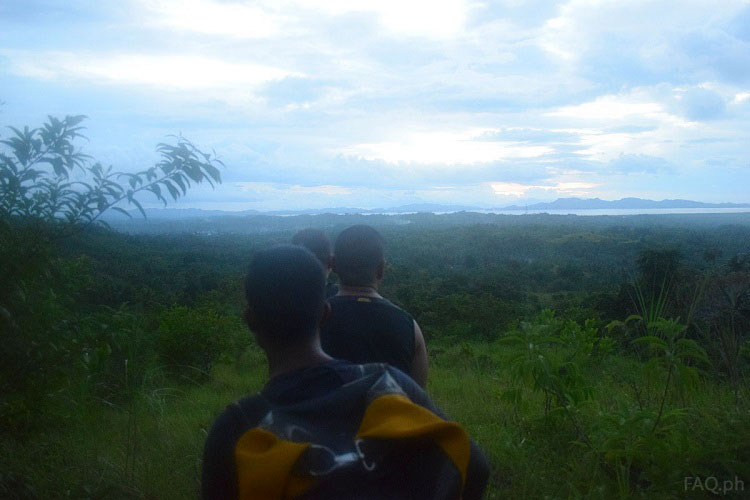 Thank God we're done climbing this mountain. We're already on the top of it. I realized that if you want to conquer Langun Gobingob cave, you also have to conquer hills and mountains.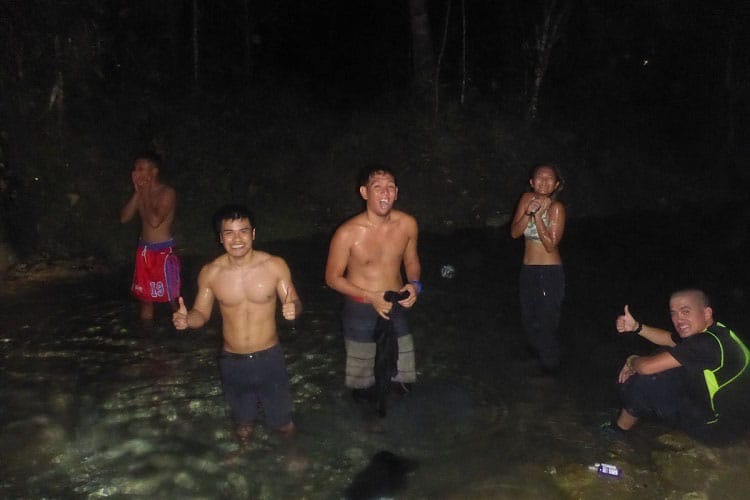 It was already between 6pm and 7pm when we arrived at Mapaso Spring, where we washed and cleansed ourselves. The cold spring also provides water to some villages in Calbiga.
From Mapaso Spring, motorcycles were already available for a ride to where we started.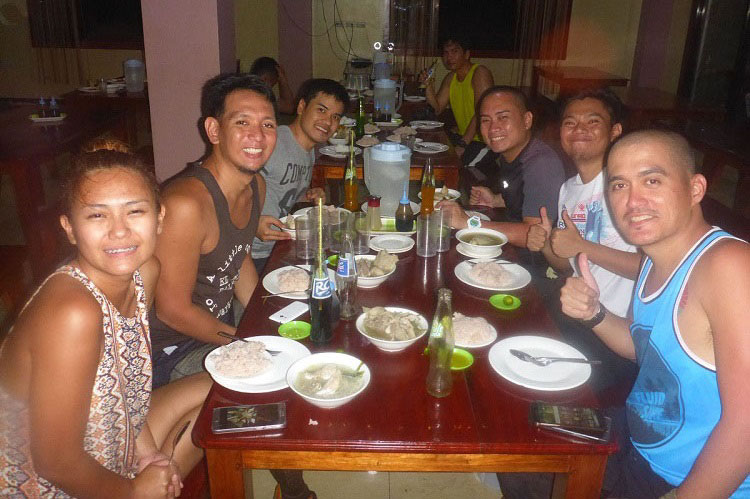 Yes at Rutchel's Native Chicken Eatery…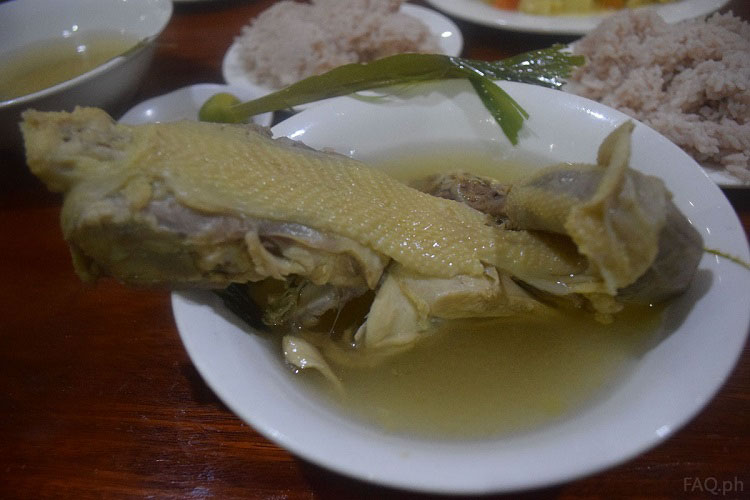 … where the native tinolang manok was waiting for us to reward us from completing our adrenaline-rushing and heart-pumping exploration in Langun Gobingob caves.
How to get there
For me, the best way to get to Langun Gobingob Cave is to contact Joni Bonifacio of Trexplore the Adventures and have him as your caving guide. Joni is the most active caver and speleologist in Samar and the one who knows Langun Gobingob Cave the most, having explored the caves with Italian and other international speleologists who have previously mapped the Calbiga caving system.
To get in touch with Joni, you may use the following contact details:
Joni Abesamis Bonifacio
Trexplore the Adventures
Address: Abesamis Store, Allen Ave.
Catbalogan City, Samar
Phone: 055-2512301 / 5438550
Mobile Phone: 09192943865 / 09276750062
Email: info@trexplore.ph / samar@trexplore.ph / trexploresamar@gmail.com
The 13TH EXTREME CAVING 2017
Our one-day Langun Gobingob expedition was exhausting since the adventure was only done in a single day. If you like to conquer the biggest cave in the country with more time and more chambers to explore, you may join the The 13TH EXTREME CAVING 2017 in Calbiga Caves, which is organized by Joni and Trexplore.
The event which will be held on May 26-28, 2017 involves 3 days of cave explorations and 2 nights of camping inside the cave. Unlike the one-day cave exploration, cavers don't need to hurry to get back to the town before evening since they will be camping and sleeping inside the caves.
For more details and information of the event, visit the website of Trexplore the Adventure.
This post is long but I think I still have a lot of stories to tell about my caving adventure at Langun Gobingob Cave. So if you have any question, feel free to make a comment below. I'd also like to thank Joni Bonifacio and his wife Rhine, my caving companions from Metro Manila (Sean, Eli, Khreng, Jan, Pete and Jonathan) and the mighty power porters of Trexplore the Adventures!
Dare to conquer the most wonderful places in the Philippines, especially Langun Gobingob Cave!
About Victorino Q. Abrugar
Vic promotes tourism-related businesses, brands and places. He's the marketing strategist of FAQ.PH. He believes that the key to success is to always do what to do next. Want to promote your business? Contact him at mail@optixor.com.