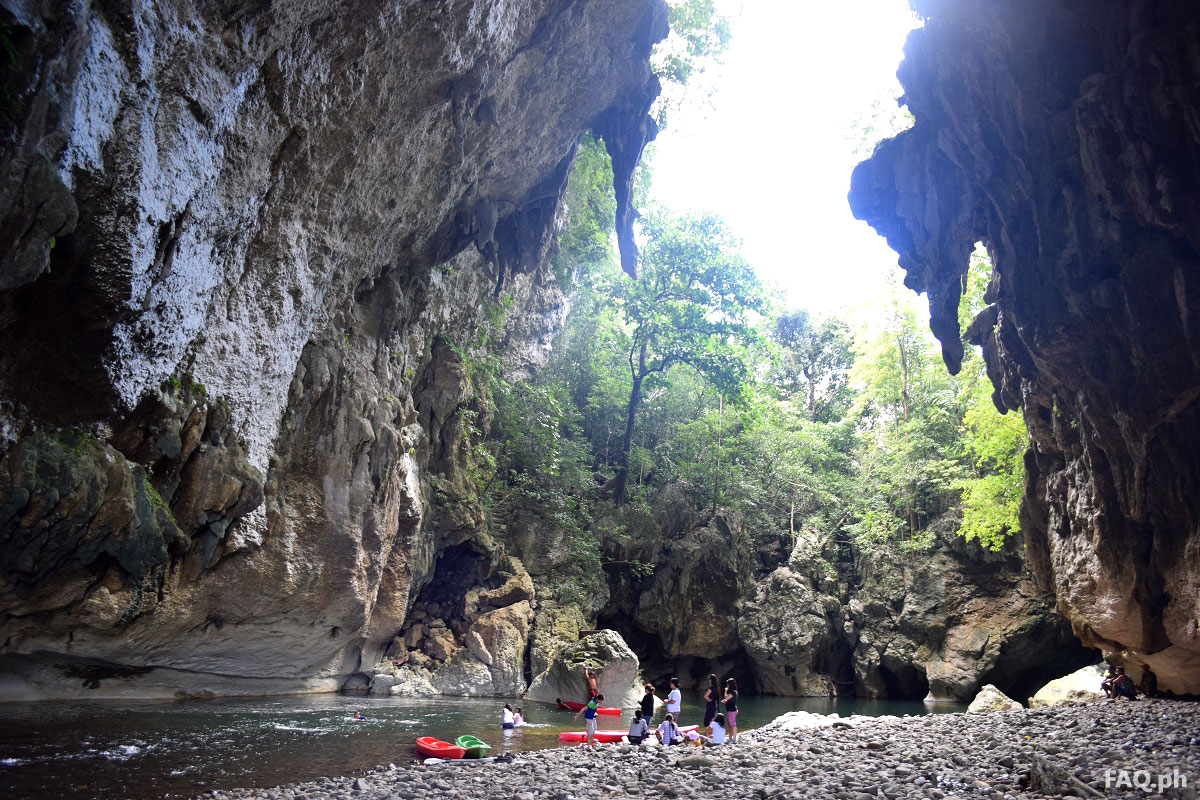 Before Tacloban City was hit by Haiyan, it was just a small city slowly inching its way towards urbanization. However, when Haiyan hit, the landscape changed drastically. Yes, it seemed never to rise up from the rubbles again but two years after, it is a booming city with increasing traffic congestion.
If you are the adventurous type, it might seem there is nothing to do in this nether region. I challenge you to drive even just 30 minutes away from the city's traffic and you will be blown away by what this region has to offer. Largely undiscovered,rugged and off the beaten path, there is low tourist influx (except for the expat humanitarian aid workers) in the islands of Leyte, Samar and Biliran so you will rarely bump into a foreigner. This is why Elf Authentic Adventure chose the island of Samar in 1999 as a playground for hardcore outdoor adventure enthusiasts.
Among the prized jewels of Samar are the Golden River, Sohoton Caves and Natural Bridge located in the midst of the protected Sohoton Natural Bridge National Park (SNBNP) in Basey. In this protected area you will be able to enjoy these activities all in one day:
1. A boat trip up the Golden River. This will allow you to enjoy the verdant forest and limestone formation. Listen to the sound of nature as you chase butterflies, dragon flies and rare birds with your eyes. Get to observe the vibrant riverine community as well. You will see ladies washing their clothes by the riverbank by beating the clothes with a piece of plank while their little kids splash and dive nearby.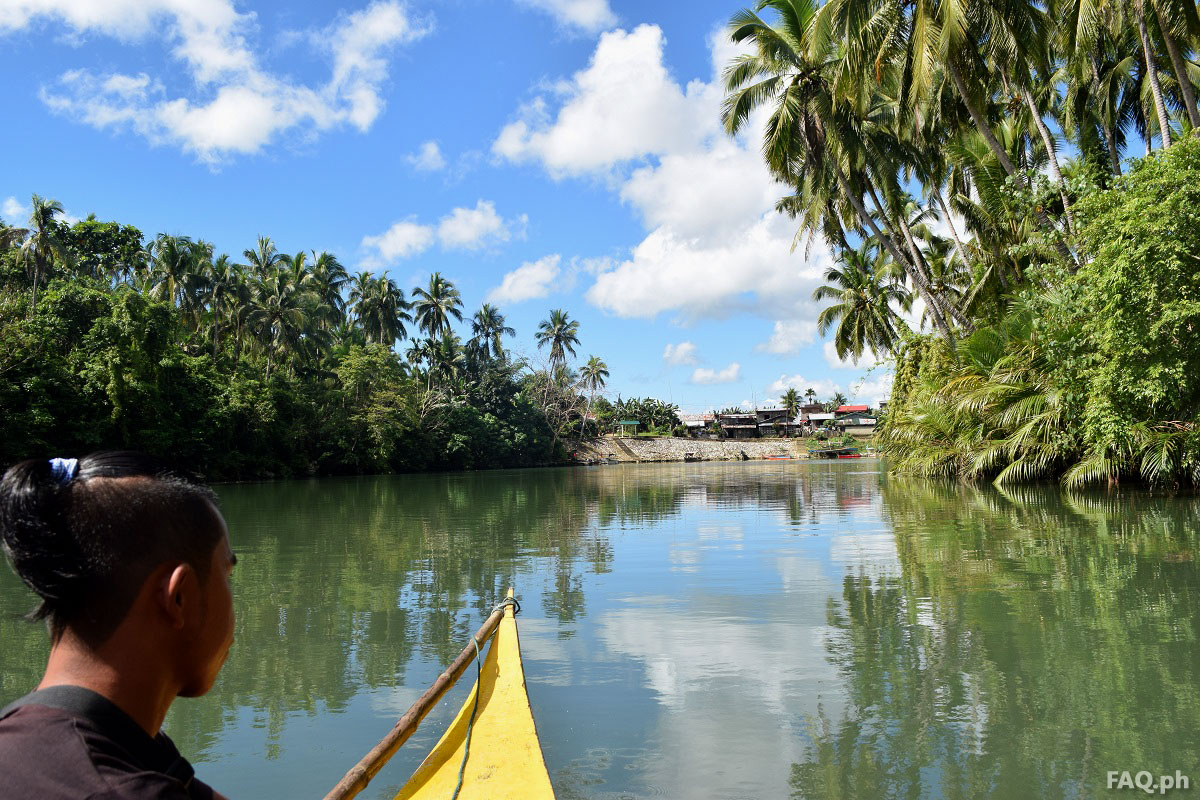 2. Waray songs and dance. You will be welcomed to the cave with the strumming of guitars and singing in the local language. On some days there are also dancers who will entertain you with cultural dances.
3. Spelunking or caving.The cave has been the setting for a couple of movies owing to its beautiful stalactite and stalagmite formation. Let your imagine run wild as you imagine the resemblance of each mineral precipitate formation. A small population of insect bats also lives in this cave.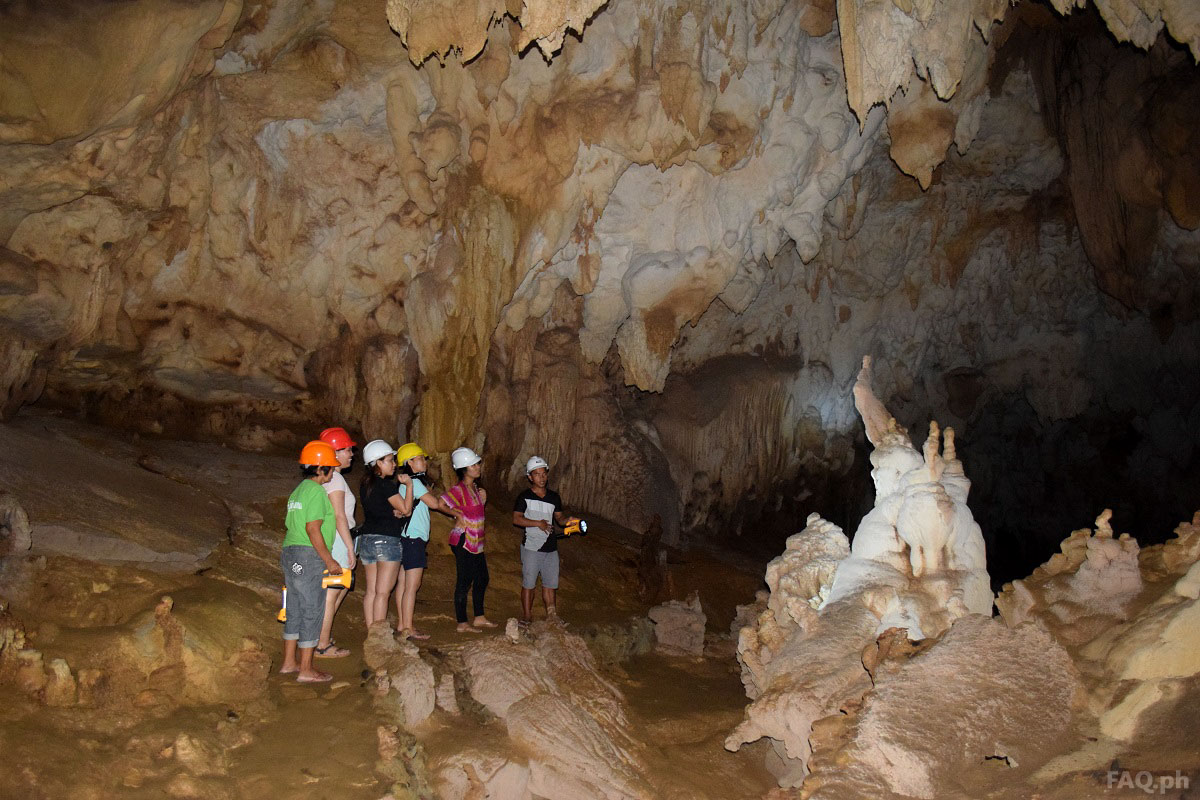 4. Kayaking. Get some tan and upper body exercise rowing your kayak upstream towards the Natural Bridge.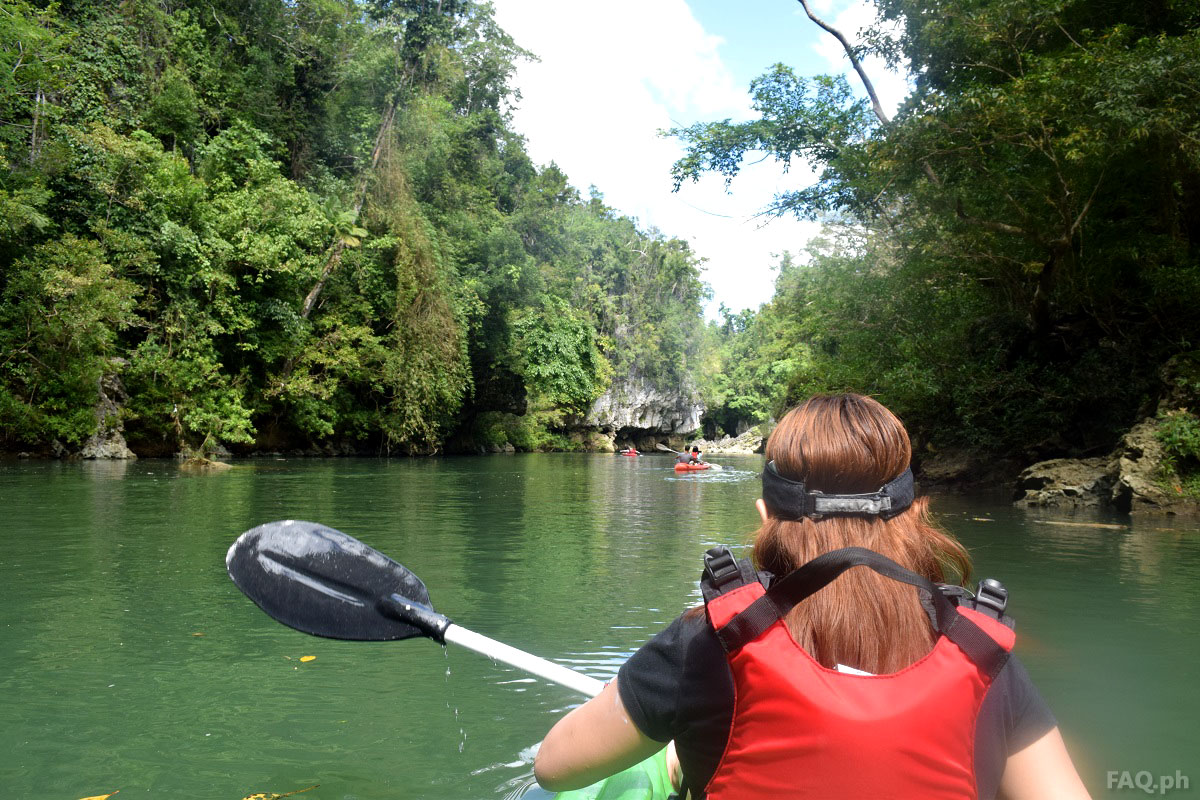 5. Swimming. Relax and cool down by taking a dip or dive at the Natural Bridge.
Still unconvinced? Check out these 30+ photos of our recent adventure at Sohoton Natural Bridge National Park. To get a taste of what this place has to offer, we typically start our journey in the regions hub, Tacloban City.
If you are coming from outside the region, there are multiple nonstop flights by Cebu Pacific, Philippine Airlines and Air Asia to Tacloban City's Daniel Z. Romualdez Airport from either Cebu or Manila.
Are you now rearing to go? Here is my one day itinerary customized just for your wandering soul:
How to get to Sohoton Natural Bridge National Park
7:00 am – Go to the New Tacloban Bus Terminal and take an air-conditioned van bound for Basey. The ride will set you back 30 pesos. It may be a tight squeeze but this is the fastest way to get to your destination. If you want a longer but authentic Filipino experience, take a bus for 25 pesos. Be warned that there will be a lot of stops along the way as passengers get in and off the bus.
The ride will take you across the scenic San Juanico Bridge which spans across the island of Samar and Leyte. If you have a private vehicle, you can get off in the middle of the bridge and take some photos. Some people would even walk across the bridge. Now this is a great experience you will never forget.
Basey is approximately an hour away from Tacloban City without traffic.
8:00 am – From the town proper you can either register at the tourism office or go directly to the Sohoton Cave Tourism Office at Brgy. Wespal. I suggest doing the latter for convenience and savings as when you transact things with the local tourism office, the rates are fixed already and non-negotiable. However, if you go directly to Brgy.Wespal, you can still haggle for the motorcycle ride.
To get to Brgy.Wespal, take a 30 minute habalhabal (motorcycle) ride at 50 pesos per head from the dock.
8:30 am – Get dropped off at the Sohoton Cave Tourism Office at Brgy. Wespal and pay the following fees:
River Cruise: 2500 pesos
or Motor Boat: 500 pesos for 5 persons
Cave guiding fee: 300 pesos
Kayak guide: 150 pesos
Community fee: 150 pesos
Light: 300 pesos
Kayak rental: 50 pesos
Cave entrance fee: 50 pesos (locals); 200 pesos (foreigners)
Golden River environment fee: 50 pesos
Guitarist fee: 200 pesos
Fold Dancing fee: 200 pesos
SSA Operational Expense: 15%
After splitting the cost and paying the fee, put on your flotation jacket. Then get ready for the 30 minute ride with a banca or motorized boat along the Golden River. The river is flanked by verdant forest and by limestone formation.
You will also be able the riverine life of the locals like women doing laundry or children taking a swim. Get your binoculars ready as well as this is also the best place bird watching.
For a group of five, you will be paying approximately 750 pesos each. It is a bit expensive even for a local.
10 am – Upon arrival at the Sohoton Cave, you will be serenaded by a guitarist. You will be provided with a helmet and a torch before entering the caves. It takes about an hour to explore the stalactites and stalagmites inside the cave. If you want to get the best deal out of your money, request for the hardest route inside the cave. This route is not actually difficult as the guide would let you believe. It requires some crawling in small crevices so this will not work well for those who are at the heavier side.
11 am – After exiting the cave, you can take a kayak upstream to the Natural Bridge. This requires upper body strength. If you are feeling lazy, ask for your kayak to be tied to your guides or ask for a guide to row your kayak towards the natural bridge.
12 am – You and your friends can have swim and have lunch at the Natural Bridge. You can also jump off the stones and dive on to the deepest parts of the river. You can spend an hour or two here before heading back to town or to a nearby waterfalls.
What to bring?
Money. You will need approximately 1000 Php for this trip and just enough change to buy weaved pasalubongs (gifts) in the town of Basey like mats or bags before heading home.
Sunscreen.You will most likely be under the heat of the sun the whole day except when you are splunking. So protect yourself from premature aging and slather every inch of your skin with a water resistant sunscreen with SPF 30 and above.
Swimwear.The beautiful clear river at the natural bridge is a nice place to swim after kayaking so bring your swimwear and change of clothes.
Food. There is no food for sale at the cave but if you arrange things in advance the tourism office at Brgy.Wespal can serve lunch. You can also buy food at the town center before heading off to the caves. However, it is more convenient to bring your own food and water. Just don't litter.
You can contact the Basey Tourism office at 09287459915/09283358783 or email them at tourismbasey@yahoo.com. They will help you plan out your trip in advance.
To cut the cost per head for the trip, invite more friends to join you. You will not only save but you multiply the fun experience too.
Finally, watch and enjoy our short video that will give you a quick glance of our adventure at Sohoton Natural Bridge National Park.

About Ge-Ann Balintec
Ge-Ann Balintec is a full time humanitarian hero and a part time wordsmith and visual artist. Follow her lucid interval ramblings at Sky-clad and check out the products of her creative juices executed by her idle hands in her Instagram @gedaleann. Or better yet, spot her on the street, chat her up and dissect her brains.