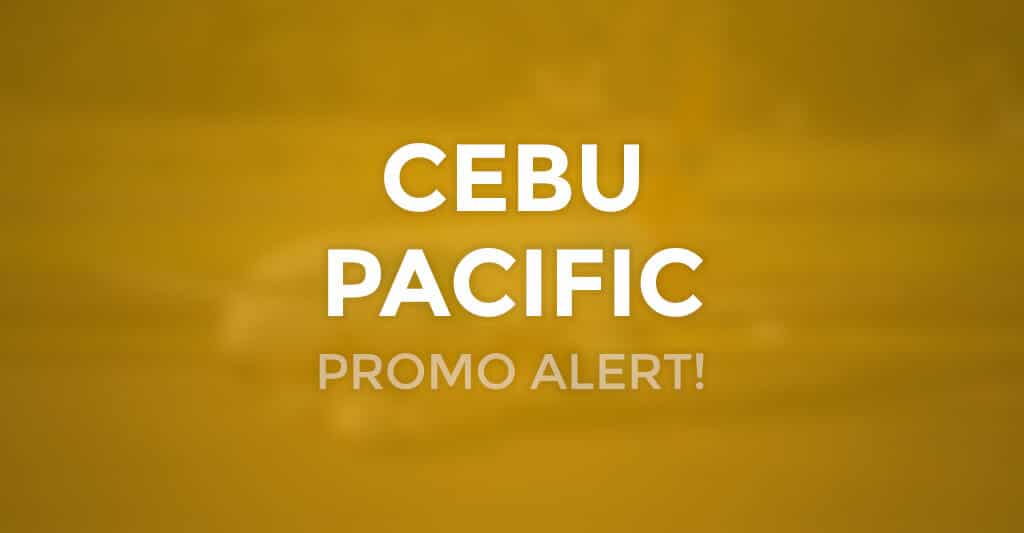 Cebu Pacific Air offers 88 Pesos BASE FARES for the whole year of 2021. If you are planning to have a vacation this year, then better book your Cebu Pacific tickets now.
Just browse the travel dates and destinations for not all dates will be carrying promo fare tickets.
Cebu Pacific promo ticket rates include only the base fare and free 7 kg hand carry baggage. Web Admin Fee, 12% VAT, Terminal Fees and Fuel Surcharge are not included in promo ticket price.
Booking dates
Up to February 11, 2021 or until seats are sold out.
Listed below are the destinations that you can book:
Cebu to Bacolod, Boracay (Caticlan), Butuan, Cagayan de Oro, Clark, Coron (Busuanga), Davao, Dipolog, Dumaguete, General Santos, Iloilo, Legazpi, Ozamiz, Pagadian, Puerto Princesa, Siargao, Surigao, Tacloban, or Zamboanga.
Clark to Bacolod, Boracay (Caticlan), Davao, Iloilo, or Puerto Princesa.
Manila to Bacolod, Bohol, Boracay (Caticlan), Butuan, Cagayan de Oro, Cauayan (Isabela), Cebu, Davao, Dipolog, Dumaguete, General Santos, Kalibo, Iloilo, Legazpi, Masbate, Marinduque, Naga, Ozamiz, Pagadian, Puerto Princesa, Roxas, San Jose (Mindoro), Tacloban, Tuguegarao, Virac, or Zamboanga.
How to book this Cebu Pacific Promo:
Before you book the promo, make sure to check the Sale Period and the Travel Period. Promo fares are subject to availability – it means that promo seats are LIMITED. If your desired destination and dates are not available, the website will show you the next lowest fare price or you might want to check other dates/destinations.
You can visit directly the Cebu Pacific website at www.cebupacificair.com and enter your travel details (flight type, destinations, departure, number of guests traveling. If you are going to choose roundtrip, you need to provide return flight date)
NO PROMO CODE NEEDED for this promo. Cebu Pacific Promo Codes are only used usually for special sale for VISA or MASTER CARD Holder only. For regular promos, you don't have to put promo codes.
You can also call the Cebu Pacific hotline at (02) 70-20-888 in Manila or (32) 230-8888 in Cebu or visit the travel agent near you.
About FAQ
FAQ.ph stands for Facts, Answers and Questions about the Philippines. It is an online place where you can read interesting facts, useful answers and frequently asked questions about our country, its places, events and people. Our mission is to share stories that will help Filipinos and the world gain knowledge about everything in the Philippines, including its beautiful spots, rich history, unique society, and solutions towards the nation's progress.