Summer is almost here and many people have started planning for their yearly family getaways. While there a lot of vacation options that have become popular over the years, going to the beach has always been the most preferred activities for Filipinos.
However, having a great time under the sun has also evolved into something more fun and engaging. Aside from just sunbathing, swimming, snorkeling, or building sand castles, there is an emerging concept that is slowly making its way to mainstream traveling: spending your summer at a floating water park. If you have no idea what a floating water park is or if you've already read about this new adventure online, this article will help you start arranging your travel itinerary for this year's vacation.
Here are the best floating water parks in the Philippines that you should visit at least once a year.
Location: Lower Kalaklan, Olongapo, Zambales
Inflatable Island is an awesome travel destination that you should check off your bucket list. Bring your kids or the entire gang to experience a literally floating playground located in one of the country's prime destination, Zambales.
The area is over 4,100 square meters and it offers a variety of inflatable structures such as swings, towers, bridges, slides, as well as human launchers. It's a destination that will give you a unique experience and will surely make you feel like a child again. Run, jump, dive, slide, swim, and be creative!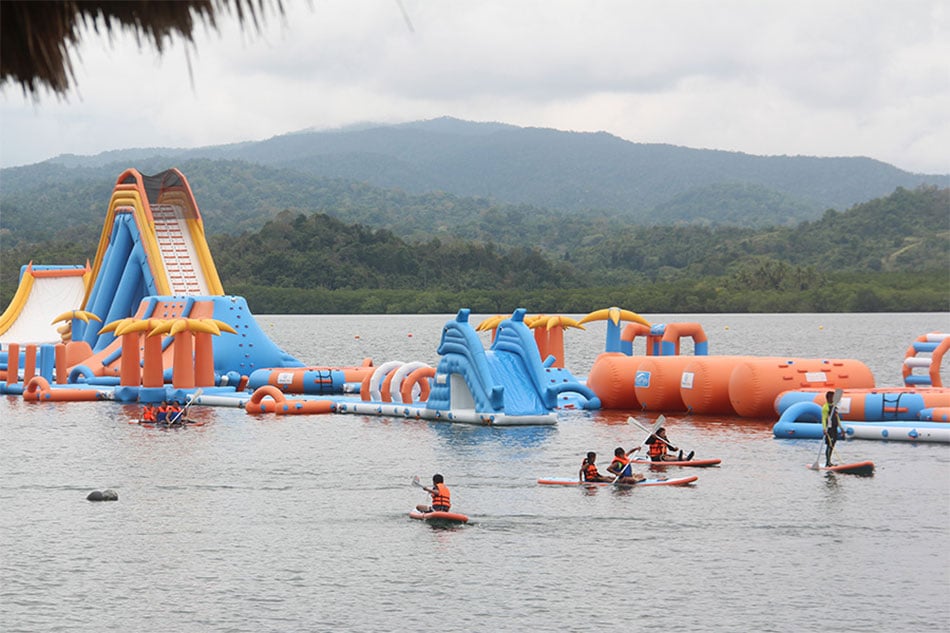 Location: Puerto Princesa, Palawan
Aside from the underground river boat road and the island-hopping adventure, Puerto Princesa in Palawan has something new to offer: an inflatable aqua-adventure. The venue offers several packages that cover exclusive access to many activities and adventures. Eco tours, buffet lunch, round trip transfer, and many more can be availed depending on the package that you have chosen.
Additionally, the packages can either offer limited or unlimited use of the facilities within the inflatable water park.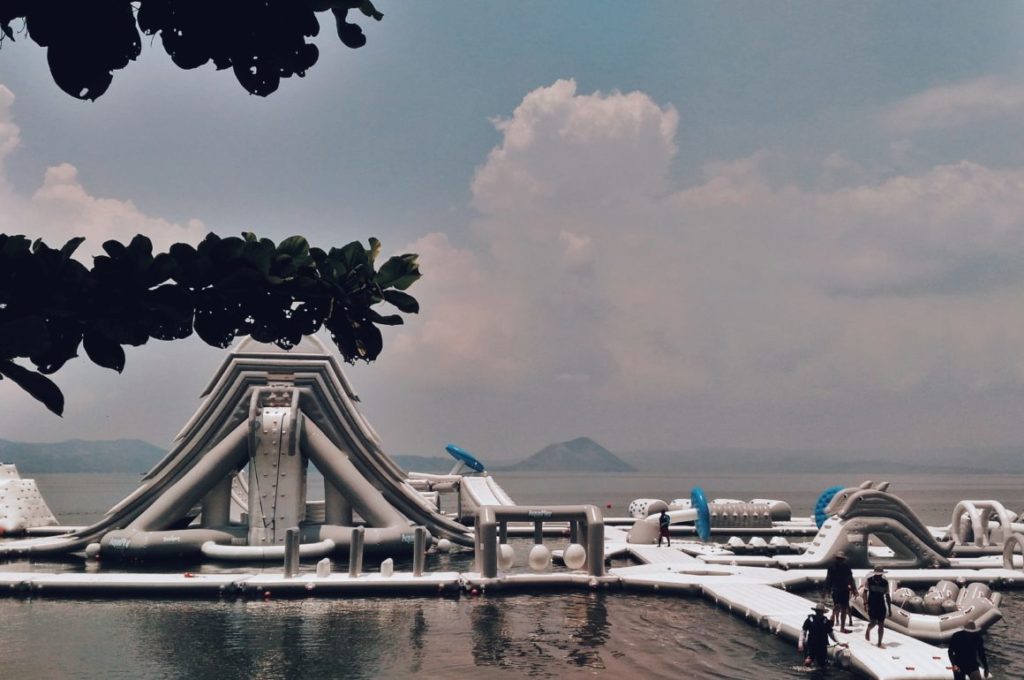 Location: Talisay, Batangas
Club Balai Isabel's Aqua Park is an all-white haven for beach lovers and adventure seekers. Located in Batangas, a 2-hour destination from Manila, it is one of the best places to enjoy your family vacation. Why? Imagine having a full panoramic view of the Taal Lake and its relaxing waters?
Whether you are just a walk-in guest or a checked-in patron, you can easily have access to this floating island park. There are basic rates per hour and if you want your lunch and snacks to go with the experience, you can pay an additional fee and everything will be there.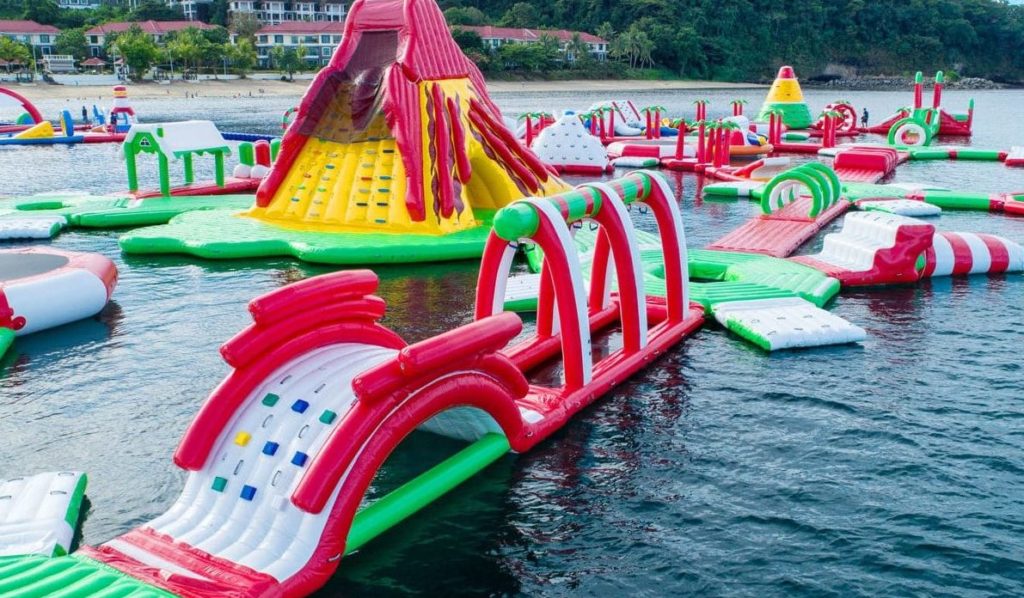 Location: Nasugbu-Ternate Highway, Nasugbu, Batangas
Another floating water park destination that can be found in Batangas is the Waterpark Adventure Philippines. The location has a festive theme that celebrates the tropical colors of red, green, and yellow. The most unique structures are the inflatable palm trees that can be found scattered around the area.
Aside from just chilling and enjoying this floating wonder, there are several activities that your family can choose from, including kayaking, snorkeling, free diving, jet ski ride, jetovator, skimboarding, and a lot more. If you're into water sports, you can take a ride at their for-rent jet skis. Sports enthusiasts can also take part in a literally larger-than-life experience with its Giant Volleyball.
For weekend warriors, you don't have to worry about the safety of your valuables. The management provides beach locker rooms at reasonable rates. Additionally, shower rooms are also available.
Location: Alviera, Porac Access Road, Porac, Pampanga
Want to add more thrill to your summer adventure? Then SandBox's Splash Tub is the place for you. The area is a 1,200 square meter floating obstacle course that will surely challenge your sense of adventure and competition. The destination is meant for a group of friends or even perfect for team-building activities.
For multiple groups seeking adventure, join the Aqua Dash, a race that is lined with obstacles and inflatable terrains that can test your speed, agility, wit, and stamina. There are a total of 11 obstacles that highlights a Challenger Course (for adults only). Included in it are the Ball Traverse, the Wreckers, the Over and Under, and so much more.  For kids, there are also available water courses that are designed to challenge and entertain.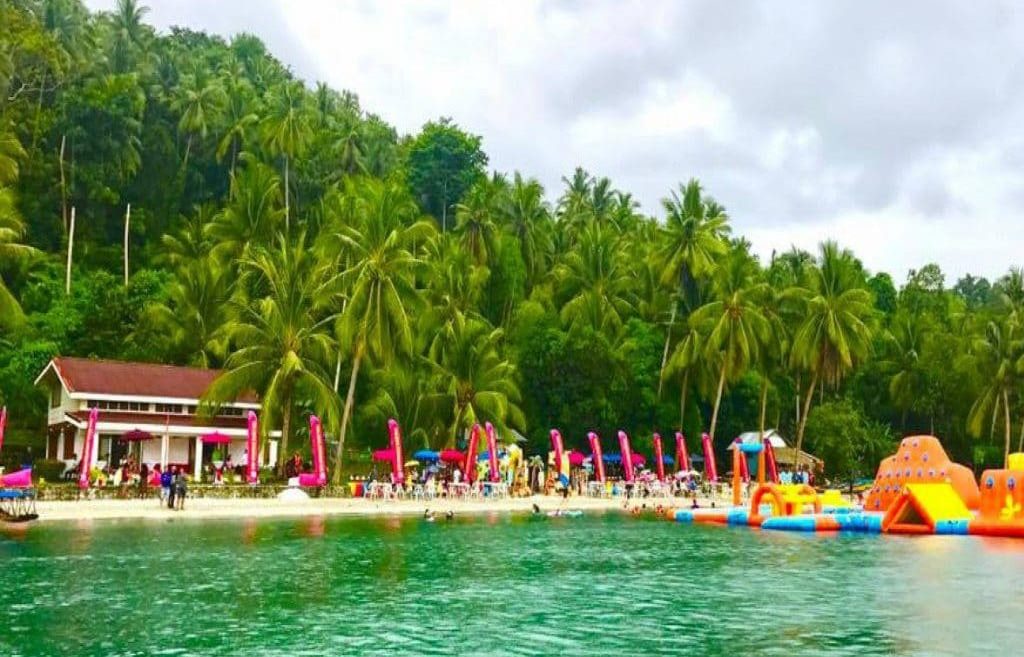 Location: Buri Island, Barangay Estaka, Catbalogan, Samar
If you are in the central part of the Philippines in the Visayas region, Buri's Inflatable Water Park has a lot to offer especially if you're looking for a fun and not so expensive summer getaway. Having some thrilling activities on its giant slides will lead you into its clear waters. Trampolines at the water park will both excite and elate you, no matter how young or old you are.
If you want to have some cool and unique photos for your Facebook or Instagram accounts, there are floaties or floating structures (gigantic donuts) that are perfect to add some fun and colorful elements to your shots. Other activities that can be availed here are banana boat rides and Zorb balls rolls.
For just 199 pesos, you can have the best of what this destination can offer. For a fun Zorb ball experience, 15 minutes will just cost you PHP 150 (rates as of 2019).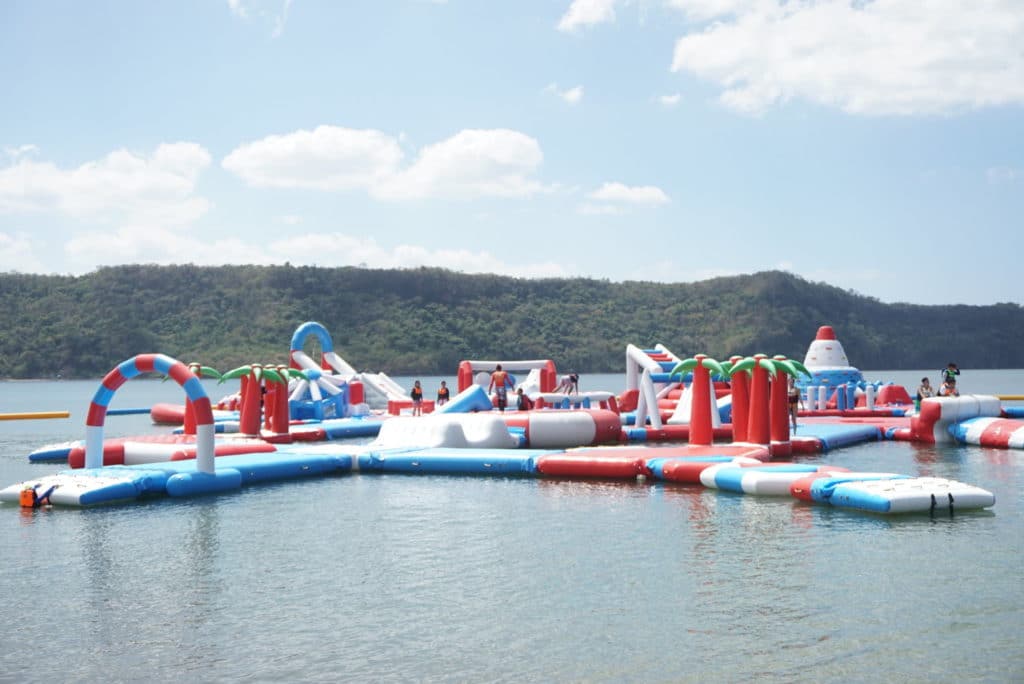 Location: Brgy. Calayo, Nasugbu, Batangas
Whether it's for a big family outing or for corporate team-building activity, MB Cover in Batangas can give everyone an adventure-filled summer experience. The venue is a 4,000 square meter resort that is home to an inflatable water park with facilities and structures designed to help bring out the adventurous side of everyone.
For guests from Manila and nearby cities, the area can be reached through public transport or with a private car. Parking areas allow a safe and secure place for your vehicles.  If you want to explore more places during your vacation, note that this place is just conveniently located just 48 kilometers away from Tagaytay.
Hopefully, these places can give you an idea of the new and latest summer getaway escapades with your friends and family. Have fun and have a great time!
About FAQ
FAQ.ph stands for Facts, Answers and Questions about the Philippines. It is an online place where you can read interesting facts, useful answers and frequently asked questions about our country, its places, events and people. Our mission is to share stories that will help Filipinos and the world gain knowledge about everything in the Philippines, including its beautiful spots, rich history, unique society, and solutions towards the nation's progress.