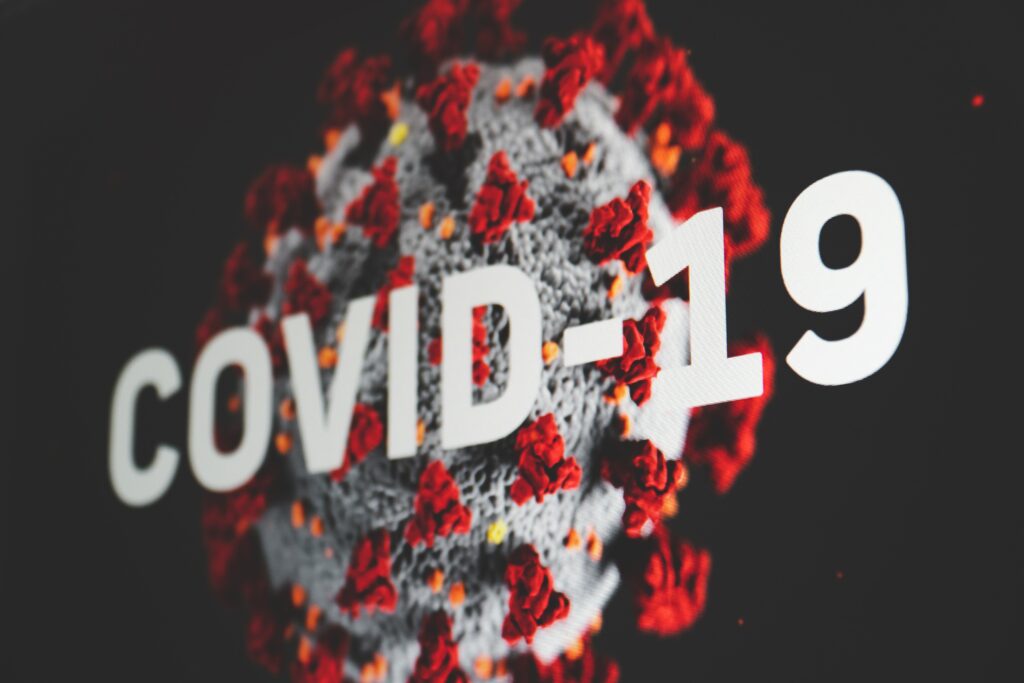 Due to the evolving COVID-19 situation, the Philippine Government has issued precautionary measures, mandatory protocols and requirements for travelers. For passengers in international flights to the Philippines, please be guided on new arrival and quarantine procedures in Manila, Cebu, and Clark.
Passengers, regardless of vaccination status, are still required to undergo respective testing and quarantine as specified by the Philippine Inter-Agency Task Force on the management of Emerging Infectious Diseases.
Taking a COVID-19 RT-PCR Test is a requirement of the Philippine government for all arriving international passengers. Children,including infants, are required to undergo the RT-PCR Test. They must also complete the registration process and pay a separate testing fee. For minimized discomfort, infants will be swabbed through the mouth.
The test is free for OFWs (Overseas Filipino Workers), whether they arrive in Manila, Cebu, or Clark.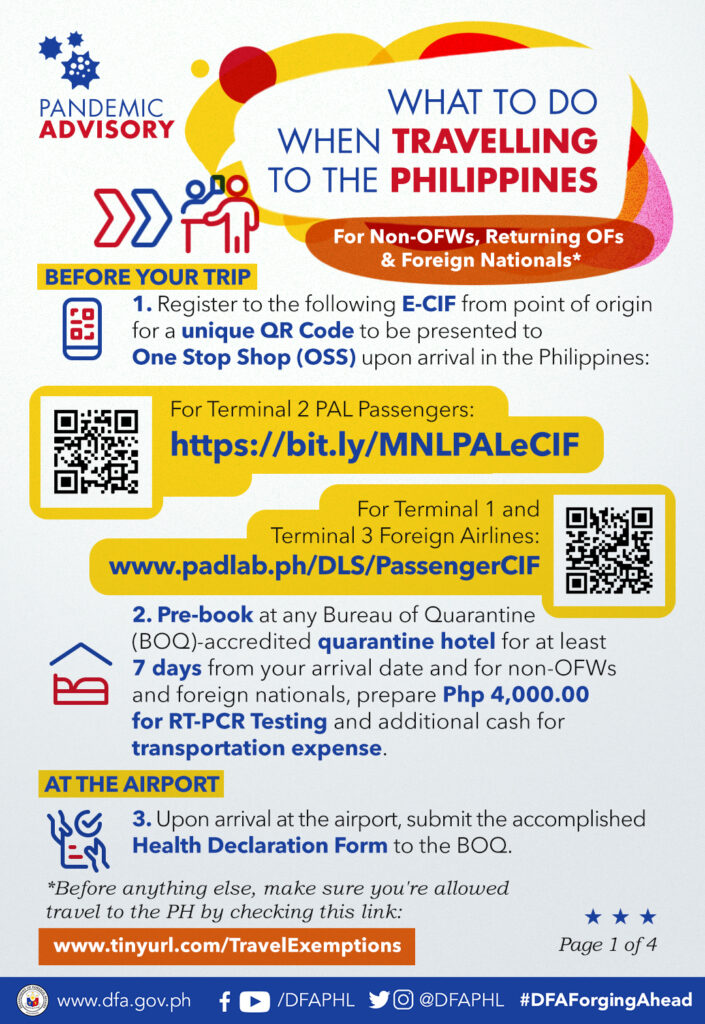 Upon Arrival
Listen to the briefing to be conducted by the Philippine Coast Guard and airline staff.
Upon deplaning, undergo a temperature check and submit the Health Declaration Form.
Verify your quarantine hotel booking with a hotel coordinator and validate your Affidavit of Undertaking.
Arrange your transfer to the hotel at these desks if you haven't done so yet. There are shuttles and vans available. If you prefer a coupon or meter taxi, there is a separate desk for that. You will be given a sticker to indicate your choice of transportation to your quarantine hotel.
– Red: Pre-arranged hotel transfers
– Blue: Shuttles/vans
– Yellow: Metered Taxis
– Green: Coupon Taxis
Proceed to the verification booth where medical staff will confirm your eCIF data.
Pay for your RT-PCR test. The test costs P4,000 and you may pay with cash, card, or through the following online payments: AliPay, WeChat Pay, PayPal, and GCash.
Get a sticker. After paying, you will receive a sticker indicating that you have a confirmed booking and you have already paid for your test. Place the sticker on the back of your passport.
Clear Immigration inspection. Submit your accomplished Arrival Card.
Pick up your bags at the assigned carousel at the Baggage Claim area.
Submit your signed Affidavit of Undertaking and accomplished Customs form.
Proceed to your arranged transportation and transfer to your hotel.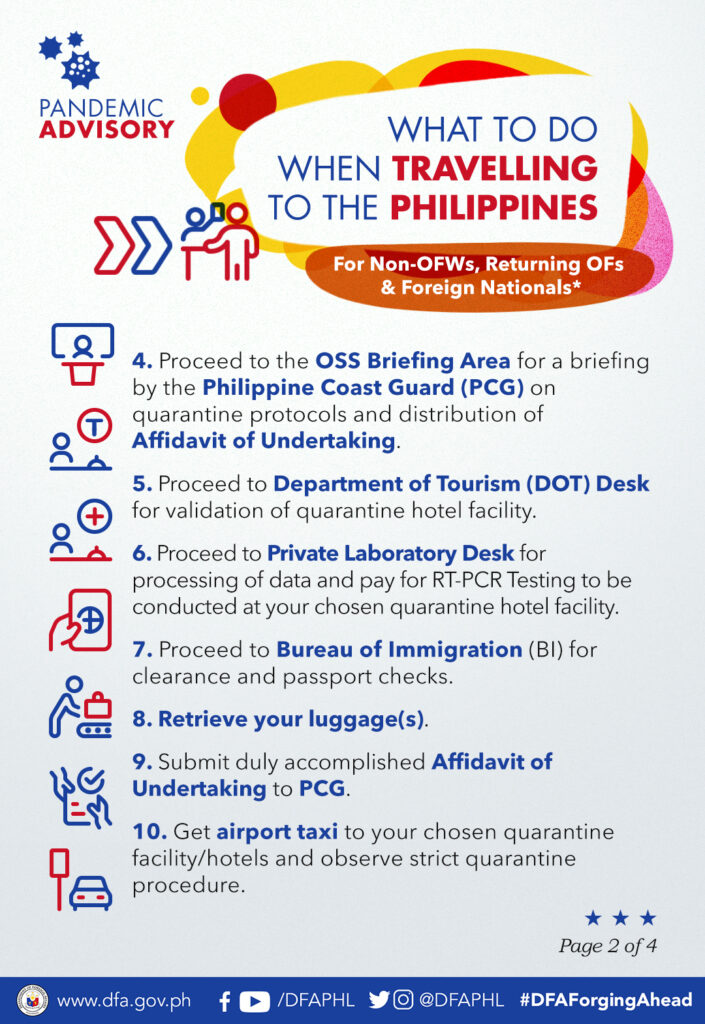 At the Quarantine Hotel
On Day 1, check in at your hotel. Follow all the government and hotel policies being implemented within the vicinity. Wait for the schedule of your test on Day 6. Note that Day 1 starts on the day of your arrival in the Philippines. If you exhibit symptoms anytime between Day 1 and the day of your test, inform your hotel immediately. A health or BOQ officer will assess you fro medical management and testing, as necessary.
On Day 3 of your quarantine stay, you will receive a follow-up email for confirmation of your hotel and room number. It will also include an assessment checklist for updates on your health. Answer the form no later than Day 4 of your quarantine stay.
On Day 6, the testing agency may contact your or your hotel to confirm your location and schedule.
On Day 7, undergo an RT-PCR test. You will have to present your passport, QR Code, and payment receipt to the personnel who will administer the test.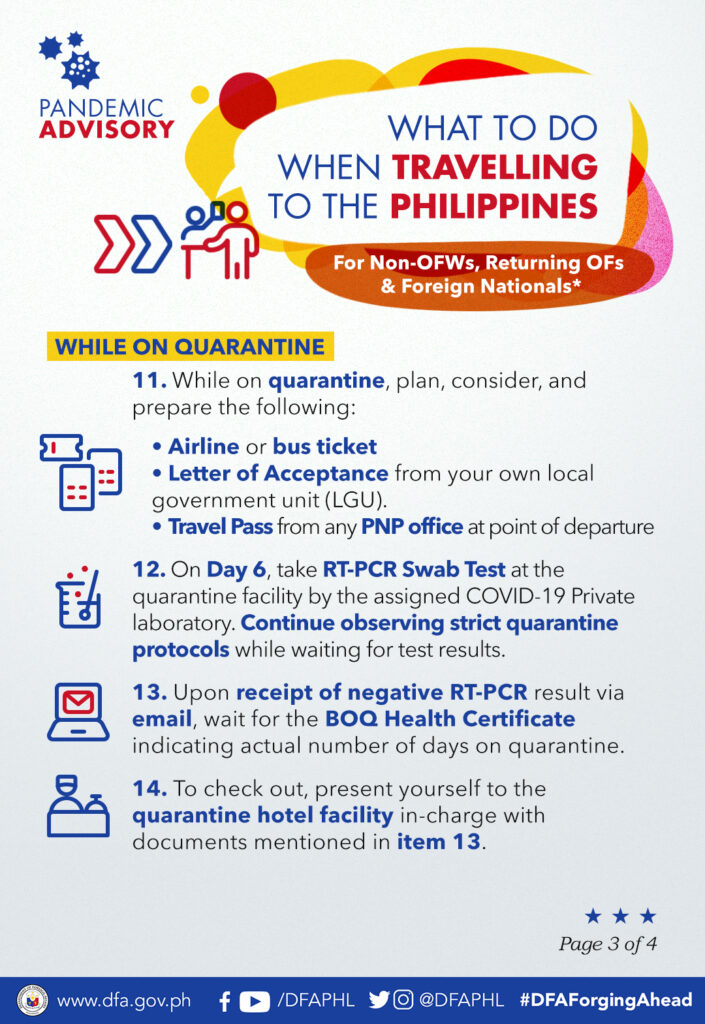 Going Home
Get a clearance from the hotel staff. You will need to present your negative test result and BOQ medical certificate.
Arrange your preferred transportation. You may contact your relatives or your LGU to pick you up or arrange another mode of transportation going home.
Complete your 14-day quarantine / self-isolation under the monitoring of your LGU and Barangay Health Emergency Response Teams.
About FAQ
FAQ.ph stands for Facts, Answers and Questions about the Philippines. It is an online place where you can read interesting facts, useful answers and frequently asked questions about our country, its places, events and people. Our mission is to share stories that will help Filipinos and the world gain knowledge about everything in the Philippines, including its beautiful spots, rich history, unique society, and solutions towards the nation's progress.