Located in the central part of the Visayas, Bohol is one of the key destinations in the Philippines that have long mesmerized local and international tourists because of its rich variety of sights, sceneries, and experiences from the island's best offerings: diving hubs, historical sites, beach resorts, hiking spots, and a sanctuary of unique animal species.
Unlike other tourism centers in the country, the island offers an all-in-one travel experience that cannot be found in any destination in the Philippines. If you're planning to travel to Bohol for the first time, read on and learn more about this must-see paradise.
"God's Little Paradise"
Bohol is a haven for all types of travelers: whether you're a history geek, nature lover, animal conservation advocate, sea world enthusiast, hiker, diving nomads, or just a random backpacker, the island has everything you need and more.
It's called "God's Little Paradise" because of the island's mysterious and charming locations, scattered across the region. What the island offers, both natural and man-made, cannot be compared with other Philippine tourist destinations – and once you're there, you'll find out why.
Traveling to Bohol for first-timers
Bohol is the 10th largest among all the Philippine islands. The main region is surrounded by smaller bodies of land where Bohol's white sand beaches and diving sites can be found. Since the province's territory is so huge, the attractions can be kilometers to miles apart from one another.
How to get there
Bohol has one airport located in Tagbilaran, a component city in the province. Three of the country's airline companies operate to and from Tagbilaran airport: Cebu Pacific, Air Asia, and Philippine Airlines (PAL).
While most of these airlines fly directly from Manila to Bohol, connecting flights coming from Cebu City can also be availed.
Since Bohol is a main island in the country, several ferries and fast crafts companies operate on a daily basis, and most of them are from Cebu ports to Tagbilaran, vice versa: Ocean Jet, Lite Ferries, and 2GO.
Cebu-Tubigon ferry routes are also offered by the Lite Ferries company, with several trips every day.
Pro Tip: It's highly recommended to book your tickets in advance especially if you're visiting Bohol during the peak travel season (March-April).
For Ferry Schedules and prices, check out these links: Lite Ferries 2GO Ocean Jet
Pro Tip: Months from June until December covers the country's rainy season so it's not advisable to travel to this island destination – especially if it's your first time to avoid a stressful (and not to mention soaking) travel experience.
Going to and around the city
How does a first-time traveler navigate a large island-destination like Bohol? It depends on your itinerary and what you're planning to do for the rest of your trip. While it can be time-consuming to travel around the island, mapping out your trip early on can save you a lot of travel.
There are different transport options that you can hire once you arrive at Tagbilaran airport. As soon as you step out of the airport building, you'll be greeted with friendly and eager faces from local tour guides, van-for-hire service providers, and also hotel welcome staff.
Hired/Private Transport Services
Hiring a taxi – take note that this option is the most expensive but also the most convenient. You have to negotiate for a reasonable rate with the driver before closing the deal.
Hiring a tricycle (800-1,000 PHP) – local tricycle drivers may offer reasonable rates but there are limits to where this option can take you.
Hiring a private van – there are fixed rates when hiring private vans, and most services even offer their own itineraries. This is a practical option if you're with a couple of friends or family members.
Pro Tip: IF you are a solo traveler and you know your PR skills, you can also share van service with other people and split the price. All you have to do is to ask around and get a nice deal.
Private car – if you have your own vehicle, then you'll have the freedom to explore the island at your own pace. You don't have to worry about directions – every smartphone has a GPS program that you can easily use to navigate the entire province.
Public Transport
Jeepneys, Philippine's local public transport vehicles have routes from Tagbilaran to other major Bohol towns like Carmen, Jagna, and Baclayon, where most of its tourist attractions are located.
The fare would depend on the distance per kilometer, but you should expect this option to be overcrowded and most of the time uncomfortable – especially if you have several bags with you.
What to eat
Bohol has a long list of mouth-watering and appetizing delights that can be found in every major town in the province. In fact, some of these delicacies unique to this part of the Philippines have received international recognition because of their heavenly flavors.
Bohol is surrounded by smaller islands and is a home to several species of marine creatures. The abundance of these resources makes the region one of the biggest suppliers of fresh seafood in the country. That's why it's no surprise to find several seafood restaurants scattered around the province. For a complete list, click this link here.
Where to go
Here are the top tourist destinations in Bohol that you should not miss on your first day:
Tarsier Sanctuary (Fee: 60 PHP)
There are different Tarsier sanctuaries in Bohol and one of them is near Corella. What makes this one special? It's actually the only place on the island where tarsiers and a few other animals live in the wild and not in cages.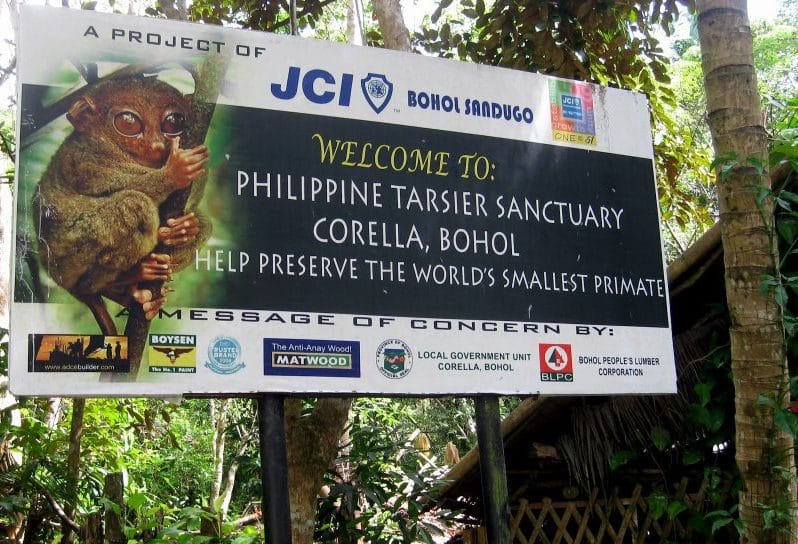 There are a lot of interesting sights and activities in this charming little town. Aside from the friendly locals, Loboc is a home to Bohol's most famous river, the Loboc River, where local tourism agencies offer river cruises on floating restaurants. Fee: from 450 PHP
Moreover, at its center also lie two old churches, the San Pedro and Baclayon church, reminding the locals of their Spanish-era history.
Bamboo Hanging Bridge in Loboc, which streaches accross the Loboc River, is a popular attraction visited by tourists. The Hanging Bridge hangs about 25 meters above the river and spans around 40 meters. The entrance fee is P10.00 for those who don't live in the Barangay on the other side.
Chocolate Hills  (Fee: 50 PHP)  
The Chocolate Hills are the most iconic attractions in Bohol. The site is made of bizarre hill formations of over 1,700 conical-shaped landforms (30-120 meters in height). It's located in Carmen, which is approximately 55 kilometers away from Tagbilaran.
Aside from these common tourist spots in Bohol, there are several white-sand beach resorts around the province, with the most popular destination, Panglao. Exploring and experience this paradise needs more than a day or two of travel so make sure you properly manage your time and financial resources before finalizing your trip.