The Philippines is a home to many island-paradises that have amazed and awed travelers around the world for many decades. Wherever you set foot in this beautiful country, you are assured with the promise that every adventure will be unforgettable – especially if you get the chance to explore the mesmerizing eco-tourism haven that is Puerto Princesa in Palawan.
The Eco-Tourism Center of the Philippines
Located in the Western region of the Philippines, Puerto Princesa is one of the major cities on the island of Palawan. Although it's a coastal city, it's largely known for its huge limestone caves and most especially, its world-renowned underground river, Puerto Princesa Subterranean River National Park, a UNESCO World Heritage Site.
The coastal areas are popular sites for diving and other underwater adventures. Among the several underwater creatures found in the region are long-nosed dolphins, rays, and several species of turtles.
Historically, this island-paradise was named after a Spanish princess, Princess Asuncion who died at an early age. The place was later renamed as Puerto de la Princesa, and is known today as Puerto Princesa.
Traveling to Puerto Princesa for first-timers
Puerto Princesa's city center only covers a small part of the entire island, but the whole city is geographically the largest (compared to El Nido and Coron) in Palawan.  Because of this, first-time travelers should remember that the main attractions are usually far from each other.
While it's advisable to contact tour operators to help you explore and get around the city, a DIY itinerary is still doable – if you're good at time management and have excellent navigation skills.
How to get there
There are different ways to travel to Puerto Princesa from Manila:
Several airline companies (Cebu Pacific Air, Philippine Airlines, AirAsia) offer daily flights to Puerto Princesa from Manila, Philippines' capital city. In addition, the island is accessible through several other Philippine cities:  Cebu, Iloilo, Davao, and Clark in Pampanga.
Flights, including transfers from the airport to the city center, can take as long as 3 hours (approximately).
Pro tip: Planning your trip to Puerto Princesa a year in advance can save you thousands of pesos, especially if you'll be traveling with your family. How? Promo flights from two airline companies (Cebu Pacific and AirAsia) can plunge as low as PHP 1 (excluding taxes and fees). 
A Philippine shipping company, 2GO Travel, offers ferry trips from Manila Pier 4 to Puerto Princesa (via Coron). However, the trips' schedule is limited to only twice a week with a travel time of 31 hours and 30 minutes.
Depending on the type of ticket available (Tourist Class, Super Value Class), prices can range from 1,500 to 3,500.
Pro Tip: You have to book your tickets in advance especially during peak travel months such as April and May (the "summer" season in the Philippines). Furthermore, expect more foreign tourists during Western summer months like June and July.
Getting around the city
As what was mentioned earlier, Puerto Princesa covers a large geographical area, with several tourist attractions that are miles apart. For beginner and first-time travelers, the most efficient and hassle-free way to explore the attractions are to hire a private van or avail of transfer services especially if you want to maximize your stay and visit several destinations in a day.
Pro Tip: Hotels and accommodations have their own recommended van transport providers. However, it's more practical to do your research first and read reviews online before hiring a specific service provider.
Within the city proper, tricycle services are also available (fare can range from PHP40-50 depending on the distance). This type of public transport can take you around the city especially if it's your first day and you want to look for a great place to eat.
What to eat
Puerto Princesa is famous for one of its most in-demand delicacies, Hopia, a type of baked good. Several local stores sell Palawan's famous hopia in Puerto Princesa, with a wide variety of flavors to choose from.
For a full meal, there are several restaurants in the city that serve Filipino and foreign dishes. Since it's a coastal town, expect fresh and affordable seafood offered almost in every major food hub. For a complete list of highly-recommended places, check this page out.
Where to go
Puerto Princesa is one of the few places in the country where nature and progress have successfully flourished together, no wonder it's considered as Philippine's eco-tourism center.
For first-time travelers, here are some of the few tourist attractions in Puerto Princesa that you shouldn't miss on your first day.
Puerto Princesa's Sabang Bay is a natural museum of magnificent rock formations and majestic limestone cliffs along its long shorelines. Aside from that, cruising along its long line of beaches and coves, as well as its crystal clear waters will give a surreal and unforgettable experience that you'll never get anywhere else.
Puerto Princesa Underground River (UNESCO World Heritage Site)
One of the major reasons why travelers choose Puerto Princesa than any other island-destinations in Palawan is because of its famous Underground River. Named as one of the New 7 Wonders of Nature, it offers a mesmerizing view of enormous stalagmites and stalactites. The experience itself is both informative and enchanting, as tour guides will walk you through the historical, cultural and geological significance of the site.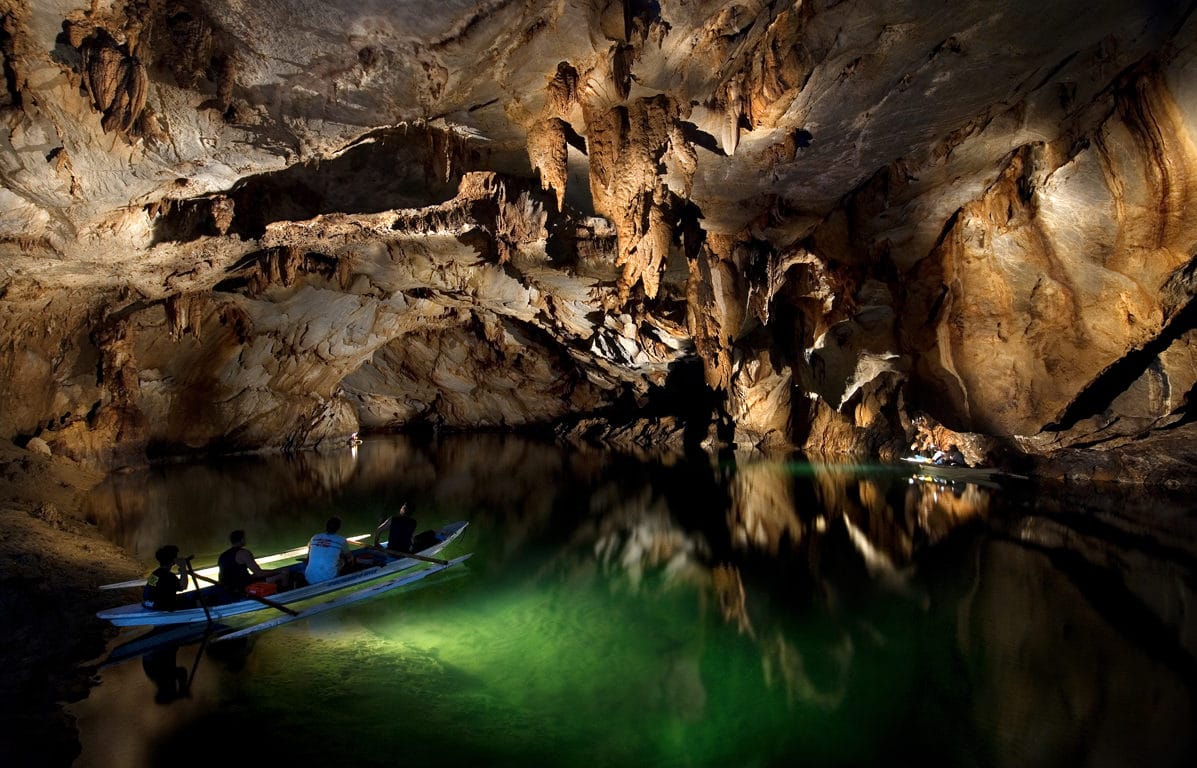 Palawan Wildlife Rescue and Conversation Center
Puerto Princesa is a sanctuary to many wild animals in the island and thanks to the local government's support, the Palawan Wildlife Rescue and Conservation Center are able to provide a safe refuge to different species of animals like crocodiles, porcupines, Bearcats, and different types of birds.
Whether you're in Puerto Princesa for an awesome underwater fun or a thrilling nature-wildlife adventure, you're sure that you'll have a blast. So if you're planning to explore everything that Palawan has to offer, this island paradise is the best place to start.