Food is a part of a culture. Tasting a country's local food does not only make travelling experiences more fun, but it also gives better insight of the cultural diversity.
The Philippines is one of the popular tourism destinations in Asia and its local cuisines can be quite challenging for some. Well, here are its top ten local dishes that will take your travelling and culinary journals to the next level:
1. Pork sisig
This local delicacy was first introduced in Pampanga. It soon became popular throughout the country, though. As the name suggests, pork is the main ingredient for the dish. However, it is not the meat that becomes the highlight. Instead, it uses the face and ears of a pig's, which are chopped and grilled along with chicken liver. Served in both restaurants and bars, pork sisig is one of the country's favourite appetizers.
2. Balut
This dish is unquestionably the country's most popular dish. It is almost always exposed in every TV program covering the Philippines. Once, eating balut was even used as a challenge in an American TV show. Despite the worldwide exposure, a lot of foreign tourists visiting the country still find it nerve wrecking to get a bite. The repulsive thing about balut is the egg contains a duck embryo with its almost complete body parts, like a beak, eyes, and feathers. Not only that, the incubated duck egg is simply boiled and normally eaten right from its shell. Balut has normally had this disgusting reputation to those who have not eaten it yet. But, one has to eat it and decide what it tastes like.
3. Halo halo
When talking about the local dessert, nothing beats halo halo, especially if you are enjoying the hot sun near the beach. Not only the rich colours that make it appealing, but its ingredients are also a total delish: coconut, ice cream, kidney beans, milk and some other local sweet components. The name halo halo means mix together and  that is why all the ingredients should be mixed altogether to get the best taste. Almost every restaurant has its own version, though, some throwing in sweet potato or jackfruit to up the ante.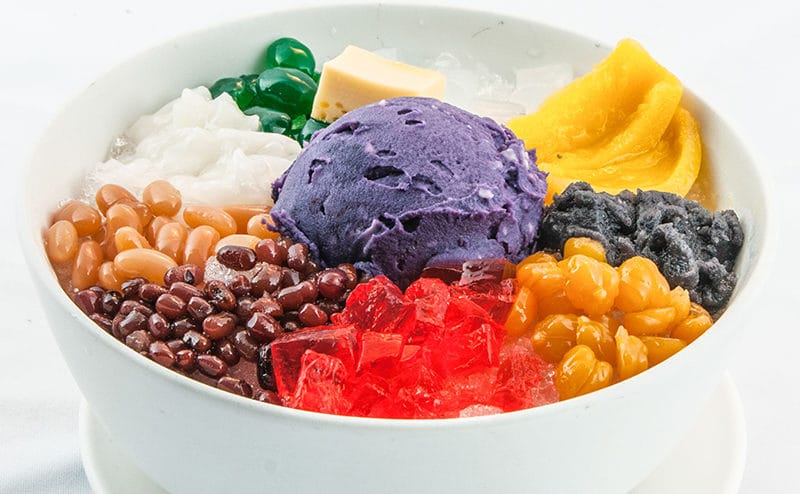 4. Adobo
While the main ingredients for the dish may vary: chicken, pork or squid, the dish is named adobo because of the way it is processed. The Spanish originated word means marinate, and so the meat is marinated in some kind of sauce that is commonly the result of mixed vinegar, garlic and soy sauce, but for squids, there is usually an added ingredient in the sauce: squid ink.
5. Lugaw
It is also known by other names: goto or arroz caldo. Basically, the three refer to rice porridge, but the differences lie in the dish components. While goto is enriched with beef or pork, and arroz caldo with chicken, lugaw has no additional ingredients, but the plain porridge, which is quite similar to congee, but with thicker consistency. The local tend to consume this along with shallots, chili, and soy sauce. This dish is especially popular during rainy season.
6. Pork barbecue
Quite similar to the popular satay from Indonesia and Malaysia, the Philippines has its own version of grilled and bamboo skewered meat to enjoy. However, the meat used is pork instead of chicken, lamb, or beef. These are grilled until the pork is cooked and it is also being basted during the process to add flavor and keep the meat moist. The tradition in the country to celebrate a kid's birthday by serving the dish with hot dogs and local spaghetti.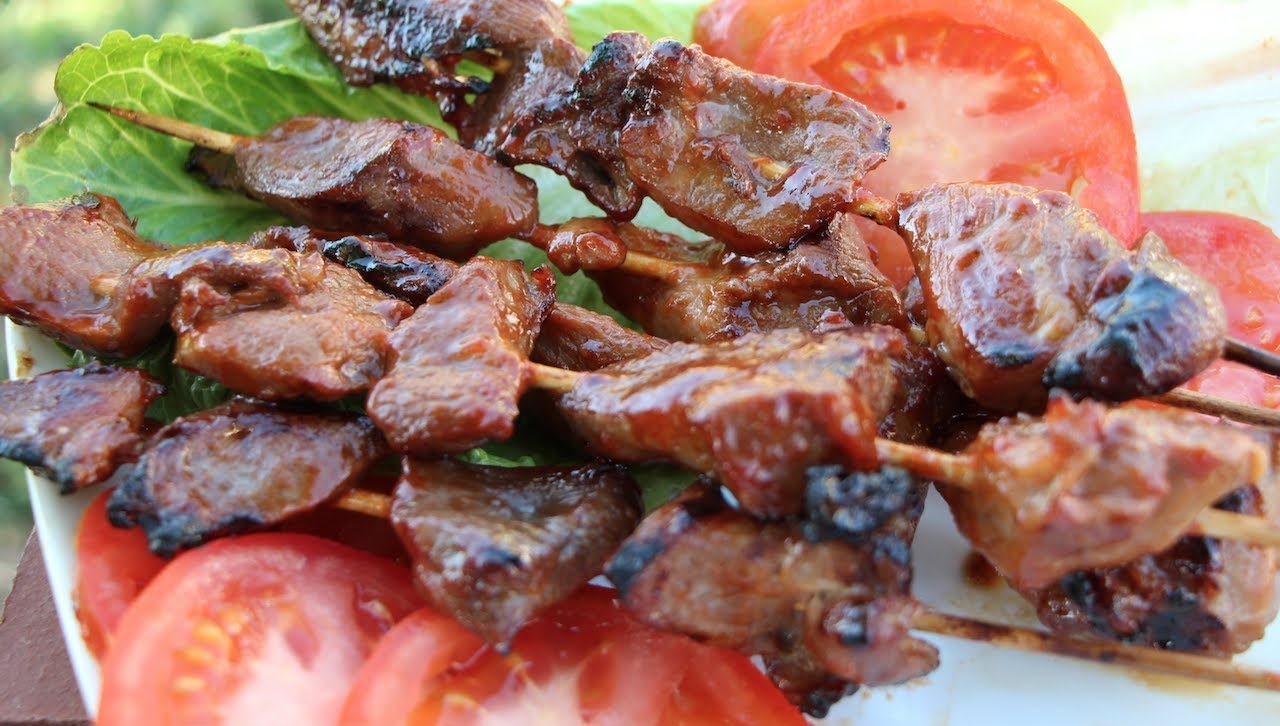 7. Silog
If you ask Filipinos what their favorite breakfast is, they will easily tell you one or more of the famous silog. It is indeed a popular breakfast menu. Silog actually refers to a combination of fried rice, egg and meat. The name silog is usually adjusted depending on the meat used. When beef is added, the name is changed into tapsilog, tosilog for pork and longsilog for the fried rice combined with local sausages, which are name longganisa.
8. Chicken inasal
Having been popular during the past decade, the Visayas originated chicken dish is made and served with a lot of ingredients, such as lime, annato, pepper, vinegar, soy sauce, chili and dipping sauce. it is a popular specialty in the city of Bacolod, as well as in neighboring cities and towns of Negros Occidental.
9. Chicharon Bulaklak
Chicharon Bulaklak or deep-fried ruffled fat is a popular Filipino appetizer. It is another local dish that uses a pig's body part. This time, it is the thin layer of the animal's intestines that looks like web. The innards are deep fried and served with vinegar, onion and chili sauce. This dish is extremely easy to find on the local streets.
10. Sinigang
This can be said to be the most distinguished dish of the Philipines. While other popular dishes are either grilled or fried, sinigang comes in the form of soup. As it contains tamarind, the dominating taste is sour. Those who care about healthy diet may find the dish agreeable to their expectations as it has got lots of vegetables (radish, eggplant, spinach, beans) and various kinds of meat (chicken, shrimp, fish, beef, pork). Most Filipinos like to cook sinigang with green long peppers in order to enhance the taste and add a little spice to the dish.