Sangyaw Festival is a religious, socio-cultural event and a popular native festival held every 29th of June in Tacloban City. Sangyaw means "to herald news" in the local dialect. It was created by former first lady Imelda Marcos in the 80s.
The festival has been revived in 2008 by her nephew and former Mayor Alfred Romualdez. The revived festival became a big success and participated by cultural contingents from different performing groups of various festivals in the country to compete on this side of the region.
This year, the Sangyaw Festival once again showcase the unique culture and history of the people from Eastern Visayas. Thousands of Tacloban residents were mesmerized and amazed on Wednesday night (June 29) by the Sangyaw parade of lights with its theme: Unity in progress, an annual event hosted by the City Government in line with its 128th fiesta celebration.
It was around 5 p.m. when we head to downtown area and witnessed the parade of lights. And as usual, some roads were closed to pave the way for the 128th fiesta celebration. We were just standing in front of Real Mcdo while waiting for the parade to pass by in our area.
Thousands of spectators lined the streets of Tacloban City.Patterned after the previous year's Sangyaw Parade of Lights, brightly colored lights with the conceptualized floats and the dancing Street performers coming from Tacloban's barangays, schools and community based contingents were seen during the parade.
Competing contingents of the 2017 Sangyaw festival of lights were: the Barangay Contingents (Brgy. 77 Fatima Village; Brgy. Aslum Sagkahan; Brgy. 39 Serin; Brgy. 23-A.P. Burgos; Brgy. 49 Youngfield; Brgy. 2 Jones Street; Brgy. 6-A Sto. Nino Ext.; Brgy. 70 Rawis Anibong & Brgy. 92 Apitong.
School participants were Collegio de la Salle Foundation of Tacloban City; Northern Tacloban City National High School; Kapagian School; Eastern Visayas State University; Palanos Elem. School; Cirilo Roy Montejo National High School; Sto. Nino Sped Center; Scandinavian National High School & Fisherman's Village and the Merry makers (Jolibee; Taebo jammers Asso. of Tacloban; Rising Star Movers; Tacloban Institute of Technical Studies Inc. & SMART Float with Migo Adecer).
Together with the City Government and barangay family Mayor Cristina G. Romualdez was joined by her husband former Mayor Alfred S. Romualdez, daughter Sofia, 1st Dist. Leyte Congresswoman Yedda Romualdez , Atty. FM Romualdez, guest Sen. Sonny Angara, DOT Regional Director Karina Rosa Tiopes and the SANGYAW Foundation Inc. family.
Sangyaw festival also featured celebrities like Joseph Bitangcol, Michelle Vito, and Neil Coleta.
Thousands of spectators lined the streets of Tacloban City.
This year's Sangyaw competition winners of each category were: Barangay Street dance Champion- Brgy. 92 Apitong; 2nd placer- Brgy. 49 Youngfield; 3rd placer- Brgy. 58 Aslum Sagkahan with awaiting cash prizes of 70K, 50K & 30K. While for School Category Street Dance Champion- Palanog Elementary; 2nd placer- San Jose Central School; & 3rd placer- EVSU with cash prizes of 50K, 30K & 20K.
Meanwhile, the winners for the BEST Float were: Champion- Kapangian Central School; 2nd placer- San Jose Central School and 3rd placer- Sto. Nino SPED with awaiting cash prizes of 80K, 50K & 30K.
On the other hand, the Merrymakers competing categories were: Champion- Taebo jammers; 2nd placer- Rising Star and 3rd Placer- Jollibee with awaiting cash prizes of 10K, 7K & 5K. Other joining barangay contingents got 5K each.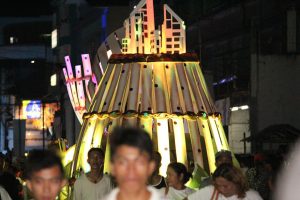 The week-long celebrations peaks on the 30th of June, the Grand Fiesta of Tacloban celebrated with the traditional turn-over ceremonies of the "Teniente" made by the immediate past Hermano Mayor to the incoming Hermano Mayor. This is accompanied by the ritual of giving the medallion containing the names of all Hermanos Pasados and the Standartes. Fireworks and grand parades mark the occasion. Every house in the city prepares a feast and opens its doors to guests and well wishers.