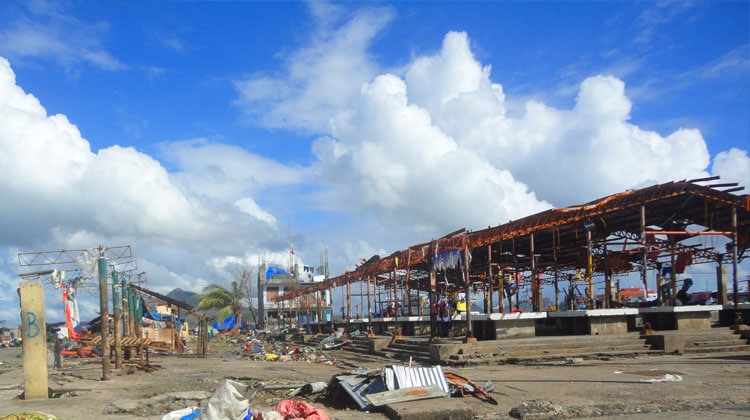 "The work goes on, the cause endures, the hope still lives and the dreams shall never die."
– Edward Kennedy
Super typhoon Haiyan or Yolanda is one of the strongest storms ever recorded in world history. Unfortunately, this natural catastrophe had left Leyte, Samar, and other affected areas a lot of casualties, causing grief and misery among Filipino people. Although my experience is dreadful whenever I think of it, it's not impossible to think that this calamity had also taught us some valuable lessons in life. The following lessons I learned have even made me stronger and more understanding about life, itself.
1. Don't expect people to be good all the time.
Humans can be arguably bad or good. During the typhoon, although people have shown their good nature, there are also others who turned to the opposite side. At that time, it could not be helped because people were focused on survival. With food scarcity, individuals stole and threatened other people. What made matter worst, other people were not only after food, but also on to material things such as appliances, money, laptops, and many more. This could be depicted as people destroyed malls and stores. Despite the actions, it should not be ignored that people were all fired up for survival, which was the main reason why they did it. The lesson I learned? Be ready to deal with all kinds of people.
2. Corruption is as deadly as a super typhoon.
Corruption and bad politics can be deadly or even deadlier than a super typhoon. Rescue operations are delayed, relief distribution wasn't timely, and politicians are blaming each other rather than uniting for a more effective and efficient rehabilitation. But thanks to the International communities who are there to help us and to the locals who didn't lose hope but stand on their own feet to rise again, we have somehow managed to start a new beginning. Lesson learned? Don't just prepare for the wrath of a super typhoon but also prepare for the havoc that some of our corrupt politicians could bring. And yes! We have to learn how to stand on our own without relying to the government!
3. Remain grateful and hopeful no matter what.
As a Haiyan survivor, I'd experienced the good and the worst things. But these are only proofs that I'm alive and breathing. In view of this, every survivor should be grateful for where he or she is right now. It's because you have another opportunity, a second life to face tomorrow and share your life with the people around you.
The odds of the calamity are definitely unfavorable. As a matter of fact, one problem after another comes. There are even moments that I think it's already the end of the world. In fact, you will likely ask yourself "what now?" when there is no home for you to return to, no family to look for, and no food for you and your family to eat for days. But in the long run, it lets you experience a distinct taste of suffering that is destined to make you stronger rather than make you weaker. Hence, I learned that no matter how life can become gruesome, we still have to live with our best and remain hopeful.
"Hope never abandons you, you abandon it." -George Weinberg
4. Treasure every second in life.
The quote by Bil Keane, "Yesterday is history, tomorrow is a mystery, today is a gift of God, which is why we call it the present" is applicable to us who have bitter and painful experiences. What we are experiencing now, which is LIFE, is already a gift from above. It's another chance for us to make memories and enjoy every second of it with God and our loved ones. During the calamity, I learned that every second and every minute of our lives are precious as gold. We have to spend wisely to continue living and building a brighter future for our family and loved ones.
5. There will always be people who are kind and helpful.
Super typhoon Haiyan has intensified our will for valuing other people regardless of their status or relationship with us. It made us spend more time with our family, whom I considered greatest treasures of my life. It also made our fellow Filipinos and other nationals become more helpful by donating goods, medical assistance, and other humanitarian aid. I learned that no matter how many people have gone bad, there are still those who will always be ready to help and show kindness to other people.
6. Faith will give us more strength to go on.
Faith is one thing that is tested during and after the destructive land fall of super typhoon Yolanda. It is undeniable that a lot of people have lost their loved ones during the rampage of the typhoon. After the typhoon, health problems, trauma, and hunger are just some of the problems that waiver our faith. If you ask a victim, it is really tough to get through it.
When you picture the aftermath of the calamity, it is way too unthinkable. You would think "How can my family get through this?" In the end, there is nothing you can hold on to, but to have FAITH. We have to keep believing in the highest that we can get over this biggest challenge in life.
7. We have to put our faith in action.
Finally, I learned that love will truly keep us alive. Hope and faith will give us light to move on. But we have to put our hope and faith in actions to realize love. We can be positive, but we also have to face the reality – the real problems, and do something to solve them. To love my family, my people, and my country, I learned that I have to do something, such as by working hard to earn money for my family, by visiting and comforting other survivors, and by fighting corruption in this country.
The wrap
Indeed, Super Typhoon Haiyan had caused sorrows and suffering to the Filipino people. The experience is unforgettable, but we should learn from the fate that had already passed. Together with the experience, no matter what lessons we have learned from the tragedy, it should not be forgotten. I hope people can use these real-life lessons as a platform to become a better person. More importantly, continue believing and doing what you think is right – because LIFE is great if you live for it with hope, faith and love.